And the winner for trend of the season goes to…the crop top!
If you're like me, you boldly embraced the newest trend in midriff-baring tops this summer and have exacted the science to wearing them with various pieces in your wardrobe. The crop top was a great piece for summer because it added a breezy and fun quality to any outfit and was on-trend.
I opted for the more boxy structured crop tops because I am still self-conscious about showing my stomach. I always let out a small sigh of elation when I saw someone rocking a fitted crop top, managed to look put together and didn't remind me of the cringe-worthy People of Wal-Mart.
Frightening spandex aside, the crop top was a winning trend this summer, but fall is upon us. A time where we add more layers and longer layers, the crop top doesn't quite fit into that scenario. But I am here to say yes, you can wear the crop top into fall.
Here are three different ways to wear crop tops this fall season:
Cropped sweater
A sweater is an easy go-to when the temperature dips. so why not try the cropped version? Pair it with a high-waisted skirt like this leather one to elevate your look and add chunky jewelry for a cool bohemian vibe.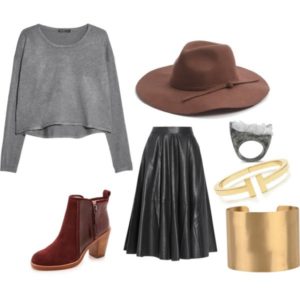 Heavy weight top
A boxy-cut top with a heavier fabric is great to wear for an evening look when it gets colder at night. A bit of structure on top offers balance with a pair of flowy wide leg pants. With a more subdued silhouette, opt for edgy and opulent accessories and keep the heels simple like these burgundy d'orsay pumps.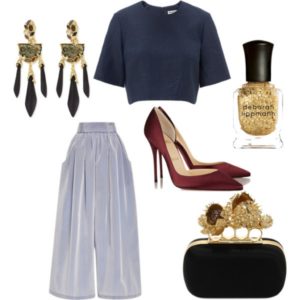 Cropped button-down
For an easy yet chic daytime look, grab a cropped collared shirt. When paired with the season's trendy, comfortable sweatpants and funky oxfords you're set to run errands in style and comfort. Don't forget to grab a backpack, the cool alternative to the slouchy handbag.