School's back in session and we're here to make sure you look good once you hit the halls.
Whether it's what you put on your feet or sling around your shoulders, it's important to do what works best for you. We've already put together a full outfit guide which you can find here. But for many of us, a backpack or messenger bag will be worn year-round. So if you're going to wear it day to day, make sure you love it!
Here are our favorite back to school bags:
1. Keep It Urban

You can never go wrong with Chanel. Keep it simple yet edgy with this canvas graffiti backpack. It comes in a variety of colors from black to pink and green. A cool yarn zipper fob makes for a DIY feel and contrast well with the classic Chanel symbol that sits smack dab in the middle. Not only is this piece trendy its also piratical. Made of a light weight canvas material it sits softly on your back but is still strong enough to carry around those heavy biology text books.
2. Too Cool for School
Too Cool for School? Well the Valentino Rockstud is right up your alley. Choose from some deep neutrals or go bold with red. Whatever you choose, you can't go wrong with those signature studs. A simple silver clasp keeps it all enclosed and sealed. This bag is extremely versatile and can hold all your school essentials. The square shape makes it easy to lug around and keeps it looking classic for ages to come.  Don't think this bags only use is to hold your books, it can also double as a everyday bag. Take it to class, weekend parties, and mid night study sessions.
3. Back to Basics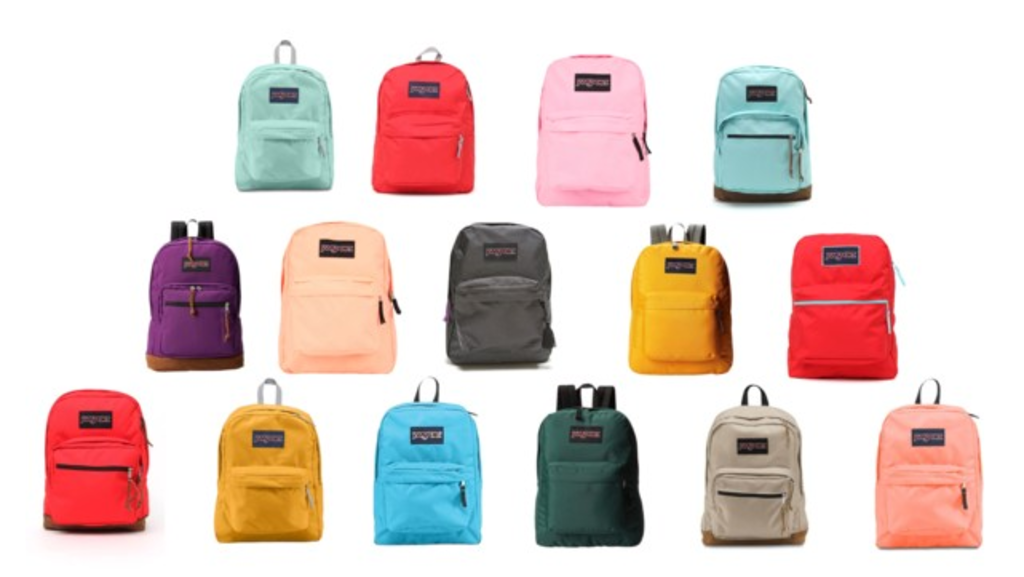 Many of us know the JanSport brand from our elementary days. Those easy backpacks came in every color imaginable and lasted us for years to come. So why not take a trip down memory lane and use one of these for the school year. We all know they can hold your laptop, school books, and mid-class snacks with ease. Their simple design makes it easy to coordinate with any school outfit. Even if you decide to wear your baggiest sweats, an aqua JanSport backpack will surly liven up the outfit.
4. British Influence
This Proenza Schouler PS Courier backpack makes us want to head to London to study abroad. The American brand has channeled classic British school attire into this simple bag. Its not exactly large enough to fit your "typical" school books so art students, listen up! While small, the PS Courier can still hold the essential notebook, day planner, and paint brushes. The square shape and square clasp gives it an updated look while keeping that old school charm. It come in pebbled leather, croc skin, and suede; giving you more than plenty of choices to choose from. The only problem here is deciding which one to get!