It sort of felt like fate that I even made it to Beck's sold out Red Rocks show last Friday. After getting beaten to the punch in requesting the show, I admitted defeat and decided to find some Craigslist tickets. But upon arriving at the girl's house (who also happened to share my name) to pick up the tickets, I realized that the seller wanted $100 each for two tickets, rather than selling them at face value. Nope. Homie don't play that game.
So when I got a call early Friday asking if I'd still want to cover the Beck show because our other writer wasn't feeling well, I gleefully jumped on the opportunity.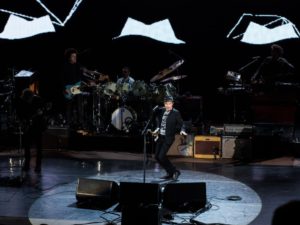 I haven't seen Beck in years and years… not since he headlined Sydney's V Festival in 2007. Back then, Beck and his lively band wore matching suits and played alongside of a marionette puppet rendition of each of themselves, dangling on strings and projected on the big screens. They also brought out an entire dining room table set for a three-course meal and jammed on all the silverware and glasses.
Well, Beck's still got it. To achieve that similar melancholy style that Beck exhibits on 2002's Sea Change, he brought back the original members of the band for his newest album Morning Phase. All the guys were present on Friday night at Red Rocks, not having all played together on the same stage in nearly fifteen years. Beck nostalgically told the crowd how the last time that they played in Colorado, the Black Keys were opening up for them and received a standing ovation from the audience. My, how far we've come.
They opened with an energetic, yet muddy sounding, Devil's Haircut that paved the way for a swinging set of hits and old favorites from his classic album Odelay, weird and funky Midnight Vultures and chart-topping Guero. Beck danced around on stage in his blazer and wide brimmed black hat in front of an ever changing and ever entertaining screen of strobing and scrolling numbers and patterns and shapes that moved and morphed so subtly that if I wasn't so sure I was sober, I would've wondered if someone had slipped something into my drink. He played several back-to-back tracks off of Morning Phase, almost apologetically, slowing things down to a more serious and serene mood.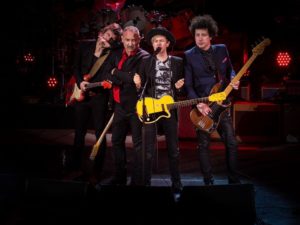 Then he played Loser and we were all instantly transported back to the roaring nineties, when Beck was king of the alternative rock and experimental scene. A title that he can still safely claim rights to.
Over the course of Beck's musical career, he's released twelve studio albums that gives the concept of assigning genres a swift kick in the balls. You can't define Beck. He incorporates elements of funk, hip hop, (anti)folk, alternative rock, experimental effects, electronic sampling and drum machines, grunge, ironic lyrics, whimsical album art, indie swagger, screaming harmonica, performance art, lo-fi sound, dubbing, distorting, and collaging techniques, plus a few Grammys here and there… he's just Beck.
And when he ended with the hilarious love ballad Debra, repeatedly encouraging the whole audience to, "Step inside his Hyundai," the crowd went wild.
And he ripped on his harmonica, reminding those of us who adore him just why Rolling Stone once referred to Sea Change as Beck's Blood on the Tracks.
And when he went around introducing various members of the band, they each took solos on their instruments that turned into a sort of Rolling Stones into Michael Jackson medley mash-up.
Beck is a master of musical wizardry. He makes you dance, he makes you smile, he makes you think. He continues to evolve and keeps you on your toes. And through it all, he continues to be edgy as hell.
Check out 303's complete photo gallery from the Beck show at Red Rocks last Friday, with opener Jenny Lewis.
All Photos by Camille Breslin.