This year's Mad Decent Block Party is heading to Fiddler's Green next Friday, August 22nd to serve up some sweet, sweet jams from some of the biggest names in music. OutKast announced their reunion late last year and since then whispers and rumors whirred about where they'd play. Then Mad Decent announced the Denver lineup and voila, headlining this masterpiece is the hip-hop duo that made us all say "I'm Sorry Ms. Jackson." As if OutKast wasn't enough to strike your fancy, accompanying gold-chained Big Boi and fedora-clad Andre 3000 will be Diplo, GRiZ, Flosstradamus, Djemba Djemba, Mr. Carmack, Liz, Riff Raff, Run the Jewels and Tink.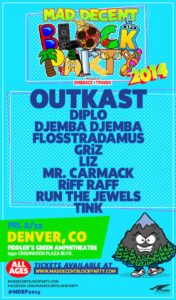 OutKast is circling through their festival circuit, beginning with some shaky Coachella performances but finally heating up nearly four months later as Andre 3000 finally started to get into his groove and hopefully ditched the dream of being a serious actor, although I'm  interested to see how he portrays the great Jimi Hendrix. But somewhere along the way, the duo found their legendary vocal interplay and began to let loose during more recent performances at Lollapalooza and OVO. So for those that say an OutKast reunion was the wrong decision, Denver fans hope to be able to quell those naysayers with an epic performance from our favorite ATLiens and bring the OutKast we all know and love a Mile High.
EDM powerhouses  Diplo, Flosstradamus and CO-favorite GRiZ will keep fans on their toes well into the night. Djemba Djembda and Mr. Carmack will mix it up with their unique styles and hopefully surprise audiences with their fresh takes on electronic music. The mix of styles, genres and energy will hopefully garner attention from a wide variety of fans from Denver. A lineup that stacked is sure to bring the party to Fiddler's Green, so lace up your freshest kicks, pack an extra pair or party pants and get ready for one of the biggest events to hit Denver this year. OutKast people, OutKast. Tickets start at $50 and are still available at: http://www.axs.com/events/249859/mad-decent-block-party-feat-outkast-tickets
Until next week, we're saying:
Git Up, Get Out and Get Something. 
Don't miss out!