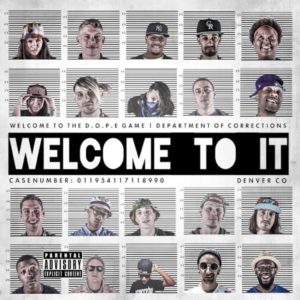 Welcome to the D.O.P.E. Game is continuing its reign this week with the release of "DopeNShine." The video clip shows off the stellar year the crew is having, with shows at Red Rocks and the Westword Music Showcase to boot. The track features Lily Fangz, Rob4Real and MC BigHouse, three of the Dope Game's finest. Vocally Lily Fangz is the one to watch on this one. Her vocals are intricate and brimming with dynamism. Rob4Real has the most rhythm in his rhymes and all three MC's keep the beat riding with ease.
The Qknox produced beat is perfect introduction to the Dope Game's sentiment and the clip features a who's who of the city's scene. Lily Fangz and Turner Jackson shared the stage with Nas, Schoolboy Q and Flying Lotus back in June and the concert clips prove the glory in the experience. "DopeNShine" appears on the first official Welcome to the D.O.P.E. Game mixtape titled "Welcome to It" set for a July 11th release. Check for the entire crew performing live at Lost Lake this Friday in celebration of the project's release. You can purchase tickets here.
Watch the video for "DopeNShine" below.