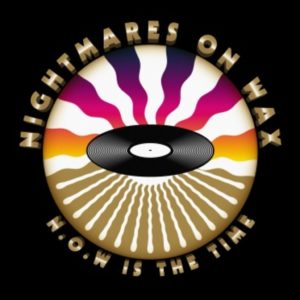 There was a lot going on in Denver last weekend, as per usual. Between Widespread Panic selling out Red Rocks (again), March Fourth Marching Band taking Louisville by storm (for free!), the taco festival, Jazz in the Park, Untitled Final Fridays at the Denver Art Museum, the South Platte RiverFest in Confluence Park… how does one decide what to do?
It was easy:
Nightmares on Wax
was DJing with a live band. That's where I was, anyway. And if you weren't there, let me tell you what you missed.
DJ E.A.S.E
, or
George Evelyn
, came through town last weekend while blazing a trail through the US on his
25 year anniversary tour
. Evelyn is celebrating by releasing a
2-disc compilation album
 featuring musical highlights from various albums spanning the last quarter century. He has also recently filmed a documentary entitled
N.O.W Is The Time
, in which he tells the story of Nightmares on Wax in an interesting retrospective of Evelyn's history as a DJ and an artist, from Leeds to Ibiza.
His signature grooves blend together to formulate intelligent dance music that keeps you on your toes. With two singers (plus Evelyn's own vocals addition) and a drummer, DJ E.A.S.E rocked the
Fox Theater
in
Boulder
last Friday to a packed house. Starting off with some smooth and old school hip hop beats, Evelyn worked the crowd through seamless transitions into more adventurous house beats with an underlying funky soul feel. He doesn't hesitate to get weird with it either, throwing it some Afrobeat flair for good measure. The lyrical layering and the live drums added a whole new element to Evelyn's DJing, which was already exceptional to begin with. Last timeI saw him
DJing at Summit Music Hall
a few months back seemed a distant house party after witnessing the live version of his beat spinning.
Read on to gain some insight into the life of DJ E.A.S.E and hear about some of his career highlights, secrets about the magic of Ibiza, and what we can expect from this pioneer DJ in the near future.
303: You're celebrating your 25th anniversary as a world renowned DJ. Reflecting back a bit on the past quarter of a century, what would you say were some of the major highlights?
DJ E.A.S.E: There are quite lots to mention, really. I would start by mentioning my first single in 1989 became rated on the national charts on the Top 40, as a 12-inch, not even a 7-inch, which was unheard of back then. Then my second single topped the charts again in the UK, again as a 12-inch. None of us even planned on achieving the success of releasing records, we thought just another DJ would play our record in a night club. So that was pretty groundbreaking. Highlights in my career of playing live would be playing the Miles Davis Hall at the Montreux Jazz Festival and also headlining Saturday night at the Big Chill Festival back in the day for 20,000 people. Also, doing the Fuji Rock Festival in Japan in 2006 was definitely special. The Feeling Good Tour last year in the US with the full live band for the first time was amazing- being totally naive in uncharted territory and selling out shows was special.
303: Tell us a bit about the making of the N.O.W Is The Time documentary, which was filmed in your home-base, Ibiza. What can we expect from the N.O.W anniversary compilation album that was just released last week?
DJ E.A.S.E: Well the documentary was a retrospective opportunity for me to tell my story. It was easy for me to talk about my history. When you're living the story, you don't really get a chance to have a look. It's been very emotional and there's been lots of healing. Quite a big realization of what it is I've been up to. You don't really think about what you're doing as you're doing it, you're just moving forward. For the documentary, there were a lot of questions: Do we do it chronologically? Or album by album? I really sat back and though about it: what if you didn't know Nightmares on Wax? What's the best way to present this music? Do we listen to it as a body of music? And that was our approach. Trying to highlight magic moments within each album, but you could really just go on forever with this stuff. I think we've got just the right mix in the compilation.
Check out one of the remixed tracks that will be included on the anniversary album:
[youtube:https://www.youtube.com/watch?v=TpHbEfWu9YM]
303: What makes Ibiza special, from a DJ's perspective? What is unique about holding a residency there and how do the parties compare to others that you've been to around the world?
DJ E.A.S.E: Ibiza is just a special place in itself, whether you're there for the music or not. There's a special energy there. There's a part of Ibiza where the summer solstice line and the equinox line cross called Es Vedra. It's the third most magnetic place in the planet. If you tap into that energy the right way, magic things happen. There's a bohemian edge to it, quite a chaotic edge to it. When you're DJing there, you definitely get a sense of freedom. It's just a very unique place. And obviously living there makes life even more different. I moved there for the quality of life and lifestyle for me and my family. It just so happens that for four or five months of the year, lots of groundbreaking things happen from an electronic music perspective- especially during the summer. I haven't experienced any other place like it.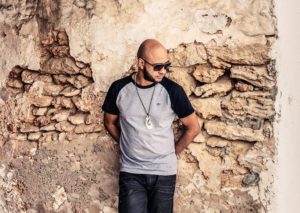 303: You do a lot of touring, a lot of traveling. Where are some of your favorite places to play outside of Ibiza? 
DJ E.A.S.E: Definitely playing both the East and West coasts of the US have been fun. I do an event twice a year in Germany called the Baltic Soul Weekender. You get lots of legends that play there, not just DJs. From the Temptations to Gloria Scott to the Sugar Hill Gang, just to name a few. The Baltic Soul Weekend is definitely one of the highlights of my year. It's really well organized and there's a real music-lover sort of people that attend. It's always great to play back in England in my hometown of Leeds, as well. I also like playing in Japan. It's hard to just single one out.
303: What can we expect from Nightmares on Wax over the next… 25 years? Or at least the immediate future? Got any tricks up your sleeve for the rest of the summer?
DJ E.A.S.E: Well after we finish this US tour, we go back to Europe (Ibiza) and I start my weekly event called "Wax the Jam." It'll run for eight consecutive weeks this year with the full band. Then we'll do a tour where we'll be performing the full live show. I'll be doing some European shows, DJing quite a bit over the weekends. Throughout the summer into the fall, we plan on performing the whole album live someplace- not sure where yet. I'm also getting back into the studio to work with some amazing composures from Germany with a full orchestra for a new album. I'll continue to make classic, timeless music and just be 100% Nightmares on Wax.
303: Last time you passed through Denver, you were just DJing solo. Now, you're back with a band. How does DJing with a band compare to playing alone? What are some challenges and benefits about playing with a band, as a DJ?
DJ E.A.S.E: It's completely different, working with the collective energy on stage with the band. I get to completely express myself vocally when I'm with the band. But I also love DJing. I wouldn't really look as it as challenges- well, perhaps they're challenges in a positive sense. You don't really know what you'll be fronted with when performing in front of a live audience. With both aspects, it carries the importance and intention of having a good time. My intention is always to make people feel good, because it's their given right to feel good. That's the whole Nightmares on Wax thing: to use the power of music to channel the feeling of feeling good. That's it.
Check out the full N.O.W Is The Time documentary here:
[youtube:https://www.youtube.com/watch?v=0ggYqb7g34Q]