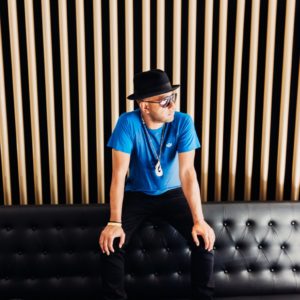 Funky electronic soul grooves mixed with old school hip hop and bouncy house beats: Nightmares on Wax creates a sexy dance party like no other. Smooth transitions, textured backbeats, creative layering and exotic mixes. George Evelyn just knows how to make you dance. And keep on dancing.
Evelyn has called the party paradise of Ibiza home for the last several years, although he hails from Leeds, England. The "Wax Da Jam" party at Ibiza's oldest nightclub, Las Dalias, had been his resident gig of choice for the last four years, where he experiments with beat improvisation with the likes of artists like DJ Shadow and Roots Manuva. Nightmares on Wax's new album "Feelin' Good" is infused with a lot of the funky soul stuff, with a heavy dash of house flair.
"House was always about fun to me. There was a period when it didn't sound like it was made by people who could dance but now it feels like the groove is back," says Evelyn.
Last Thursday, Nightmares on Wax DJed at Summit Music Hall to a full house of happy (and some barefoot) party people. Originally, my compadre and I had agreed not to stay out 'til 2am because we both had to work in the morning- but Nightmares on Wax just didn't allow for those kinds of promises to be kept. He didn't come on until midnight and kept us glued to the dance floor straight through his entire two hour set.
DJ Mikey Thunder opened up and got everyone grooving to some electro-swing beats mixed with dirty hip-hop. Truth be told, I could have gone home after Denver's own Mikey Thunder's set and been totally satisfied. He was that much fun.
But I was sure glad that I didn't. There was no lull, not even an opportunity for a smoke break. The climax of the night was when Nightmares on Wax mixed Biggie Smalls spitting Juicy lyrics over up-tempo and trippy house beats. Thunderous sounds of horns and bass turned into swinging soul beats then into Spanish banter into Al Green. There was drum and bass, but it wasn't cloying or aggressive. There was deep bass but it was it wasn't over saturated or robotic. Disco pop rhythms, clunky cowbell, and sputtering horns- all with a hint of that house bounce. And not even a whisper of the dubstep.
He simply plays good music and makes you shake it. Amen.
Hopefully this Nightmare will be a reoccurring one.