Like many of us who grow their hair out, mine turned into a tangled, dead end-filled mess. So I decided to go back to a short bob. But before I chop my hair off at the end of the summer, though, I wanted to try out one of the most popular hair trends of the season, dip-dyeing.
Lately, I've been admiring the pretty pastel dos. Lavender is one of the hottest hair colors right now, as seen on celebrities such as Nicole Richie and Kelly Osbourne. With dip-dyeing being the new ombré, presented by dare devils Katy Perry and Kylie Jenner, I decided to mix the two into my own lavender dip-dyed look.
Here's what I learned from my first dip-dyeing experience, as well as some tips from Nicole Higgins, expert educator at Aveda Institute Denver:
1. Come in knowing what you want.
Do your research beforehand, and hone in on the exact look you desire. I found a bunch of color ideas by typing in "lavender hair" and "lavender ombré" into Pinterest. In addition to knowing what color I wanted, I also knew that I didn't want the dip-dye to be a straight line, but have more of a blended ombré look. "To avoid lines in the hair, make sure you back comb your section first," Higgins suggested. "Paint into the back comb and feather down." It is important to show your hair stylist all of your pictures and tell them exactly what you want before they begin so they can find the happy medium. "This allows some leeway for if your hair doesn't lift the way it should," Higgins said.
2. Allow plenty of time.
Being a "hair virgin" and a brunette myself, I had two things against me when it came to the big bad bleach. When I came in for my appointment, they went in with a 20-volume bleach, and about an hour later, they had to go back over it with a 30-volume. This still wasn't enough. Overall, it took four hours to get my hair to go from dark brown to bleach white. So if you have darker hair, prepare for the bleaching process to take a while. If you're blonde, it obviously will take less time. Either way, the hair needs to be pigmented white in order for the colored dye to take. "Every person MUST KNOW color can't lift color," Higgins said. "So… If you have box dye, or any hair color on your hair, you have to bleach, a.k.a, highlight the hair to get it blonde enough for the fashion color."
3. Prepare for the worst.
When I came in originally, I asked for a pastel pink color, but they told me they didn't have a color like that. Lavender was my second choice, and one I ended up being glad I made. If you don't have a second choice, though, don't settle. Find a place that does have the color you want. Like I said above, it ended up taking six hours total and two trips to the hair stylist for me to get the look I wanted. Because my hair only got to a yellow the first time, the lavender dye didn't take and my hair came out a yellow-grey color. The second time, the color came out more violet than pastel, but after a few washes the color is finally as good as the pictures on Pinterest. The worst might happen, but stay positive and play it off —after all, pastel dip-dyed hair isn't meant to be serious.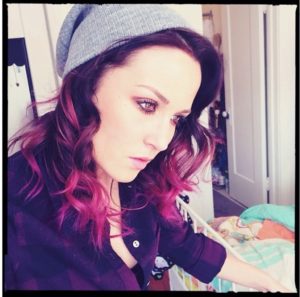 4. Anticipate serious breakage.
When stripping the pigment from your hair and leaving bleach in for a long amount of time, you're bound to end up with some damage. My hair was left pretty dry and very brittle. Even brushing my hair, I will find small pieces of hair that broke off. Luckily, I will be chopping off the ends of my hair by the end of summer, so the damage will not be long-lasting. If you're planning on keeping your hair long, or even dyeing your whole head a pastel color, know that your hair won't be as strong or healthy as it once was. "Always deep condition before prepping to have your hair lightened, it will strengthen the hair," Higgins advised.
5. Use proper post-hair care.
Due to the large amounts of damage and dryness your hair will experience afterwards, make sure to use the proper hair products. Ask your hair stylist for suggestions on products that will return the moisture to your hair and help prevent against breakage, while keeping the color as long as you can. "To conserve the color in the hair, use a color-conserve shampoo and conditioning system. Much like Color Conserve by Aveda," Higgins said.
Here's how my dip-dye came out: