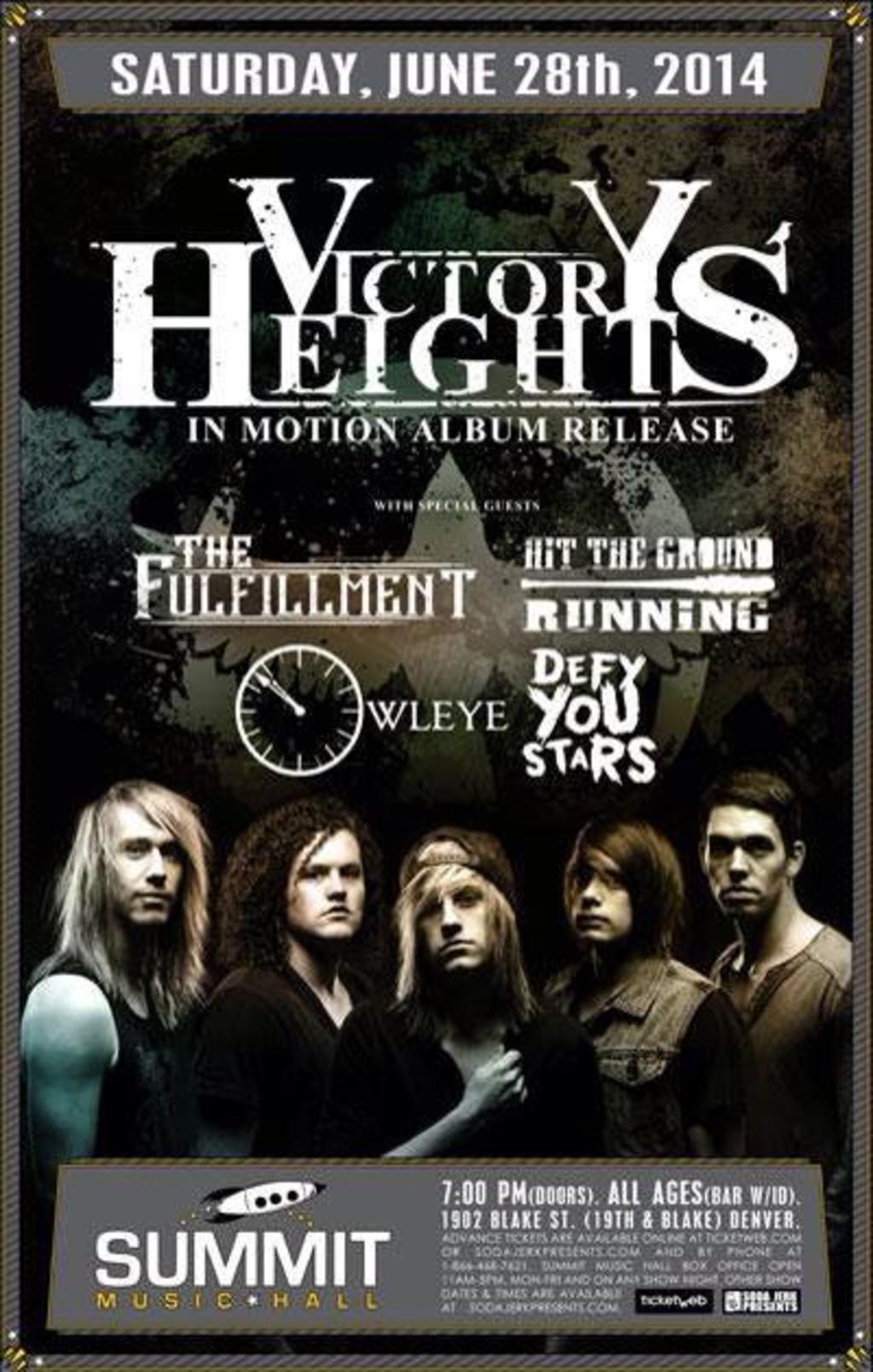 Colorado natives and post-hardcore stalwarts Victory Heights open their summer "In Motion Tour" at Denver's own Summit Music Hall this Saturday, June 28th.
After the release of their tantalizing debut full-length record aptly named In Motion, Victory Heights look to conquer more than just your average 300+ capacity venues … They're out to gain the respect that they so fittingly deserve. After eight long years of grinding away in a city that mercilessly disposes of artists and bands by the hundreds each year, the defined sound that Victory Heights once envisioned has come to fruition. And the hard work, the dedication, and the uphill battle that they've been fighting their whole existence seems to have finally paid off.
In Motion is a record that opens with an anthemic battlecry, "I am victory," that has lead vocalist Brant Falliaux vehemently proclaiming what one can imagine to be the credo of the entire record. And the record doesn't end before the audience gets a healthy dose of cutthroat breakdowns ("Some People's Kids"), a compromised balance of sensitivity ("Stay Young Forever") and even an added dramatic flair of hip hop influence ("Young And Divine"). (Check out "Young And Divine" for yourself, below, to get a better taste of In Motion's genre-bending potency.)
Drummer and clean vocalist Karl Bagnall soars across the record, complementing Falliaux's war torn-like gutteral screams — "Born & Raised" is proof that the musical partnership that the two have fused works like clockwork. A promising chorus that is sure to have crowds in full unison, "I thought this would be harder / But, I'm back on my feet," seamlessly transitions into unwavering walls of thunder that younger brother and guitarist Sam Bagnall, bassist Tyler Hutton, and guitarist/tech-aficionado Mike Anderson hammer out.
Lead single, "For The Birds," and its follow-up single, "Revolution," tread on similar ground, devoutly (and unabashedly) walking the fine line that, more times than not, swallows bands whole … Where pop rock meets heavy metal. Victory Heights tame this beast, pulling no punches from start to finish.
Even the title of the release itself, In Motion, all but forecasts bigger things looming on the horizon for the Mile High City's kindred young faithfuls.
Come check out Victory Heights this Saturday at Summit Music Hall to see for yourself. Support will be given from The Fulfillment, Defy You Stars, hardcore devotees Hit The Ground Running and up-and-comers Owleye.
Tickets are available for $10, and will be $12 at the door. Get them while you can!
Written by Samuel Lang of 303 Magazine.
Photos courtesy of Victory Heights.