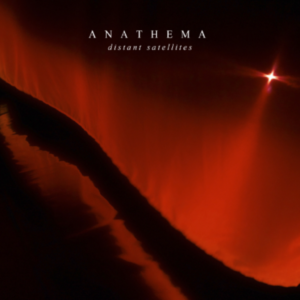 Today, progressive rock group Anathema released their tenth studio album, Distant Satellites, on Kscope Records.
This album features all kinds of interesting experimentation, with layered vocals, guitar, keyboard and piano by founding members and brothers Vincent and Daniel Cavanagh, female vocals by Lee Douglas, drums  and keys by her brother John Douglas, more drums by Daniel Cardoso, and bass, produced and mixed by Christer-Andre Cederberg. Needless to say, there is a lot going on with the music on this record.
According to the press release, Anathema are music for fans of Portishead, Mogwai and Explosions in the Sky. It's true that they play a blend of metal and hard rock-influenced prog with some electronic elements, but I never think these comparisons really do artists justice, because those three bands listed don't really sound like each other, and none of them sound quite like Anathema. Anathema play a sort of sad, melancholy blend of prog without much psych influence. It's my opinion that fans of prog like Dream Theater would be more at home with this group, rather than people who listen to Explosions in the Sky. That being said, the music still feels authentic, and not like they are only focused on technical skill or trying to emulate a certain sound.
The structure of the album is very interesting, and very diverse. The record starts out with "The Lost Song Part 1" and "The Lost Song Part 2," both of which have upbeat drumming and piano, a sort of shoegaze-indie rock feel to the vocals, and repetitive lyrics. They seem to tie together and tell a story, but they start the album off on a bit of a poppy note, and I wasn't sure where this was going.
Things change a bit on the third and fourth songs, however, and the record takes on a really solemn vibe with mostly just piano and female vocals. It then picks back up with a continuation of the original theme in "The Lost Song Part 3," and then it goes in a really interesting direction. The song "Anathema" almost sounds like melodic death metal, with ferocious guitar riffing and double-bass drumming, some of which sounds live and some synthetic. This theme continues over the next two tracks, "You're Not Alone" and "Firelight," and then goes into the title track, which is a more straightforwardly electronic song in the theme of drum n' bass. Things then end on a quiet note with the last song, "Take Shelter."
Overall, although this isn't my new favorite record, I would certainly recommend this to those who like heavy rock to metal, drum n' bass, or trip-hop. This is an album that isn't afraid to blur genre lines, and it's not easy to put this music in a box. But, while some bands who try to play "a little bit of everything" end up sounding messy and awkward, these guys (and girl) clearly know what they are doing when it comes to live music and production, and make the blend work really well.
Start looking for a copy on iTunes and in stores on the 10th, and give this long-standing prog band a chance if you haven't heard them.
Rating: 3 out of 5 stars
All photos courtesy of Anathema