Exactly one month from now the electronic music, dance and arts festival known as Sonic Bloom will be underway at its new home in South Park. After releasing the final wave of artists last week, we caught up with the festival's multi-talented founder Jamie Janover as he was traveling to a gig in Santa Cruz, California.
Janover is one interesting dude: he's a hammered dulcimer virtuoso, a percussionist who's invented several moving kits, plays as a third of of the live electronic group Zilla, and is an educator and advocate of Nassim Haramein's Unified Field Theory about the nature of the universe.
We asked Jamie about the new venue this year, what makes the lineup special, ties to Burning Man, and what the Sonic Bloom experience is all about.
303: This is the first year for Sonic Bloom at the American Safari Ranch in South Park. Why the new home?
Jamie: We spent three years at our previous site (in Georgetown) and we outgrew it. Something I've always wanted for the festival and I've always envisioned was a camping situation that is more like Burning Man — where you find your friends and set up your whole little zone in car camping. So this site is awesome in the sense that we have way more space and it allows for people to set up really cool car camping areas. There are no shuttles. You can walk right from your car to the stage and back to your car and create a cool little home base environment for yourself so that you have a home within a home.
303: What else makes the new site special?
Jamie: It has fabulous 360 degree mountain panoramic views. It's classic Colorado. The ranch is an authentic old western ranch — it's a real, working horse ranch with horse rides and all that stuff. We are not doing horse rides for this festival, however, because the horses don't do well with big crowds and loud music. They're going off-site for the festival.
303: You just announced the final wave of artists, including Simon Posford of Shpongle. What do you think makes the lineup special this year? 
Jamie: We always have a variety and we always switch it up year to year, so some of the favorites that played last year are not playing this year. And some of the people who we really wanted to come play last year but weren't available are now coming this year. Somebody like Kalya Scintilla was playing in Turkey last year and wasn't available, Kaminanda and Bird of Prey were playing in Israel last year and were not available, Ott was playing in England where he lives and wasn't available — so now all these guys get to come this year.
Last year we wanted to have Tipper come play but he was having heart surgery, so we're very happy that not only did he have successful heart surgery, he's made an amazing new album and he's coming back to play the only two sets he's going to do all year in Colorado. We have special visuals from Jonathan Singer and Android Jones being projected onto a custom-mapping sculpture made by Carey Thompson, who's coming to install that. So the Tipper sets are very special specific sets that we've been working for months with Tipper to make the most amazing sets he's ever played. We're also bringing in the largest FUNKTION-ONE P.A. ever assembled in Colorado, which is pretty much industry standard known as the most high quality, high fidelity electronic music P.A. system that you can use.
303: What's the idea behind Sonic Bloom?
Jamie: Since the beginning, Sonic Bloom has not just been a music thing. It's been trying to combine every form of human expression in one event. So having a strong emphasis on the educational aspect of workshops, yoga classes, live painters, sculpture, performers, DJs, lasers — everything you can imagine in terms of the way that humans celebrate and create art together.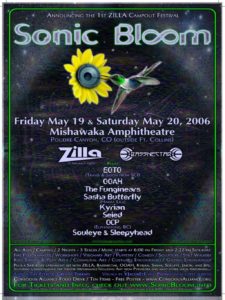 Sonic Bloom is very much inspired by West Coast festival culture. This will be my 15th Burning Man in a row that I'm going to this year, and Sonic Bloom is in the ninth year — so I had six years of going to Burning Man before this festival even started. When we started doing it I was like, oh cool, we can have a double Zilla show and we'll call up our friends to open for us. So we called Lorin — Bassnectar — and convinced him not to take a show at the Fox (in Boulder) but to open for Zilla at Mishawaka. We invited Ooah out and he had never played in Colorado — this was years before The Glitch Mob ever formed. So that was the origin of it, and then we were like, oh, now we can do a fire dance ritual that's kind of like String Cheese Incident's big shebang at Horning's Hideout, which I think they started doing in '99. We didn't start the festival until 2006, so for years I was doing all these things like String Cheese, Symbiosis, Lightning in a Bottle, Burning Man, Shambhala and stuff like that. Colorado didn't have a festival like those festivals so I was like, let's bring this "West Coast, Burning Man vibe, electronic music festival thing" to Colorado. And that's how it started.
303: What can a first time Sonic Bloomer expect? What kind of mind state should they bring to the festival? 
Jamie: You might end up going to Sonic Bloom because you're excited about the lineup, or the art, or the workshops and the performances, but in the end this festival is really about the people that go there and the community that forms. I get messages from people that they literally ended up getting married because they met at Sonic Bloom, or they actually conceived a baby at Sonic Bloom — stuff like that. So it's more about the life; it's not about the entertainment, it's about the community you meet and the friendships that form — that sometimes last lifetimes. It happens with every festival but I feel like Sonic Bloom, being that it's not that big, it ends up having a family vibe.
It's not like going to something like EDC or Electric Forest — these 50,000 person festivals. This is 10-times smaller than that, so now all the sudden you've got a crew that you run into at the same place, at the same stage. Like you go from the dome to the main stage and back to the dome, and see the same people, then you go over to the vending and you see the same people. You end up having conversations and by the end of the festival you might have developed a whole new set of friends that you stay in touch with. I think for me that's the best part, I meet tons of people. Yeah, the music is great, I love it, but it's really about the people for me.
303: How has the festival evolved over the years?
Jamie: It's still a growing, emerging culture and it's exciting to see that things that were fringe only a short time ago are no longer fringe — they're now becoming mainstream. That includes really good and smart and resonant thought patterns and behaviors — including taking care of each other, taking care of the earth, being sustainable, being organic, and partying responsibly. Colorado just legalized marijuana and that's not a small thing. It's highly significant, highly symbolic and the whole world is looking at Colorado, and we're super proud do be doing this in the context of such a forward-thinking place on the planet.