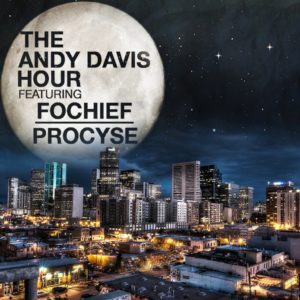 The Andy Davis Hour is the latest collaboration from Fo Chief and ProCyse. The two have worked together before on Nothing Else Matters. This time around, though, we find Fo Chief with a thorough rap stamina that, at many points on the project, leaves ProCyse well behind. The two have a great chemistry and camaraderie in the verses that help propel the rhythm. A hefty sixteen tracks long, you'll do well to settle in and have a listen.
On proverbial wax, the two are given a platform to raise hell and they do so over bass riding beats. "Wastin' Time," is the single circled by the concept of ambition and this style of motivation is held throughout The Andy Davis Hour. While the majority of the record is used to describe the unbound inspiration to take over the game, the project is not without its street anthems.
Check for "Shadows," where Fo Chief employs the flow of the century on this one. His rap compadre ProCyse says he has the "fountain of youth flow," which is a perfect description for the young spitter. Cyse holds his own against Chief's more rugged rap interpretations, though he does come across as hip-hop's little brother throughout The Andy Davis Hour.
"For Goodness Sake," finds Fo Chief's Fresh Breath Committee brethren Paul Junior and Kontrast as features. Chief seems to get a bit of a boost with his posse on this cut and it's definitely worth a rewind. It seems as though the two are fed up with what they deem being overlooked in the rap scene and this is told even better through "We On It." Lines like "If you got your ear to the streets, you hear me," lets us know pretty emphatically that if you ain't ready for Cyse and Chief, you'd better get ready.
Not only are the rhymes articulate and dynamic, Fo Chief is a bit of a singer. And by bit of a singer, we mean an incredible singer. "Rewind" is the track for the ladies and Chief is singing like Pimp C on this joint. Every rapper has to deal with the wanton displays of affection from the ladies and this track is the perfect description.
As mentioned before, sixteen tracks is long for a project and The Andy Davis Hour isn't without its moments of redundancy. Despite the thematic repetition, there are some gems sprinkled throughout. Be sure to listen to "Checkin For Ya" which has club banger written all over it. "Brighter Days" comes in with the clutch as reflective and poignant. Chief and Cyse lay out exactly why they do what they do.
Overall, I dig this record and think Fo Chief and ProCyse do a great job of volleying the rhymes back and forth. Fo Chief is the better rhymer of the two and has a better diversity to his talent. He sings on numerous hooks and switches up the patterns of his flow with ease and quickness. Cyse is a great inclusion because he complements Chief's moments of brilliance with his own "take no prisoners rhythm." Listen more than once. This one's got something for everybody. Listen to The Andy Davis Hour here.