When is the last time you saw a magic show? Probably when you were under ten and it was probably underwhelming. Or think back to the last time you actually encountered a real, live magician- and Arrested Development's Gob Bluth doesn't count.
Well Denver's got a new magician in town and 303 Magazine has had the pleasure of catching up with him to ask some questions about how he got involved in the magic business, why creating and experiencing magic is important in today's society, and to find out the scoop on his local show. Mysto the Magi can be found in the LMAO Comedy Show at the Voodoo Comedy Playhouse every Saturday night in May for only $15. It ought to be noted that this particular show- ahem– is for adults only…
Read on to find out why award-winning Mysto the Magi has recently relocated from Durango to Denver and what sort of tricks he has up his sleeves for us.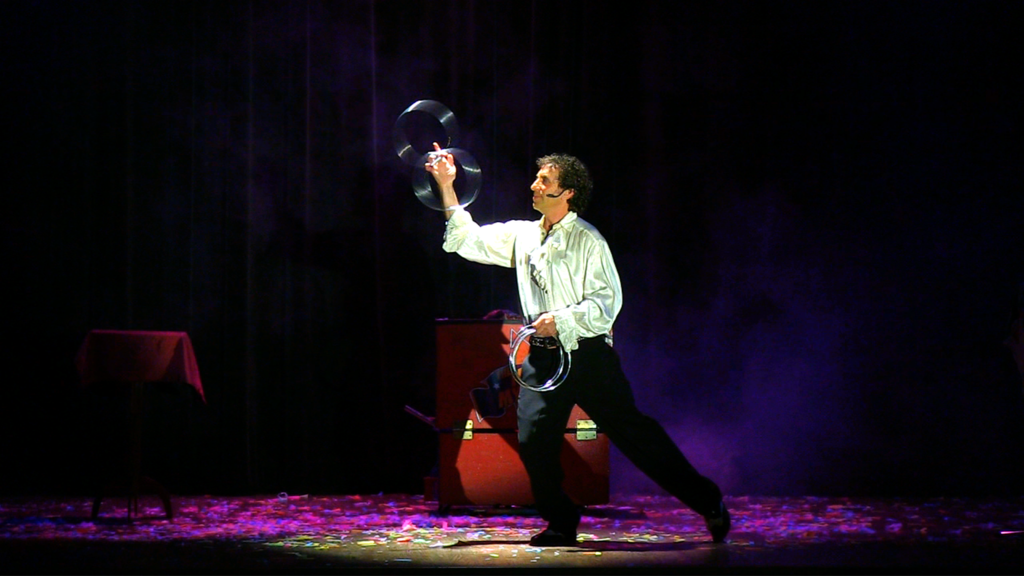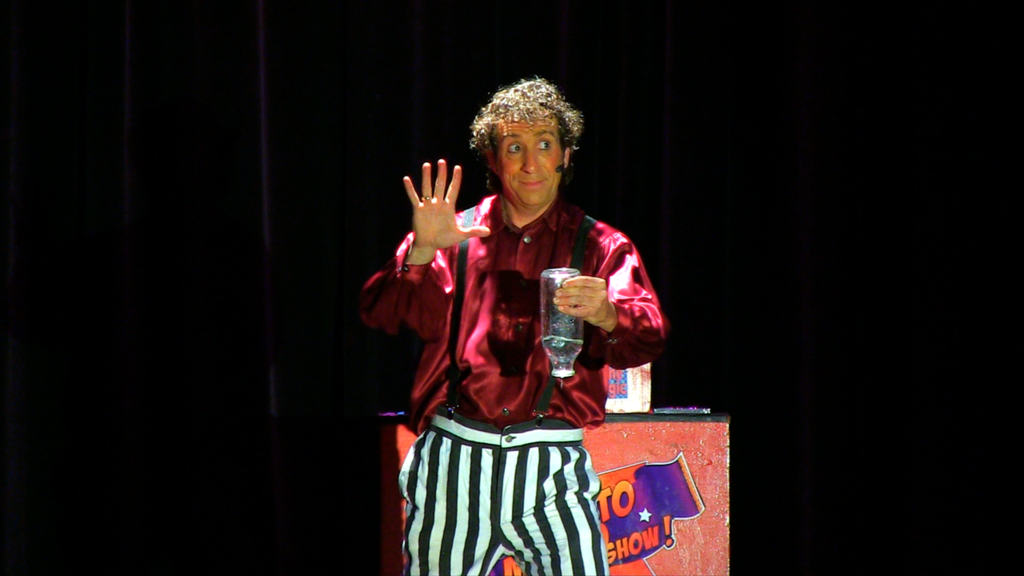 303: You've been practicing magic for over thirty years, wow. Tell me a bit about how you got your start in the magic industry.
Mysto: I started doing magic when I was ten years old. My mom was a school teacher and had a student who was a magician. His uncle Harry demonstrated magic at Jacks Joke Shop in downtown Boston. My brother and I and Robbie used to go down there and spend all afternoon watching Harry. After a couple of years my brother and I collected a bunch of magic. Then he went to high school and discovered girls and gave me all of his magic tricks.
I realized that with what I collected and what he gave me that I could have a half hour show. I did my first professional show for $5 when I was twelve.
When I was fourteen, I performed my first stage show where I floated a kid from the audience. It was a benefit for the cancer society. I made $200 and raised $1000 for the Cancer Society.
I continued performing magic throughout high school. Went to college and started doing street magic on 6th street in Austin. That is where my show became much more adult. After college I performed at street fairs and Renaissance festivals.
Now I have many different shows for different groups and situations:a wonder-filled birthday show, an educational program for schools and libraries, a 45-minute comedy show out of a briefcase for comedy clubs, a 90 minute solo stage show for small theaters, and a 90 minute stage illusion show with five big illusions, two dancers, and a juggler with me for large performing arts centers.
303: How have you seen the magic profession change and evolve throughout your time performing?
Mysto: Well, I feel that because of television and movies there has been a new style of magic born. I call it trick photography magic. It used to be that a magician would cover his hand with a scarf and produce a bird or something. Now we have taken the scarf away and the bird is just there, or the card instantly changes into the persons selection, or the coin vanishes in the blink of an eye with no cover at all! It is the biggest change I have seen in magic and it is exciting. It really raises the bar on peoples experience of magic.
303: Who are some of the influences that have helped get you into a career of performing magic?
Mysto: I read articles about other magicians and how maybe they had a mentor or one person who really helped them. I used to feel sad about not having that experience until I realized that I have had so many mentors in my life. Max Maven taught me my first card trick, Frank Garcia taught me my first magic trick to fool other magicians with. Jeff McBride became my friend first and my teacher later. He has been such a big help with the large stage show. Eugene Burger has been an inspiration and helper with the finer points of my magic and its presentation. Plus, a host of other magicians that I have met along way the way that just wanted to share their experience and some nugget of knowledge that they wanted to pass along to me.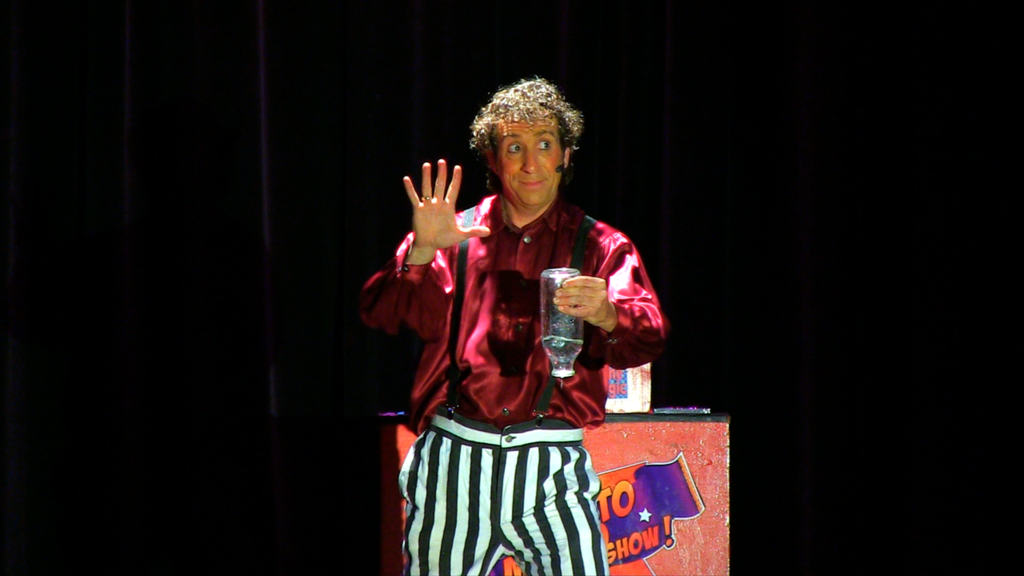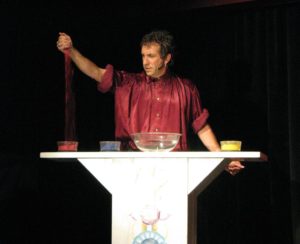 303: Is being a magician your day job, or are you secretly an accountant or a school teacher?
Mysto: Magic has been my full time occupation my entire life. There have been times when I got a job as a waiter or something, but those jobs never lasted long. This what I do. It is my life path.
303: Who is your favorite type of audience to perform magic in front of? Why?
Mysto: Mostly I like to perform for people. Dogs and other animals quickly loose interest and just want to lick me.
Actually, my favorite show to perform is my stage illusion show. Something about having a whole team behind me and a big crowd in front of me makes me a better entertainer. It is where I really shine bright.
303: How do you go about maintaining an air of mystery and illusion? Is that a tough act to keep up?
Mysto: My show is fun. I keep an air of fun in my show. Mostly through my character and the musical choices that I make. My show, like a play or a concert, has its highs and its lows and its grand finales. Through careful scripting, musical choices, acting, staging, lighting, and what effects I choose to perform and when, I bring the audience with me from laughter to magic to mystery to awe and to wonder. It's a magical journey.
303: What is the most important thing that you want your audience to take away from your magic performance?
Mysto: Our world these days is so full of stresses and everything that can be known is often found on the internet. Many things we don't want to know are blasted at us anyway through radio and television. Life can be just overwhelming.
What I want people to experience in my show is to go back to a simpler time: a time when we didn't have so many worries. And just for that hour, or however long we are together, I want people to take away sense of light-heartedness, a sense of child-like wonder, and a feeling that they went somewhere else for just a short time. All that other stuff just goes away.
Also I want them to learn a bit about me. Who I am. And why I am on this planet. That is why I call my show "The Mysto Mysto Show!" I use my name twice in the hopes that you won't forget it.
303: You won Best Stage Magician and Best Close Up Magician at the Magician's Convention in Dallas twenty years ago. What are the different aspects you have to take into consideration when performing on a stage versus up close to your audience… or can you not talk about that?
Mysto: I also won Best Stage Magician and Best Close Up Magician in Daytona, Florida in 2010. I guess I still got it! Stage magic and close-up are two different kinds of magic. Most magicians only concentrate on one style. Close-up magic is intimate, for just a few people and using small objects. Often there is no music and definitely no lighting. It is pure and uses sleight of hand and manipulation. One has to be very good to create magic when your audience is only a couple of feet away.
Stage magic, for me, is theater. Blocking, lighting, music, directing, timing. Everything is a choice. It is much more like stage acting, and I have been trained in the theater. Everything is bigger. One's own aura and energy have to command a large space. Something that is quite different than at close-up setting. My years in magic have brought me to a point of excellence in both styles.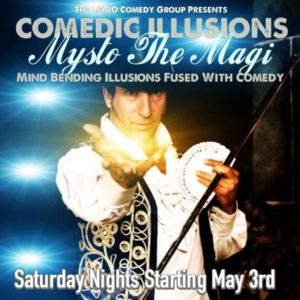 303: You've recently relocated to Denver from Durango. What do you have up your sleeve for us as far as magical entertainment goes? Where and when can we expect to catch your performances?
Mysto: While I am a national act and perform in theaters, casinos, and for conventions all over the country. Durango, while beautiful, became too small and too isolated. Moving to Denver has been great. After only being here a few months, I am headlining the LMAO Comedy Show at the Voodoo Comedy Playhouse in LoDo (22nd & Larimer) every Saturday night in May. The comedy starts at 8 p.m. and the magic starts at 9 p.m. Tickets are just $15 for both shows. This is an adult only show.
There are many more public performances that I will be doing in the Denver area including my full evening stage illusion "Mysto Mysto Show!" at a theater near you. These shows will be family events.
We may be continuing the magic at the Voodoo and other venues throughout the year. Stay tuned and please check your entertainment listings for "Mysto the Magi & The Mysto Mysto Show."