Adrian and Desiree Gallegos-Barragan say they've always had artistic inclinations.
With Adrian's background in graffiti art and Desiree's background in fashion design, the married couple had all the potential necessary for finally turning their creativity into a business. The talent was there, the passion was there, but a platform was not.
Like most creative types, Adrian and Desiree wanted some kind of a consistent stage that would both vend and showcase their work to the Denver consumer. So the obvious solution was to purchase a storefront.
"We were doing trunk shows with [Desiree's] fashion and my art — little setups and pop-ups with various organizations like Fashion Denver," Adrian says. "It worked, but we wanted something more solid […] then we became interested in opening up our own boutique."
With their eyes set on a brick and mortar, the couple began to look at possible real estate; however, it wasn't long into their search that they realized there was a high price in doing so, which forced them back to the drawing board.
"We started to look for alternatives," Desiree says. "We were just brainstorming one night and thought of the idea of being mobile. We did some research and saw that it was a booming industry in larger cities like L.A., Boston, Chicago, New York, but we had never really seen anything like it here."
Right away, the couple predicted a mobile boutique would flourish in the city. And so in 2013, they hit the streets with the Denver Fashion Truck, a 20-foot refurbished postal van stocked with artwork, handmade clothing and accessories, home decor and a collection of quirky vintage items — all which compliment the overall D.I.Y., cabin aesthetic of the truck.
"The products and pieces we carry go well with the vibe we're trying to create," Adrian says. "I was thinking about Colorado when I came up with the look for the interior. We're very inspired by the small mountain towns we have here as well as the city's urban life, which is why I wanted the look to be modern meets woodsy."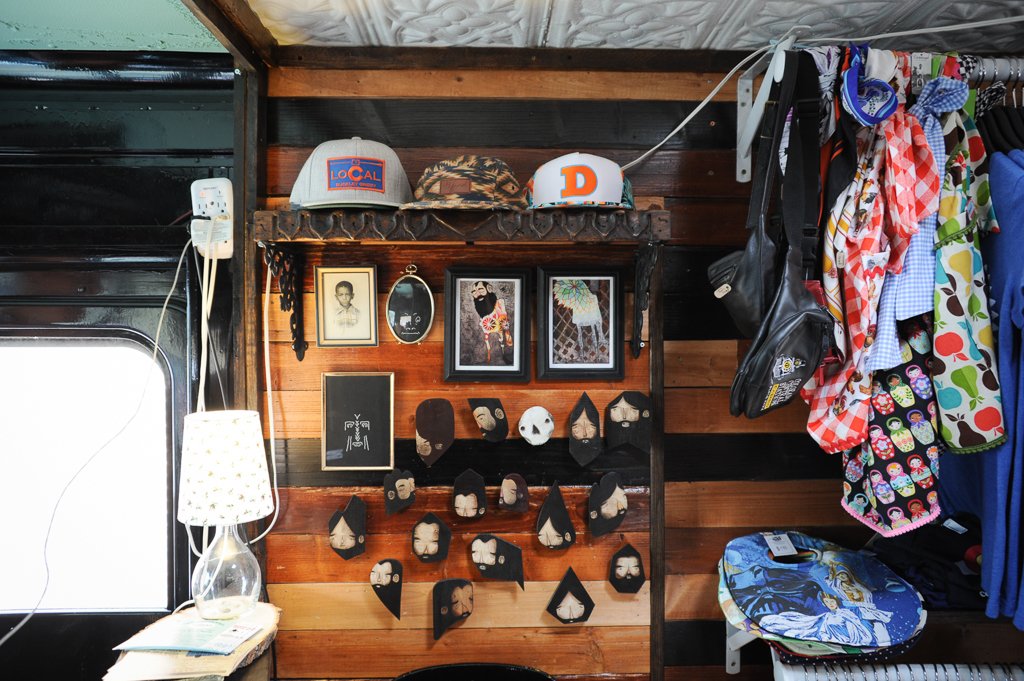 Though a small space, the Denver Fashion Truck has a lot of character. The plaid-patterned exterior is intriguing alone, but on the inside customers can really get a sense of the boutique's spirit — and its Colorado influence. The dark-stained wood and sleek white shelf paneling was inspired by the architecture of the Convention Center, Adrian says. And all items (with exception to the vintage merchandise) were created by local artists and designers, including Colorado-tinged T-shirts from Adrian's ThemeOne line, and dresses and home decor made by Desiree.
"We purposely feature all local designers because we know how necessary and important it is for them to have some sort of stage," Desiree says. "I think Colorado has its own style and I can see that it's on the rise. There are so many good clothing designers, T-shirt designers and accessories designers — people are starting to notice Colorado's signature look, and we're happy to be a part of that."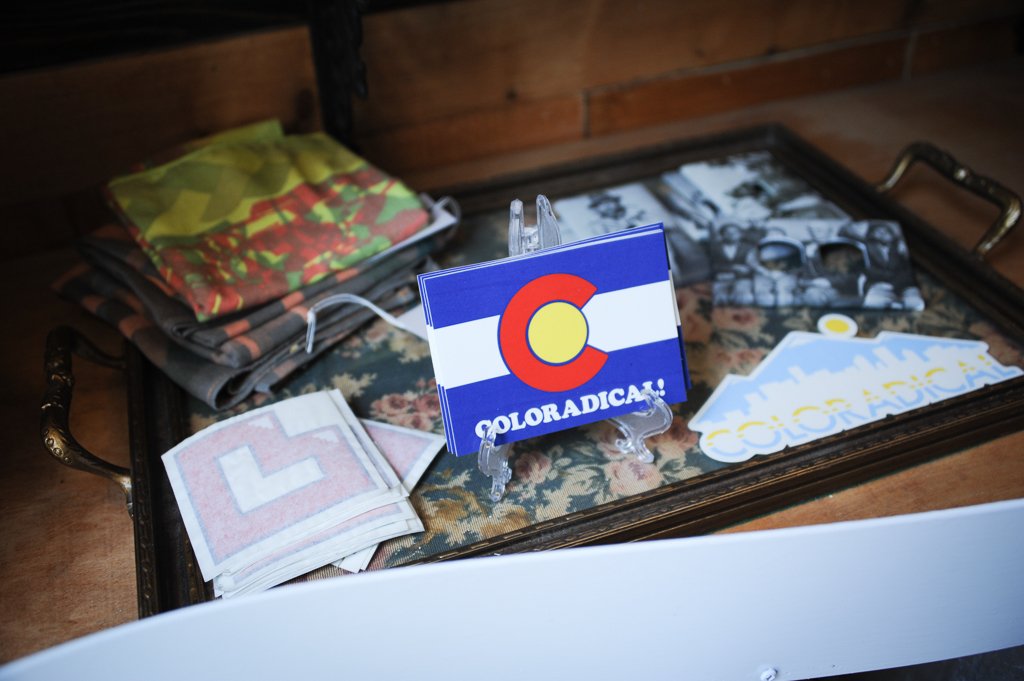 With a recent surge of local boutiques, some wonder how the Denver Fashion Truck fits into this business realm. Adrian says every once and a while he'll get questioned on how other boutique owners respond to the Denver Fashion Truck. He says some people assume having a mobile boutique lends them an unfair advantage: being able to go to their customers while keeping overhead costs low. But the couple insists it's not as easy as it looks.
"It's a different kind of challenge and takes a certain kind of person to run a mobile boutique," Adrian explains. "Yes, it has its advantages, but it can be a roller coaster. Because we manage and operate the business by ourselves, there's definitely a lot of work […] We never have trouble keeping busy."
In addition to having a small space, Adrian and Desiree must consider a handful of limiting factors that are specific to a mobile store, such as available parking for patrons, weather conditions and consideration for boutiques within the neighborhoods they visit.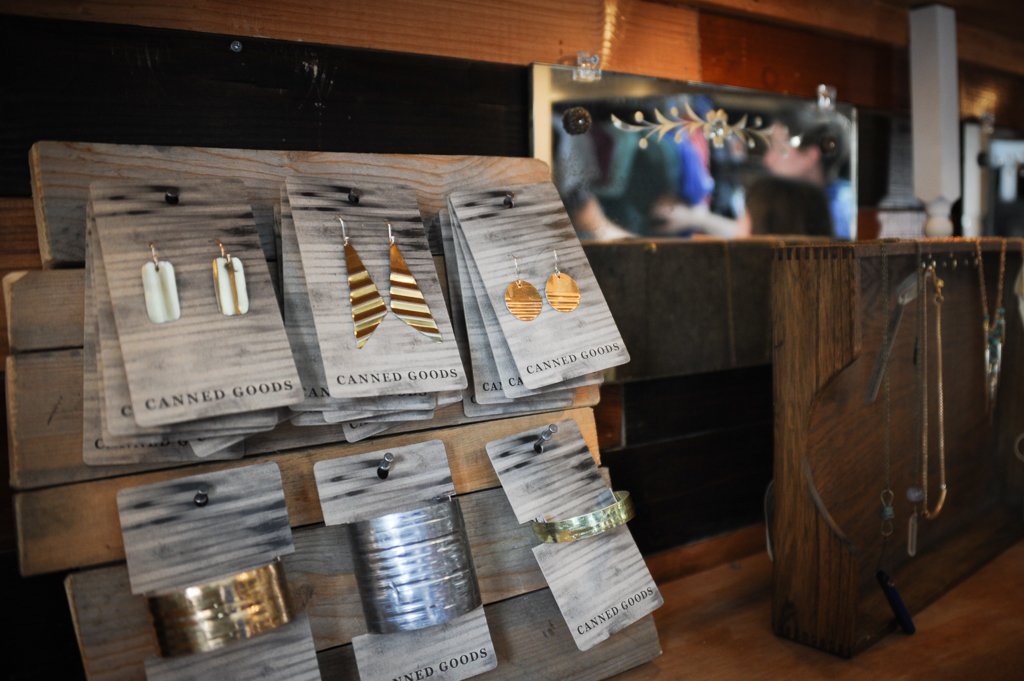 "We want to make sure we don't step on anyone's toes, but so far, we've gotten nothing but good feedback from other business owners," Adrian says. "We feel like we've been successful in developing relationships with neighborhoods, which is important because [our business] is new and we want to give it a good name, make sure it has its place in the city."
On May 31, Adrian and Desiree will host a one-year anniversary party for the Denver Fashion Truck — celebrating the past year's successes, including the win of Metro State's 2012-13 Entrepreneur of the Year award. The anniversary celebration will take place at The Infinite Monkey Theorem, an urban winery located at 3200 Larimer St., and will feature live music by The Gin Doctors, live art by Jaime Molina and a fashion show. The event is free and open to all ages.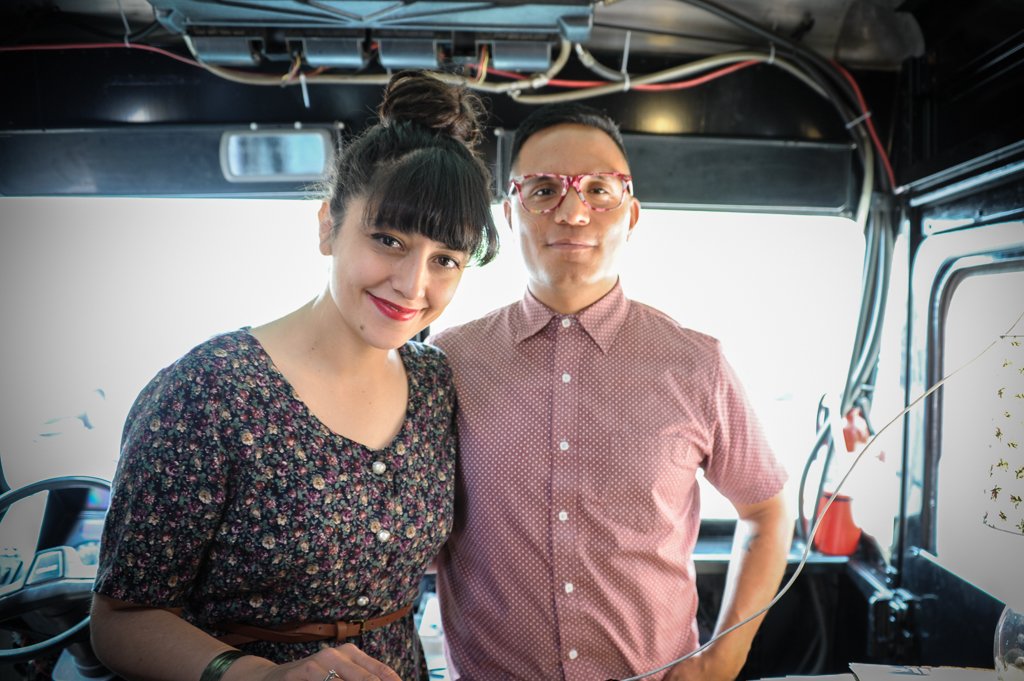 "It's pretty amazing how far we've come and everything we've been through together," Adrian says of his marriage. "We were teenage parents and went through a lot together, but we've always had a spark of creativity within us both — we've always shared that love. And it's pretty crazy how all of this came together and provided a stage for us and other locals to shine. For a lot of us natives, it's tricky for us to get our space. But the truck helps with that. We're finding our own way to have a presence and bring all our local designers and artists forward […] It's about keeping Colorado, Colorado."
To learn more about the Denver Fashion Truck, go to www.DenverFashionTruck.com.