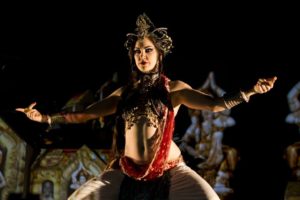 I first saw Beats Antique when they opened up for Bassnectar in a tiny venue in Philadelphia called the TLA (Theatre of Living Arts) on South Street back when I was in high school. I was simultaneously blown away by Zoe Jakes bodacious dance moves and then confused about the scathing wompfest that ensued. Who could have predicted the future for that dreadlocked freakshow, the "grandaddy of the dubstep," the Bassnectar? Not me.
But what I did know was that I was in love with Beats Antique- well, Zoe specifically. Girl crush to the max. So I never miss an opportunity to catch their tribal fusion roadshow, whether it's at Red Rocks, cramped into a tiny bar in Vail, out in the desert at Burning Man, or at our very own Fillmore Auditorium.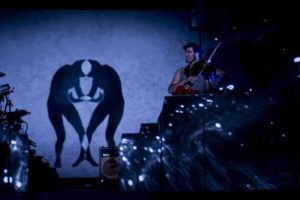 Beats Antique debuted their stunning new stage set up by Obscura Digital, which is designed to emanate a "mythological village out of a storybook." Using the talents of 3D animators, fan art, claymation artists, set builders- over 100 different artists!– to collaborate on this new spectacle, the band claims that they wanted something that felt "nostalgic and handmade." The basic outline of chunky, block shaped buildings provided a canvas on which to project an array of psychedelic visuals on to.
The show started out by diving straight into a bass heavy electronic jam that led into the introduction of Miss Jakes, who came out dancing around like a little China Doll, with a lot of wrist twirling and impossible backbends. The show took all sorts of loops and turns and went from ambient and melodic music into something out of a carny gameshow. Zoe pulled an "unsuspecting contestant from the audience" onto the stage and then they were both "attacked" by a giant inflatable cyclops space pooch, rolling on the ground beneath its looming paws.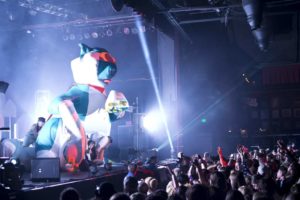 My personal favorite Zoe rendition of the evening involved her starting off in a tight black Morticia Addams dress that was soon-to-be stripped away. Then the set erupted into this Vegas showgirl scene with an additional belly dancing babe and a sexy feathered fan duet dance. Her costumes and headdresses never cease to amaze me, especially the giant (heavy looking) antlers and her billowing parachute skirt. Yowza.

Beats Antique also played their dark and raunchy track "Beelzebub," which features (a claymation version of) mastermind Les Claypool on vocals and bass (naturally), bellowing about his "breath smelling like barnacles." (I'd still kiss him).

[youtube:https://www.youtube.com/watch?v=yl58QllW2QM]

It was truly exciting to see one of my most esteemed bands branch out and grow and cultivate something new and wildly creative. A lot of their newer tracks from "A Thousand Faces, Act 1" were more robotic and less "Arabian nights" than their exotic older stuff (which I honestly prefer), but the show was superbly entertaining, as always. "Act 2" of Beats Antique's radical rock opera is available for download via BitTorrent Bundle.
"Our main ambition for the album and the show was to create an unforgettable experience for the audience. We're the characters they're encountering along the way, the scenery that's constantly changing all around them, and it's the audience members themselves who are the heroes on this journey," elaborates David Satori.
It is riveting to see bands evolve and that is exactly what Beats Antique is doing. Their new stage set up, which was funded largely by crowdsourcing, was on par with the likes of Shpongle, Flaming Lips, EOTO, and other top notch artists that pride themselves on their outstanding ocular stimulation. And it seems that they have branched out musically, incorporating some experimental and funky new twists and turns in their latest work, while still maintaing their worldly influences.
Beats Antique's combination of live instruments, thumping electronic beats, world renowned belly dancing and choreography, and vibrant visuals will continue to set them apart from any attempt at genre classification. Their new stage set up, collaborations with other artists, and their interpretive story telling on "A Thousand Faces" proves the band's maturity and dedication as artists striving for greatness. Just when you thought they had perfected perfection, they came out with something all shiny and new.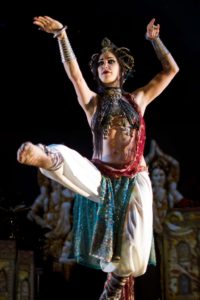 In the end, they encored with some classic stuff, including their signature freak show parade of dancers in various rubber animal masks and Zoe bangin' on the bass drum in a black and white full body leotard (swoon). No matter which long and winding road Beats Antique chooses to take, they will always arrive at that same magical and bizarre Oz, flying monkeys be damned.
Make sure to check out 303 Magazine's complete photo gallery by Adam Ripplinger from the Beats Antique show from the Fillmore from Friday night.
Check out the video below to find out more information on Beats Antique's new album, "A Thousand Faces," and to learn about the making and design of their stage set up by Obscura Digital:
Beats Antique "A Thousand Faces" Tour from Obscura Digital on Vimeo.
All Photos by Adam Ripplinger