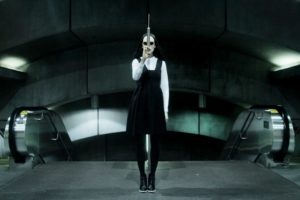 The new single, "Catch," by Allie X is trending like crazy on Youtube, Buzzfeed, and other sites right now, especially since Katy Perry herself tweeted that she is obsessing over the song. "Catch" is 'catch'y for sure, and it's easy to see how it became an instant pop hit. However, the content of the music is a bit darker; the lyrics in the song compare co-dependent relationships to doctor-patient relationships, and the accompanying video shows Allie X wielding a giant syringe.
This is Allie X's first big break, and prior to this, she has been singing and self-producing somewhat in secret. "I have been locked in my room for two years making music," she told Billboard in an interview. Allie X is from Toronto, and has recently relocated to L.A. Although she is beyond stoked to receive praise from someone as influential as Katy Perry, Allie X wants to go the non-traditional route and continue to have creative control over her music and her image, instead of handing her persona over to a major label or producer. Although she is still vague about the details, she assured Billboard
that she will be releasing more songs soon.
Musically, "Catch" is very poppy, with emphasis on the vocals and delivery, although the music is synthy and off-beat. She also incorporates more of a retro feeling into her music than her contemporaries, sounding, to my ears, more like quirky 90s pop group Aqua or lesser-known synth pop acts like Chvrches or Shriekback than Lady Gaga. Check out the video, and keep your eyes on Allie X and her rising stardom!
For her Soundcloud, go here: https://soundcloud.com/alliexandra
Written by Addison Herron-Wheeler of 303 Magazine.
Photos courtesy of Allie X.