Mike Dillon is a mad man. He smashes the vibraphones and whacks the hell out of any drums that get in his way. He's played with lots of different bands over the past twenty years and his current project, the Mike Dillon Band, is set to release their new album, Band of Outsiders, on April 1.
The new album is the perfect storm of Mike Dillon's creativity: a blend of "deep, funky go-go, experimental hip-hop, snarling punk rock assaults, and ska grooves." The Mike Dillon Band's lineup includes bassist Patrick McDevitt, drummer Adam Gertner, and trombonist Carly Meyers, who Dillon describes as "a High Priestess of Trombone who channels the energy of Iggy Pop through the chops of JJ Johnson in second-line."
Mike D and company just blazed a trail through our mountain towns and is heading down to the front range this week to blow us away with his funky punk rock, raging "jazz" music. You can find him playing at the following venues on the respective dates with the Jacob Fred Jazz Odyssey, who also will be releasing a new album in April:
March 19 – Boulder – Shine
March 20 – Ft. Collins – Hodi's Half Note
March 21 – Denver – Other Side
I had the pleasure of interviewing Mike D last week while he was still touring through the Midwest. Read on to find out about what Mike has to say about touring with Les Claypool, studying jazz as a kid in Texas, the Deep Elem punk rock scene, playing congas with Galactic, living in New Orleans, playing at Jazzfest, and his advice for aspiring musicians.
303: I've seen you play with Les Claypool's Fancy Band, Garage A Trois, The Dead Kenny G's, and The Fancy Trio. I've also seen you sit in with Galactic, who just played Denver this past weekend. Hot damn. I admire your appreciation for the weird, but your dedication to the classic funk and jazz elements. Tell me a bit about what it's like to play with so many different talented musicians and how it allows you to radically express your unique percussion style from band to band?
.
Mike D: Well, whether it's Claypool, Galactic, or Garage A Trois, there are always elements of shared musical appreciation. Mostly for funk. I find that playing with different people, I'll play a lot of different instruments. For me, as a percussionist, you've got to look at every situation for what it is and see which musical elements people are looking for. That's what I've come to see: no music is better than another. I used to just want to play with people better than me, but I shouldn't look at it this way. There are different musical landscapes than you're capable of seeing. Playing with Ani (DiFranco) or Claypool or that nutcase Skerik, the music that everyone is writing ends up becoming affected by all of it, by me. It's all a learning experience.
.
And so many people think improvisation is just playing scales and stuff really fast, but improvisation is just on the spot composition, sped up. The best guys tell a story every time they play their instrument. That's how people connect with the music.
With Claypool, he's a character. He's like a funky bass playin' Tom Waits. He's exactly like who you think he is: he's quirky and eccentric and a great writer and a great teacher and a great improviser. Everything Claypool plays is so unique. Getting to play with him for nearly ten years, well, every night he'd be a great teacher to me. It was always "try this, try that." He's a perfectionist and is always pushing for the music to be better. And I like that about him. He used to tell me to put duct tape on my vibraphone, which used to really annoy me until I realized what he meant by it: to make room for everyone else to play music too.
Why the fuck would this redneck tell me to put duct tape on my beautiful instrument?
[youtube:http://www.youtube.com/watch?v=aE8BjwHob8E]

It's interesting how the influences are the same: the music comes from the hand and the heart and the mind. Everyone speaks in different ways- just like music. People that have connections are able to get on stage and be effortless because their vocabulary is similar, which is what it comes down to at the end of the day. And then when it stops happening, all of a sudden you're not playing anymore, and that's ok too. Another big part of this is listening. It's a lot of give and take. Inspire each other, listen to each other.

303: I'm also a huge fan of Mike Dillon's Go-Go Jungle. Battery Milk (2007) is one of my favorite albums to jam out to over morning coffee. It's sort of like "crack-jazz" and it goes down smooth. Tell me about what you think makes the Go-Go Jungle different from other traditional jazz bands out there?

Mike D: That was my first attempt at having a trio, my first vibraphone trio- but with vocals and punk rock. That was sort of the concept. That's my whole deal with the vibraphone: playing it the way I think of music with my crazy rapping and punk rock screaming. But instead of the guitar, I do it with the vibraphone. This was the first time I didn't have a keyboardist or guitar player. Go Go Jungle was a big step for me, with all the chordal and harmonic stuff mainly through the vibraphone. With the Mike Dillon Band, it was nice to add the trombone to create more texture. The two guys from Billy Goat were with me (in Go-Go Jungle), and we had years of musical experience together. So they knew where I was coming from, from a philosophical level. After not playing with Go Go (Ray) since 1997, it was great to get together and make another record with him.

[youtube:http://www.youtube.com/watch?v=YKJhg3uTvDg]

303: The vibraphones really set apart your music's sound from a lot of other bands. How did you get into playing the vibes?

Mike D: Well, that goes back to fifth grade school band. I wanted to be a drummer and to be a drummer, you've got to be in the school band, the orchestra, etc. So I started playing the glockenspiel, the timpani, and all that stuff. I was in the Houston Youth Symphony in high school with really good instructors. Then at the University of North Texas, they made you play the mallets. I just wanted to be a drum set player. Congas and timbales and stuff. But I already had so much classical training on the marimba. I was always into jazz in high school and during college, I was also in jazz bands.

One day in 1994, I was watching a movie about Thelonious Monk in a hotel room. After just watching him (Monk) play piano, I knew I wanted to do that on my vibes. And I was also starting to write a lot on my vibes. I just knew when I saw him playing, that I wanted to dedicate myself to the vibraphone. I had no idea that one day I'd be, like, rockin' with it, but it's been a really fun adventure.

[youtube:http://www.youtube.com/watch?v=8alldO2ZZH0]

I would go to jazz jams in Kansas City and just totally suck and get dirty looks from jazz musicians, but I never had a fear of sucking.
I think that's very important for any musician: you're gonna suck. You're gonna form a new band, and it's gonna suck.
It'll always take some time. For example, I personally like the second Go-Go Jungle record. I don't think the first one sucked, but I think my playing is better on the second one.
There's always something good about those first few gigs though- it's like a lover. You don't know each other very well and it's just fun. But eventually there's a deeper connection and then, a love. That's how I feel with the vibes. I've been playing since I was ten and I'm forty eight now.
I had no idea I'd be playing punk rock vibraphone. Makin' my van payments from hitting metal bars. Drinking kombucha, loving life. Whatever that shit is you think when you're young. But you know, for me, the reason I keep doing what I do is because I just love the experience of playing at night. I live for that experience, going in and playing and making new fans. Just getting into it and not worrying about it. Not looking at your phones. That primal connection.
I wanted to write music and play a melodic instrument. It was my voice. I couldn't play guitar or piano, and it's fun to beat the shit out of something.
I've studied all the great masters of my instrument and I think I have enough skill over this instrument that I'm not disrespecting what the greats have done before me. I wanted to play the vibes in a rock and roll setting. Of course, the most prominent guy who did this was Frank Zappa, and I get a lot of that. Even though our music is obviously different than Zappa's music, there's this visceral connection.

See Ruth Underwood, Frank Zappa's famed percussionist, play St. Alfonzo's Pancake Breakfast on the vibraphone:

[youtube:http://www.youtube.com/watch?v=ndtyGyh6iCU]

303: Of all the percussion instruments that you smack and slap and beat up on, which is your favorite to play?

Mike D: My tambla. I've been studying them since 1984. I started off in college and I studied for a long time and took lessons from a few masters over the years who taught me so much about music and life. Aloke Dutta has taught me so much about everything, really changed my perspective. He taught the drummer from Tool the tabla and they'll do duets sometimes. He's a great LA teacher and an absolute master drummer, himself. And Latin stuff, Brazillian percussion. I used to be really into congas, but they hurt my hands. Whenever I play with Galactic my hands are sore for a week.

Check out Aloke Dutta playing tablas:

[youtube:http://www.youtube.com/watch?v=6Pt0ZOiQF7s]

303: So you grew up in Texas but currently reside in New Orleans. How do you think living in this part of the country has influenced your punk-funk-rock-jazz style of music?

Mike D: When I moved up to Dallas in 1984, I was going up there to play jazz and to study at one of the best jazz schools in the country. Snarky Puppy came out of there, you know. Every night you'd just see these amazing musicians just killing it. Practice for ten hours a day and then go out and see the best guys from school playing in clubs at night. There's this part of town called Deep Elem– a lot of blues happened there in the early part of the century.

There was this old boarded up store front and warehouses and parties and this whole punk rock scene, it all became kind of dangerous. But that's where all the punk rock bands from Cali would play: Chili Peppers, the Minute Men, Firehouse, etc. Before I saw those guys though, I heard this cool hardcore reggae band was playing, and I opened for them. This band turned out to be Bad Brains. It was always a rowdy crowd: punk rockers, mohawks, bad guys. Then Bad Brains just annihilated the place, doing flips into the crowd… it was fucking intense. The first time I met the Reverend Horton Heat, he was running sound.
The punk rock scene just celebrated being themselves. And I just thought to myself: I want to do that when I grow up.
[youtube:http://www.youtube.com/watch?v=NBRAIfKTtzA]

Looking back on it, I was studying jazz, but seeing punk rock shows in Deep Elem at the same time. I was into that scene. And every punk rock band was different. For example, the Meat Puppets… even the Deadheads loved them. Sonic Youth, they were doing their own thing. Butthole Surfers were doing that psychedelic freak out thing. And this stuff hit me on an emotional level. I really started appreciating what was going on.  So I was lucky to be in Dallas.

Then I discovered New Orleans: the Nevilles Brothers, the Meters, etc. But back then, you didn't have YouTube and the internet to make everything feel like such a small world. You weren't as connected. So driving from Dallas to New Orleans, you got to really embrace the landscape and everything. You felt like you were physically discovering something.

303: Tell me about the Mike Dillon Band's new, upcoming album that will be released in April, Band of Outsiders.
Mike D: The new album encompasses a lot of New Orleans themes, the madness and debauchery that happens there. The basic concept for the album was NOLA punk rock meets Brazillian. Combining all the stuff from the Go-Go Jungle and the first record. I know a lot of our fans really like the funk, but I feel like this album really has a lot of harder punk rock stuff. Everyone in the band is super young and really high energy. It was definitely a cohesive effort. There are a lot of layers to it. I think people will think there's nothing else like this on the planet.
People may not like our music that we make, but we don't sound like every indie rock band. We are talking with our own language. I feel like I've been working for years and now, at forty eight years old, this new record sums up everything I've been trying to do artistically.
Stanton Moore (Galactic) said the record made him have to put his head back together. He really saw my artistic vision in this new album. We take some unexpected turns. I love it and people I respect seem to like it. But more importantly, I like it. And I've already started writing the next one. It's hard to talk about your own stuff. I just like writing music. Music and art make a rough day beautiful. It's spiritual, it's about feeling.

Check out "Hero the Burro," one of the tracks from "Band of Outsiders," which will be released on April 1:

[youtube:http://youtu.be/5DiH2dqPk8g]

303: Can I expect to see you around NOLA Jazzfest this year? Last time I attended in 2012, I think I saw you perform at, like, five different venues. That must be exhausting. Stanton Moore (Galactic) and you both seem to be Jazzfest MVP percussion men. What do you love about playing nonstop at the (arguably) best music festival in the US that takes place in your own backyard?

Mike D: Yep, yep, yep. I try to spend as much time as possible in New Orleans for that very reason: I fell in love with the place in 1999. There are so many clubs. Galactic and Ziggaboo… everyone is just out and loving music all night long.

My first two-week marathon there, I stayed at Stanton's house and he just showed me the ropes.My love for the Galactic family is amazing. It's a very embracing community. You've gotta be a good player no matter where you go, but New Orleans is just such a warm music community compared to other place, like New York. George Porter and Ivan (Neville) are just playing all the time.
So I got to start playing with these guys, and it was really cool to see the amount of humility that my heroes have when they play. In New Orleans, it just seems to me that people just love playing so much.
In 2006 when I moved to NOLA, I was playing with George Porter one night and he was leaving in the morning to go play with the Rolling Stones. It's all about having the attitude like "it doesn't matter where the gig is, as long as I've got my instrument in my hands and I'm just playing it."
Jazzfest, yeah. I've learned to really pace myself. I used to just take every gig I could get. I live pretty near Frenchmen street and I've got a song on the new record called 7am, and it's inspired by Jazzfest. It's fuckin' fun! I'm gonna do some all-nighters. We're gonna do what the Hairy Apes used to do- start at 3am and play til 7am.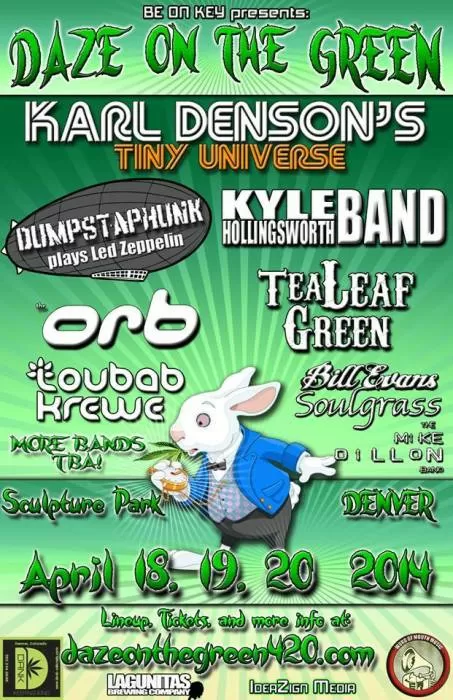 303: You'll be back in Colorado on 4/20 for Daze on the Green to celebrate… Easter. And then the Mike Dillon Band is playing at Telluride's Jazzfest in early August, after hitting up Summer Camp and Wakarusa. Sounds like you've got a pret-ty good summer lined up. Any summer events in particular that you're looking forward to?
Mike D: Yeah, I'm really glad we got invited to Wakarusa. We did it last year, and hopefully it won't be super muddy and crazy rain again. Last year, I was there just playing percussion, but this year my band will be there. Telluride in the summer time is just unbelievable. Whatever we can get in Telluride, I'm there. It's just magic.
Oh, and the 4/20-fest. I'm looking forward to coming to your state to celebrate your recent legalization of the weed. Hopefully all of the other states will be following in suit.
303: And one more question for my little brother, the aspiring percussionist about to graduate from music production school in the spring: any advice for breaking into the music industry?
Mike D: Don't let anyone intimidate you and don't give up. That's the biggest thing: just don't give up. So many great musicians get frustrated just because of their own expectations of where they think they should be in their career.
Everything isn't gonna be wine and roses, but just stay focused on your love of playing and whatever your instrument is. Some people are just gifted and everything comes easy.
But for me, it's been a long road. I'm just a lifer: there's nothing else I want to do. And you just have to know that. Play your music because you love music, not to make tons of money or have people worship you. That's my advice to anyone.