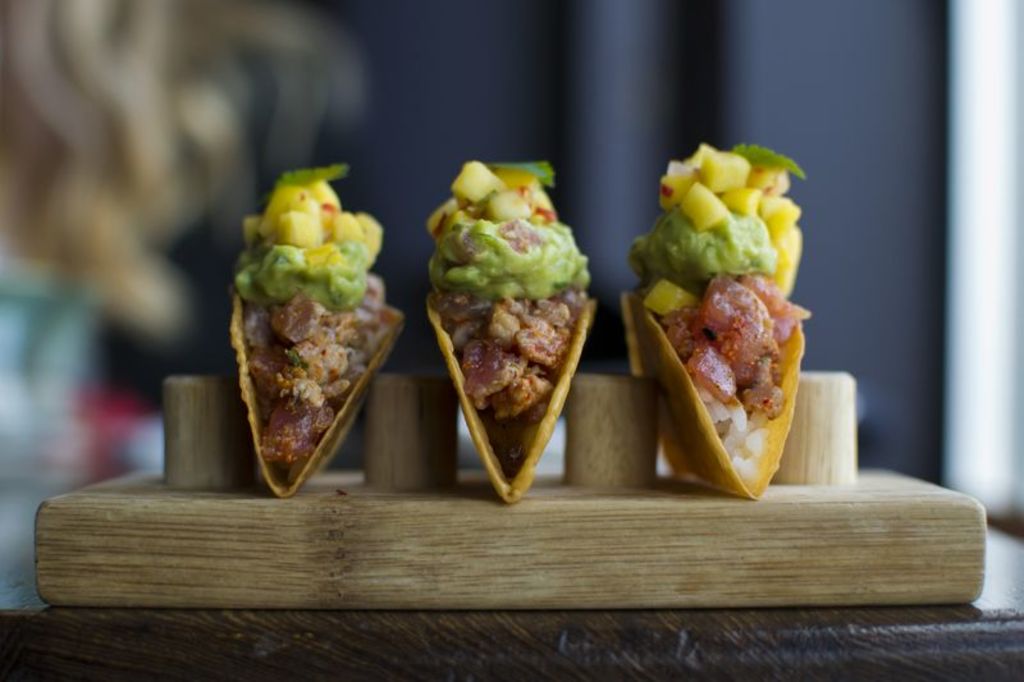 What: Charred Tuna Won Ton Tacos blend together the best parts of Latin and Asian fare.
Where: Zengo – 1610 Little Raven in Denver
When: Celebrate Zengo's 10th Anniversary on March 5th or continue the party March 6th-9th as Zengo offers their most popular small plates for $10 each on the "Zen for Ten" menu.
Pros: Zengo combines tastes and flavors that blend well together. You won't find any strange, out of place combinations here.
Cons: Their regular menu is on the pricey side. If you are on a budget, take advantage of their upcoming specials.
After finishing a successful run during Denver's Restaurant Week, most restaurants will try hard to return things back to normal. Not the staff at Zengo; they are just getting warmed up. This year, Zengo is celebrating its tenth anniversary and to celebrate, it is offering a four-course meal on Wednesday, March 5th featuring their favorite dishes and some new additions. Come in and enjoy dishes like Mahi Mahi Caviche, Roasted Pork Belly with Sweet Soy, and Habanero-Cilantro Scallops for $65 per person. Then later that week, the fun continues as Zengo offers a "Zen for Ten" menu March 6th-9th which includes their famous small plates like the Won Ton Tacos for $10 each.
The Charred Tuna Won Ton Tacos have been a long-term staple item on Zengo's menu and it's easy to see why. They are the perfect dish to feature because they perfectly display Zengo's talent for blending together Asian and Latin based cuisine. A won ton shell is cut into a circle shaped and cooked to create the "taco" shell. The shell is filled with a layer of sushi rice and topped with charred ahi tuna mixed with Pasilla pepper. The tuna is covered with Zengo's house made guacamole and mango salsa. Not only is the presentation perfect, but also the tacos taste delicious. The flavors from the tuna and toppings blend together seamlessly.  The dish has the perfect amount of spice as well, giving a kick without making you have to scramble for a water glass.
While the Won Ton Tacos definitely stood out, it's safe to say that the rest of the small plates on the Zen for Ten menu do not disappoint. The Angry Zengo Roll is another popular dish for Zengo and was very tasty.  Spicy Yellowfin Tuna is rolled with avocado and cucumber and served with Wasabi Tobikko and Chipolte Rouille. The Chipotle gives this roll a Latin kick. Another dish that is a must try is the Give and Take Chicken Salad. While it's usually not in my nature to suggest a salad when there are so many savory options on a menu, this salad was delicious and filling. Roasted chicken, orange slices, cabbage and mixed greens provide the substance while pecans and won ton pieces provide the crunch. Topped with a Piloncillo-Ginger Vinaigrette, this salad is perfect for a plate to split.
If you are a first timer at Zengo or a regular customer, this week is the perfect time to come in and enjoy their 10th Anniversary menu. Zengo is also encouraging their customers to enter their "What Has Zengo Meant to You" Photo Contest and share photos of their experience. The winner receives a trip for two to Cancun. But even if you don't win the trip, the menu at Zengo is so fulfilling that your night will still be a complete success.
Photos by Adam Ripplinger, 303 Magazine Photographer.
PURCHASE YOUR DFW SEATS/TICKETS BEFORE THEY SELL OUT