Papadosio's sound is many, many things. It's progressive rock with psychedelia, folk with electronica, dance music with jam… but above all else, it's music with a message.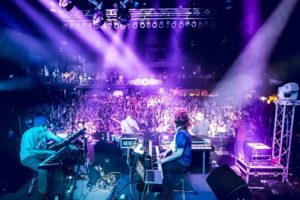 The Ohio-bred, North Carolina-based quintet has amassed a dedicated following of thousands, spreading themes of conservation, tolerance, love and unity through their recorded music and live performance.
To End the Illusion of Separation, the follow-up to 2009's critically acclaimed Observations, finally arrived in the fall of 2012.  T.E.T.I.O.S.,  the double album, calls for people of all kinds to reject artificial barriers of wealth, class, and creed and come together under the flag of humanity.
Papadosio will be bringing the love to Boulder on Friday, March 7, and Saturday, March 8, inspiring two nights of creativity and community at Fox Theatre.
303 Magazine caught up with Papadosio's drummer Mike Healy before their upcoming shows…
303 Magazine: You're kicking off your winter/spring tour. By the time you get to Boulder, you'll have been on the road for about a month already. What is your favorite part about being on the road?
Mike: My favorite part, obviously, is performing every night. I mostly look forward to the constant, amazing crowds that come out every night. That's what we all look forward to the most; the amazing moments we have on stage when we're all really feeling the energy.
Tell me about the process of making To End the Illusion of Separation. 
It was a really, crazy long process, probably over two and a half years of recording. We would come home for a week or two, record some tracks and then hop back on the road. We wanted to mix it together with many different kinds of mediums, to put something down that wasn't just a normal CD.
Papadosio seems to have a commitment to a larger sense of purpose, community and social responsibility. Was that a foundation of the band or something that's developed over time?
From day one, we've always had very similar ideas on what we want to do with our music: not only having a blast rocking out, but also having a message. Some of our biggest influences were the kind of bands who played what they wanted to play and said what they wanted to say with no fear, no matter what.
"We don't want to be that stereotypical band that just gets famous and makes a lot of money and doesn't do anything. Right now, so many artists are just soaking in millions of dollars from all of these fans around the world, but the majority of those people don't say anything."
You can change so many peoples' lives just by talking about things that you feel strongly about. I think we've gotten more comfortable over the years being able to speak our minds and not being afraid.
You have a large fan base in Colorado. You're playing two nights in Boulder… one of the only places you're playing twice on this tour. What do you notice about your Colorado fans, if anything?
Colorado was our very first tour, more than just a small regional tour around Ohio. It's kind of become a second home for us. We constantly make an effort to come out to Colorado, and we don't make that effort everywhere else. I mean, it's Colorado… it's one of the best places in the United States to be. We always look forward to it. 
So, what's next for the Papadosio?
We're very, very lucky. This is what we've always set out to do; we don't know how to do anything else. We just need to keep playing music, keep truckin' forward, you know, just non-stop rockin'.
— Buy your tickets to see Papadosio at Fox Theatre, March 7 and 8, here and here.