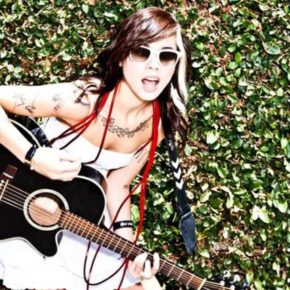 The Philidelphian singer-songwriter has delighted us again with her graceful single, I Don't Wanna Break. A heartfelt, love-drenched song about infatuation and the loss that accompanies. Perri pours herself into this melody, which is no surprise, given the popularity that accompanied her first major ballad, Jar of Hearts.
Her debut album, Lovestrong, appeared at number 4 on Billboards top 200 list for the year 2011. Perri was an overnight sensation with many of her followers discovering her on So You Think You Can Dance and The Twilight Saga. Perri's sophomore album, set to release in March, is following in the same footsteps.
The celebrated HBO broadcast, Girls, just released its second soundtrack. Featuring tracks from Vampire Weekend, Lily Allen and of course, Christina Perri. I Don't Wanna Break launches its adoration with a primetime spot on the hit show. Girls has been nominated for multiple awards, winning more than half.  Perri is lucky to have coverage with such a likable series. If being featured on the Volume 2 soundtrack wasn't enough, Perri also released a lyric video for the tune.
The video made its introduction on February 10th, 2014. Showy verbage on cheerful background slides add joy to the anguish of this song. Showcasing the talented songwriter that lives within these lyrics was the best decision for this video. Perri is nothing short of pure power. She's sure to surpass the likings of Demi Lovato, Taylor Swift and Colbie Caillat.
Take the opportunity to see this paramount artist in person. Perri will be promoting her new album Head or Heart (her second album, set to release on March 11th 2014) at The Ogden Theatre on April 4th.
Photo credit: www.christinaperri.com