On Saturday, newly relocated Apricot Lane hosted a free Mingle, Sip 'n Shop with wine and media, followed by a fashion show.
Apricot Lane is the first and only franchise in the state of Colorado known for its quality and excellence in customer service. All styles are designer-inspired and come at a conveniently affordable price. The store opened two years ago in Larimer Square in Denver and has since relocated to the South Glenn and Cherry Creek neighborhood.
The soiree on Saturday took place at the new location in The Streets at South Glenn. The music was poppin' and there was a great turnout for the fashion show. It was produced by the JTA group and Colorado Fashion Week and was a huge success.
During the fashion show, I noted tight stretch miniskirts, both plain and printed, paired with loose and longer quarter-sleeve cardigans and pullovers. I also saw skinny and bootcut jeans with pumps and a tophat. Short and long dresses were popular, as I saw a striped dress with a skinny waist belt, dresses with lace accents and patterns, and even a Missoni-inspired zig-zagged long-sleeved mini dress.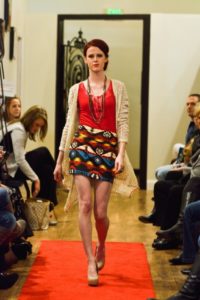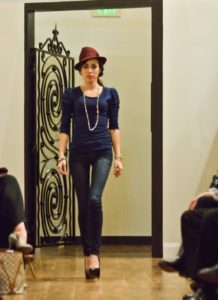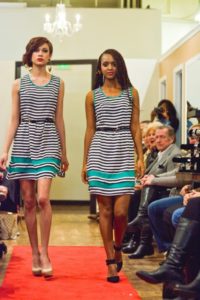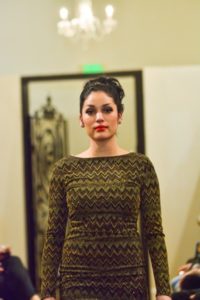 Two of my favorite styles in the show were the white pleated lace top paired with white lace shirt, and the kelly green skinny jeans coupled with a navy jean jacket and some strappy heels.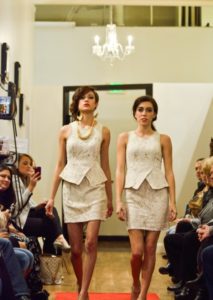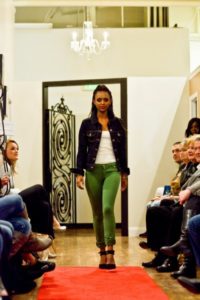 Accessories were utilized in this show extensively, as Apricot Lane showcased big earrings, chunky necklaces and some amazing headpieces.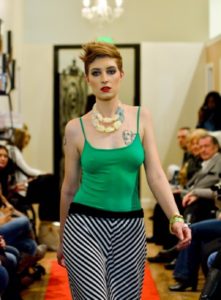 A trend I saw and loved during this show was the pairing of sequin neutrals, with neon brights in chiffon.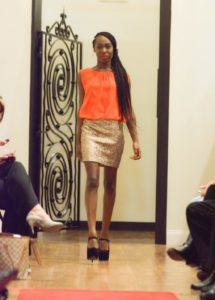 I also had the chance to interview the fabulous owner of Apricot Lane, Chris Rivard.
Q: How long have you and your husband, Phil, been working together?
A: We started up 2 years ago in downtown Denver, and have recently expanded and relocated to the suburbs.
Q: Congratulations! How do you like your new location?
A: Thanks! Well, I had originally planned on keeping both of the stores, however we decided to just open at a new location and expand within the store. The new location is great, there is a lot of shopping traffic and we are able to host fashion shows and fashion parties with this extra space.  We are hoping to make this location our flagship store.
Q: What are some of the brands showcased in your fashion show tonight? Do you carry them in-store?
A: There are wonderful pieces tonight from brands we carry in-store including Miss Me, LA Idle, BB Dakota, Tractr Jeans, Jana and Liverpool Jeans.
Q: What is your favorite part about the production of the grand opening weekend fashion show?
A: Today was the most exciting and fun, actually styling all of the models and glamming them up!
Q: What sets your boutique apart from the others in the Denver area?
A: I think we really provide quality, fashion forward styles at an incredible price point, while striving to always maintain the best customer service. Our stress is on excellent service.
Q: Where do you see Apricot Lane 10 years from now?
A: I am hoping we have some new locations open, so we can spread out. And I am really hoping Apricot Lane remains philanthropic and that we give back to our community as much as possible.
I thoroughly enjoyed the show along with all of the laughter and high energy this boutique provides.  Go visit Apricot Lane today!
The Streets at South Glenn 2154 E. Commons Ave., Suite 231 Centennial, CO 80122
303.955.7452.
All photographs captured by Delmy Gooch
Reviewed and written by Alyssa Campbell