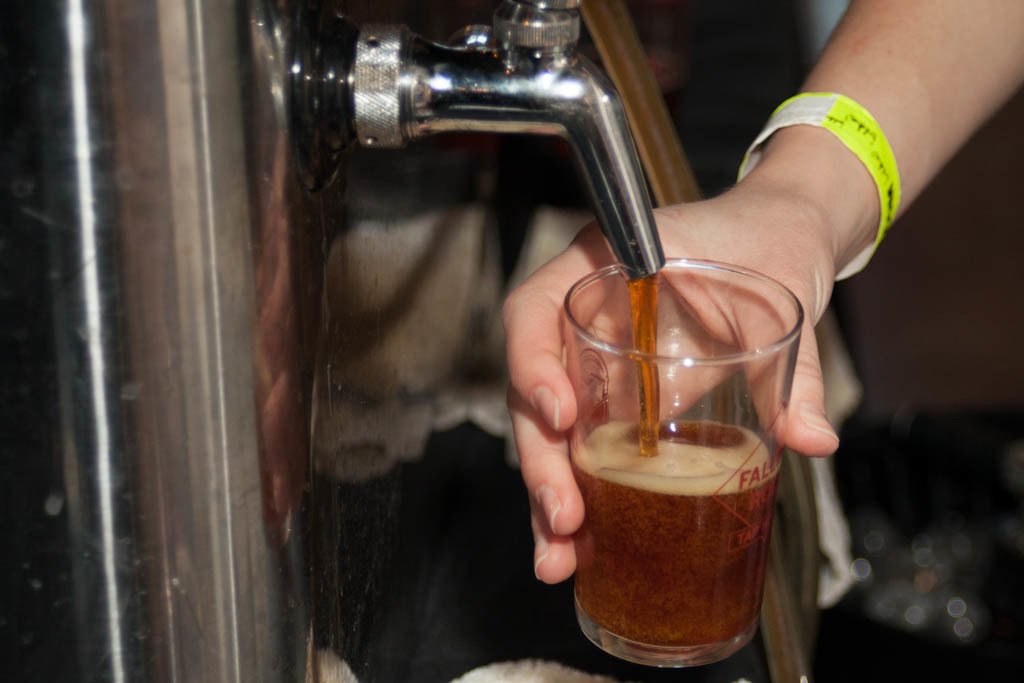 What: A beer festival for the rest of us
Where: This year's Festivus took place at the McNichols Building, 144 W Colfax
When: Last Saturday, December 16th, 2013
"This is my favorite festival to pour at," Caroline Duffy of Vine Street told me as the crowds started filling the floors. And it's not hard to see why. Featuring only Denver breweries in a town filled with big beer festivals, the 2nd Annual Denver Beer Festivus, put on by Imbibe and Denver Off the Wagon, is full of local pride and a distinctly merry holiday spirit.
With even more ugly Christmas sweaters than last year, this growing festival is a great way to see the expansion of Denver's beer scene first hand. The long lines at favorites like Crooked Stave and Strange Brewing Co. help Festivus feel a little like a family reunion as ticket holders and brewers greet each other with knowing smiles.  But what makes this gathering of craft beer lovers even more special, is the chance to explore the unknown that is lurking in our own town.
Even beer-experts on hand found at least a few chances to try out the offerings of up and coming breweries like Station 26.  Set to open soon (this weekend, perhaps) in northwest Denver (7045 East 38th Ave), this new kid on the block quickly had a line as long as the usual crowd favorites despite the fact that most in attendance hadn't even heard of the brewery that morning. The Cherrywood-Smoked Golden Ale they were pouring had a lot to do with that.  Complex, strongly smoky and slightly sweet, this ale was distinctly flavored enough to get the crowd talking.
Tasting new brews from established breweries is another exciting part of Festivus. My favorite recent release was the Tis the Saison from Denver Beer Co. This holiday brew was a perfect fit for Festivus with its crisp flavor and peppermint finish and was a nice partner for my  Our Mutual Friend, the RiNo startup, also caught attendees' attention with its dry hop pouring system that allows them to add new flavors to their brews as it's your glass fills.
Festivus isn't Denver's biggest festival, but it may be the most fun. There's something about locals gathering together to enjoy local products that gives a festival a special kind of energy. Or maybe that was just my Biker Jim's reindeer sausage (does Festivus fare get any more perfect than that?). With more Denver breweries opening all the time and no signs of slowing in the craft beer scene, Denver Beer Festivus can only get better, and that's good news for the rest of us.
Check out all the Festivus fun in our gallery here.
All photos by Jackie Collins