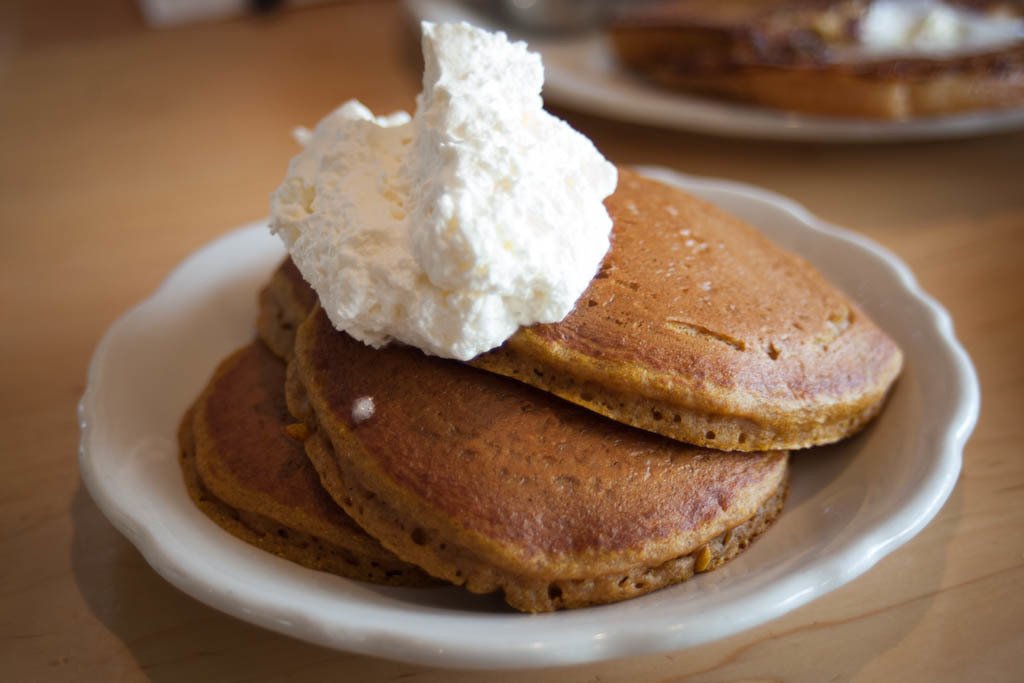 What: Orginal Pancake House and their big servings of classic home-style brunch options
Where: Denver's got two locations to visit this popular breakfast franchise:
DTC at 8000 E Belleview Ave 
Cherry Hills at 5900 South University Blvd. Suite D
When: 6am-2pm every day of the week
Pros: For those in South Denver, The Original Pancake House is a convenient choice for friendly service and a meal that will start your day right. The servings here are huge and 3rd generation owner Sara Hueneke Ernst has added her own special touches to the menu making this seem more like an independent family-owned eatery than a nationwide franchise.  
Cons: There's no booze, so don't come here expecting that kind of buzz.
"Wow, that's so much food," I heard the table next to me exclaim as I took my seat at a big comfy booth in the DTC location of The Original Pancake House.  A big meal does not always equal a good meal, but at this American favorite, you get both big portions and a meal made with care.
There are, as the name suggests, plenty of pancake options here. From classic buttermilk to potato pancakes and everything in between, if you've got a favorite pancake, it's probably on their menu. The seasonal specialties are a treat and worth a try since they're only around for a short time every year. The light and fluffy "better than pie" Pumpkin Pancakes have all the flavors of the holidays packed into them without being too sweet.
I also particularly enjoyed the Egg Nog French Toast made with sourdough bread. Little additions like the lingonberry sauce that accompanies this dish makes the simple food that OHP serves seem a bit more special than what you can whip up at home. One of the specialties here is the Dutch Baby, a big, puffy classic dish served with lemon slices, powdered sugar and whipped butter. I grew up with these (although we called them Panquakes), and OHP's version does not disappoint. And don't forget to add the famously thick bacon to the side with any dish here.
It's the non-pancakes items, though, that were surprising stand-outs here. Original to only Colorado OHP's, the green chili here is a recipe from one of the restaurant's regulars and is one of the best I've had in town. Try it on the five egg omelet which is souffléd resulting in an incredibly fluffy dish unlike other omelets in town. The Corned Beef Hash is another savory favorite that is made daily with fresh chopped sirloin resulting in a recipe that taste nothing like the stuff out of a can that is served at many Denver diners.
As a resident of South Denver myself, it's nice to have a place that is close where I can pop in for a bite and be sure that what I'm being served to start my day will be satisfying, filling and made like I would at home if I had the time. The welcoming atmosphere and kind service doesn't hurt either. I'm always wary of chain restaurants and tend to avoid them, but Denver's Original Pancake House locations are nothing like those other popular nationwide breakfast go-to's. Instead, OHP embraces what's unique about Denver and puts its energy into serving comfort food with a caring attitude.
All photography by Jackie Collins