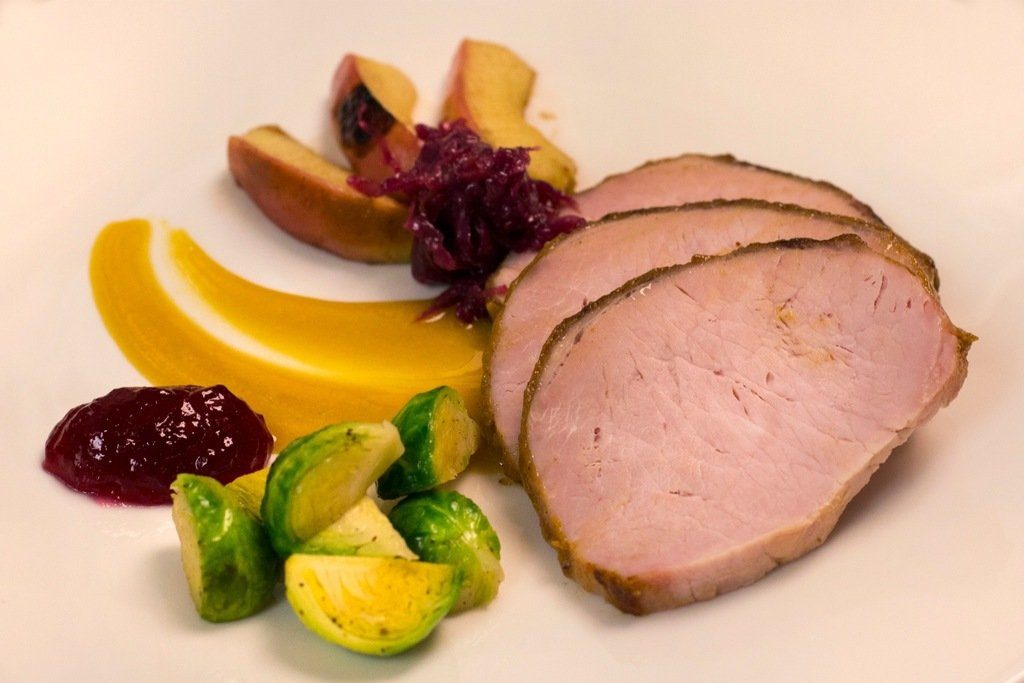 What: Chef Jonsson's recipe for a Scandinavian glazed pork loin served with sautéed apples and Brussels sprouts and garnished with stewed red cabbage and red currant, a traditional meal often served mid-day during the holidays.  
Where: Chef Jonsson's food is served daily at the Warwick Hotel and its restaurant, Randolph's, located at 1776 Grant Street. But this meal is meant to be made at home.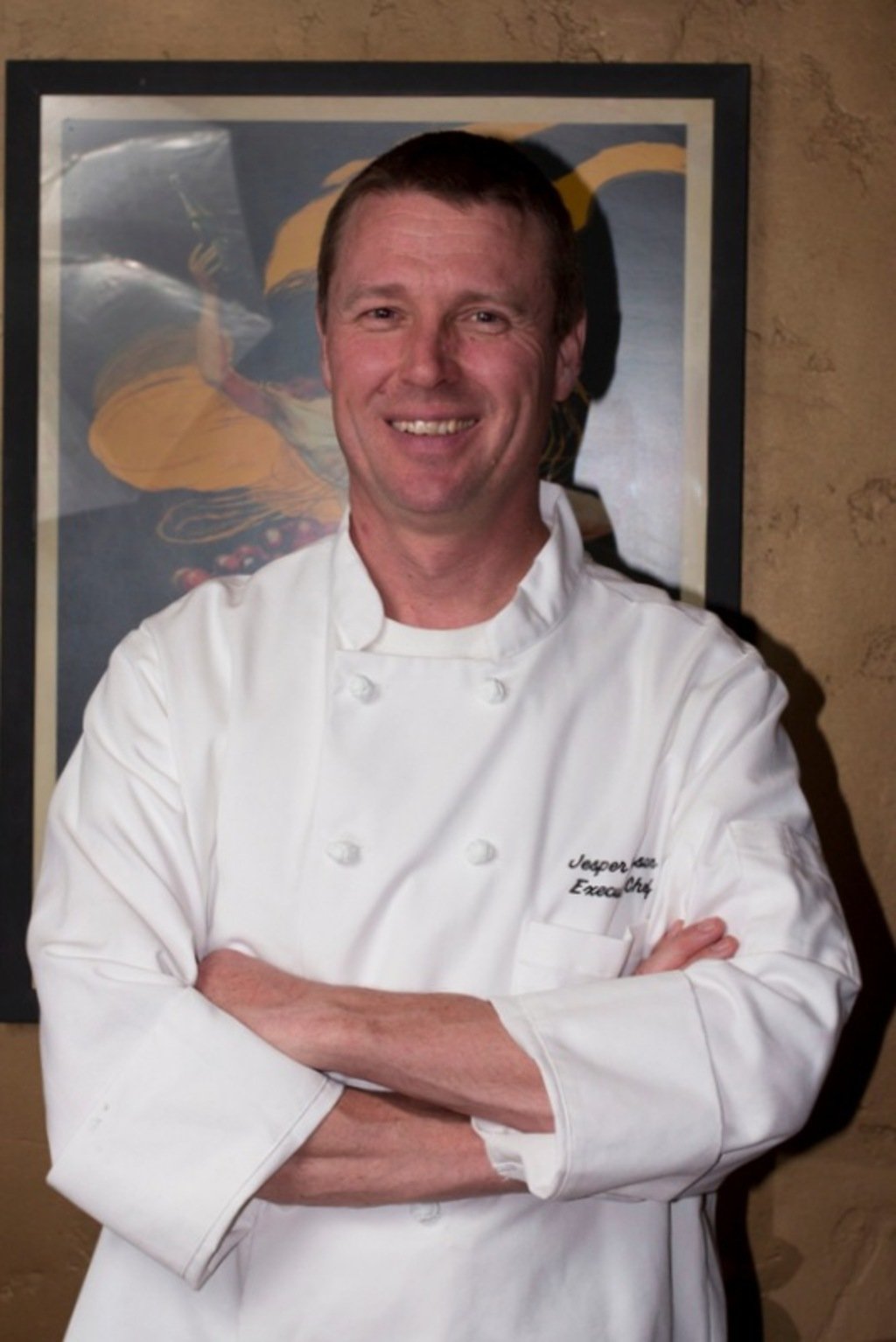 "I like to eat." If ever there was a good reason to become a chef, that's it. And that's the reason Chef Jesper Jonsson has spent his life traveling the world, first with training as a foreigner finding his way in France and later, cooking for celebrities, politicians and now the people of Denver as Head Chef at the Warwick Hotel. Since arriving in Denver this past August, Chef Jonsson has energized the Warwick and its restaurant, Randolph's , with his belief that "there is no good food without passion."
For Jonsson, good food is a timeless concept. And that's why he's sharing a meal that he enjoyed as a child in Denmark. Often served buffet style with a variety of condiments, this meal is filled with tradition, memories and a whole lot of comforting flavor. Each element takes a bit of preparation. There are certainly shortcuts, but remember, it is preparation that makes a dish. As Chef Jonsson explained, it's the combination of "little approaches to an end result," that lead to a meal perfect for sharing with loved ones during the holiday season.
In 2014, Randolph's will be getting a complete make-over, with Chef Jonsson guiding its transition as both the menu and the space itself  are revamped in an effort to makes Randolph's (soon to be renamed as well) into a restaurant that can stand on its own apart from its association with the Warwick. With a belief that respecting and using locally sourced ingredients is a kind of "moral obligation" for chefs and that unwavering enthusiasm for good food  which inspires him to help elevate Denver's food scene, I'm confident that Chef Jonsson will be a valuable addition to Denver's vibrant food scene in the year to come.
So get to know Chef Jonsson and push your own cooking limits with the recipes below. Feel free to play with ratios and make this meal your own because cooking is not a restricted activity guided by meticulous recipes.  Rather, it should be an outlet for creativity and a way to share a part of yourself with those you care about, especially during the holiday season.
Red Currant Jelly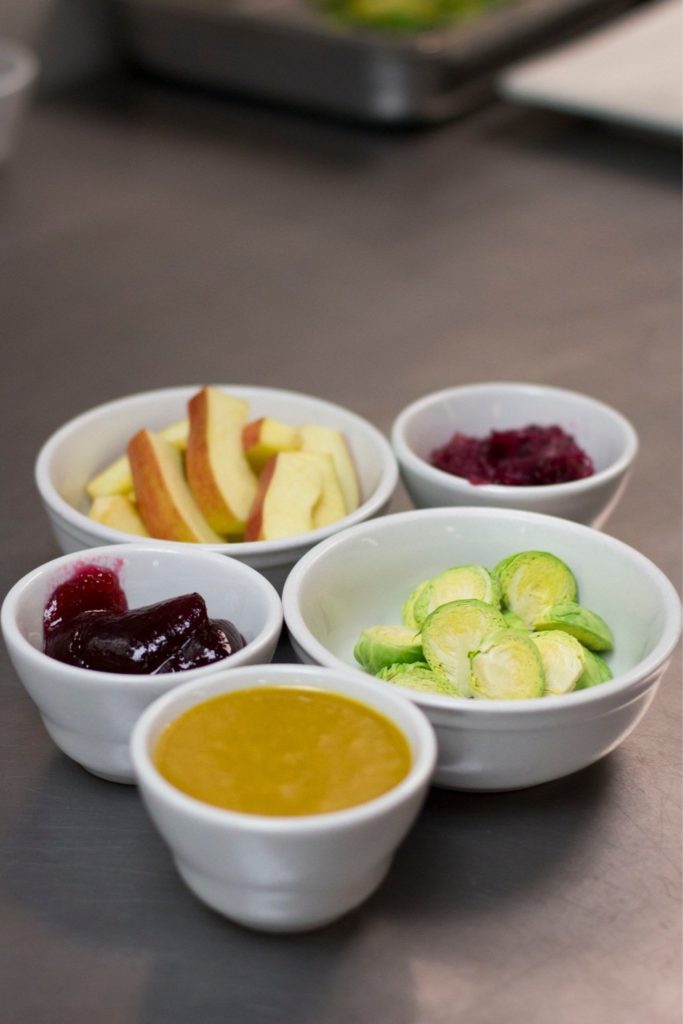 *This element can be bought premade, but it is certainly worth the effort to make it at home.
Ingredients:
10 lbs. fresh red currants
2.5 cups water
17 cups white sugar
10 fl. ounces liquid fruit pectin (available in any grocery store in the section where jarring supplies are found *Currants have natural pectin so you don't need to add this unless desired.
Place the currants into a large pot and crush with potato masher or berry crusher.
Pour in the water and bring to a boil.
Simmer for 10 minutes.
Strain the fruit through a jelly or cheese cloth.
Pour the juice into a large saucepan and stir in the sugar.
Bring to a rapid boil over high heat and stir in the liquid pectin immediately.
Return to a full rolling boil for 30 seconds.
Remove from heat and skim off foam from top.
Ladle or pour into sterile ½ pint jars, filling to within a ½ inch of the top.
Wipe rim with a clean, damp cloth.
Cover with new, sterile lids and rings.
Process covered jars in a bath of simmering water for 10 minutes.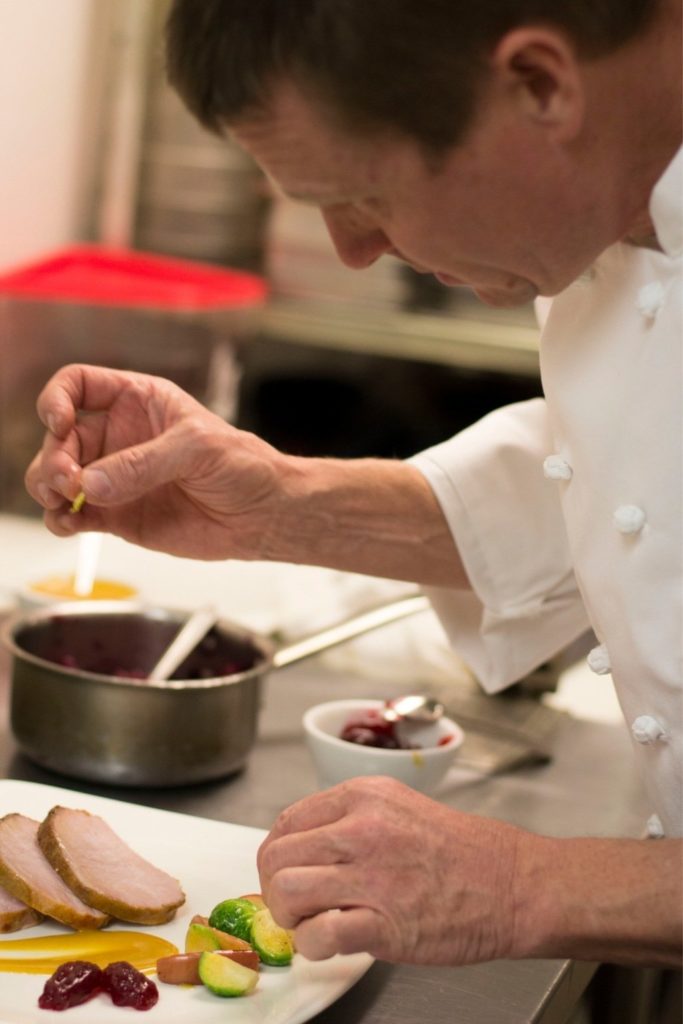 Rødkål (Sweet & Sour Red Cabbage, a Danish side-dish staple)
 Ingredients:
1 head red cabbage
3.5 oz. apple cider vinegar
5 ounces red currant
3-4 tbsp. sugar
½ tbsp. salt
5 whole cloves, ground
1 tbsp. butter
3 bay leaves
3 apples
Remove outer leaves of cabbage, cut into quarters, remove the tough white core and discard.
Slice cabbage into desired thickness.
Please cabbage into cooking pot and add vinegar, currant, sugar, salt, ground cloves and ay leaves.
Let simmer covered for 3 hours, stirring occasionally.
At the end of the cooking time, remove bay leaves and stir in butter until melted.
Enjoy right away, or rinse jars and lids with Atamon for storage in a cool, dark place.
Honey Glase
Ingredients:
2 cups honey mustard (either pre-made, or mix Dijon mustard and honey to taste)
1 egg white
½ tsp. ground cloves
Salt and pepper to taste
Combine all ingredients and apply to the roast
Optional: 1 tsp. whole cloves for decoration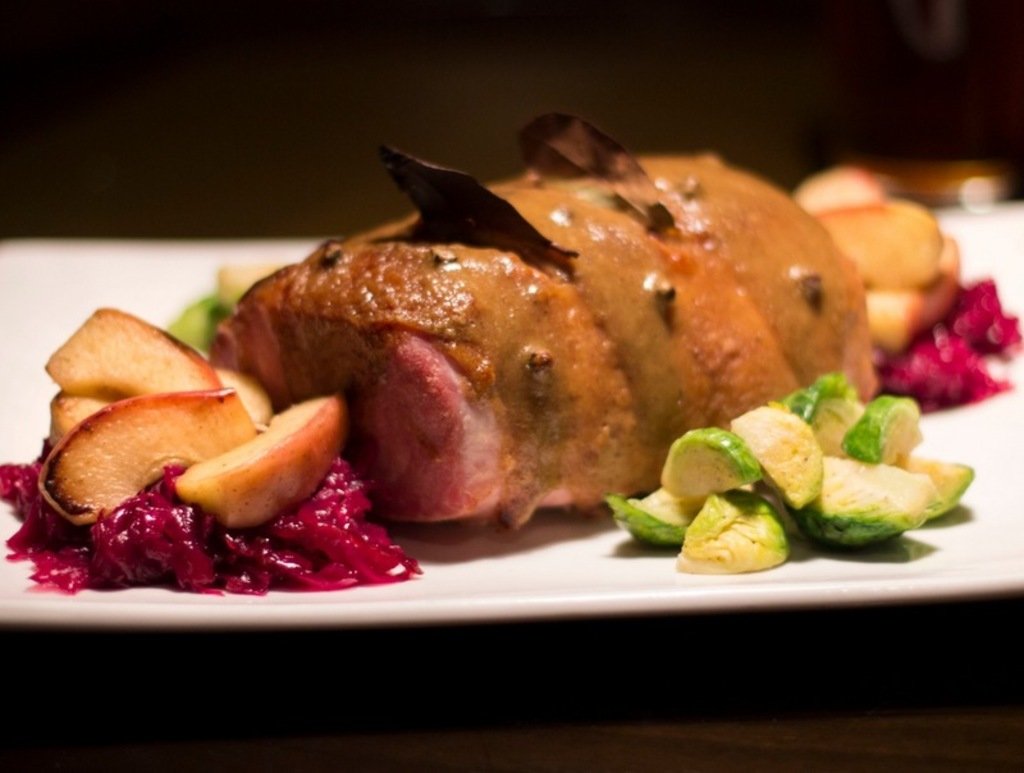 Brined Pork Loin
 Ingredients:
1 gallon water
2 oz. curing salt (found at sport/hunting stores)
¾ lbs. salt
1/8 lb. sugar
Pork loin (size depends on number of guests being served. You may double brine recipe if needed for a larger loin)
Mix all ingredients and submerge pork loin in brine for 1-3 days depending on size of meat.
Prepare loin using desired method (can be roasted, grilled, etc. Chef Jonsson boiled and then browned his roast in a sauté pan before topping with the honey glase).
Top with the honey glase. Serve with the rødkål, red currant jelly, sautéed apples and Brussels sprouts (quartered, boiled and seasoned with salt and pepper) on the side.
Elements can be plated as desired, whether family-style, separately as part of a mid-day buffet, or individually-plated for a more formal meal service presentation.
All photos by Camille Breslin