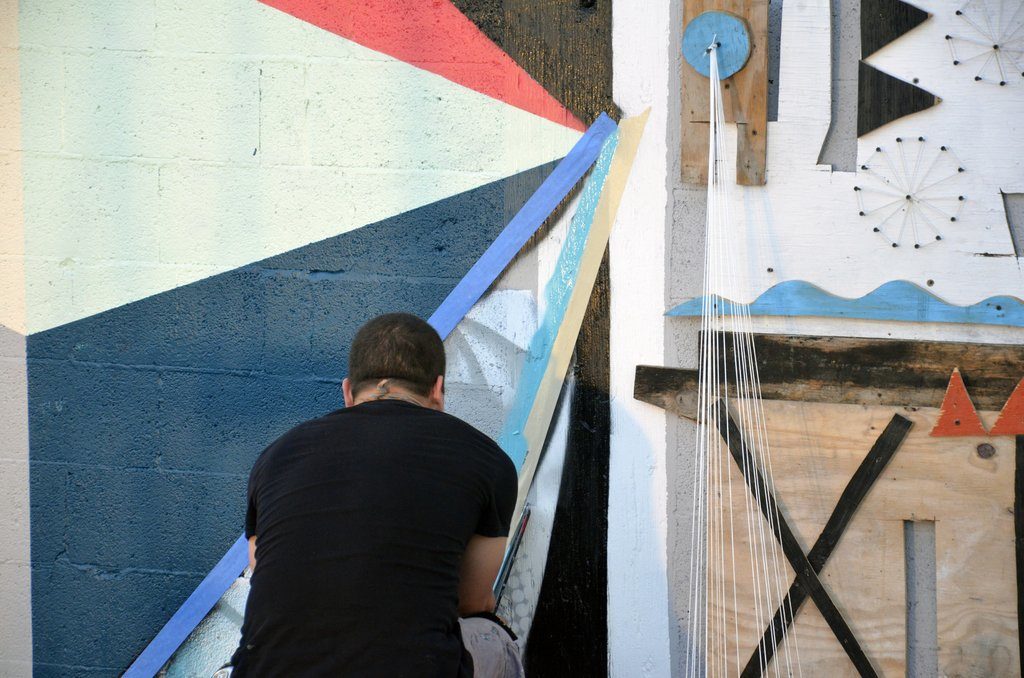 Local artists from Denver swapped the snow for the sand this past week at the legendary street-art celebration in Wynwood, Miami known as Art Basel. It is the beginning of December when street-artists from all over the world gather to put their stamp on the Wynwood Walls in this industrial, decked-out area of Miami. Art Basel is the essence of street-art culture in the United States. What was once taboo is now a huge, attention getting, and competitive form of expression. Denver's best joined the most famous artists in the world to participate in the Miami festival, repainting hundreds of square feet in the city.
International artists at the event include Haas and Hahn, The London Police, Spencer Keeton, Ron English, Kobra, Sainer, Fintan Magee, Fin Dac, Christina Angelina, Invader, and tons more. Concrete Canvas is most excited about local Denver and Colorado artists who made an appearance. Denver's high-art meets street-art masterpieces for Art Basel 2013 are worthy of praise.
Like Minded Productions
Like Minded Productions took their graffuturistic style to new heights in Miami this past week. Michael Ortiz and Jonathan Lamb of LK MNDD represented on the Miami streets, using bold colors and sharp lines once again to blow minds. The piece is a part of the Caleidescoop event project. Other Colorado artists featured in Art Basel were a part of the Caleidescoop event, including Jolt and Amanda Marie. Like Minded's mural is nestled between a bright and geometric mural by Haas and Hahn, and a killer lost objects mural by X-O. A special thanks goes out to the Dutch consulate and Andenken Gallery for making the Caliedoscoop event possible.

The installations in "Caleidescoop" stand out against the layered bricolage of urban contemporary art and define the culture of Wynwood. Like Minded's mural blends together with the other artists and still manages to suck you into it's three-dimensional look, surprising the passerby.
Deity Art
Deity Art created another feminine, whimsical, and sexy portrait at her inaugural time painting at Wynwood. Deity took part in an all female collaboration wall known as the Few and Far Wall. Each female artist has a different style and device, yet the wall flows together seamlessly. Few and Far Women stands for the female point of view that is "few and far between" in modern street art culture. Other brilliant artists on the wall include Dj Agana, Toofly, Ursula Young, Kazilla, all part of the Few and Far movement.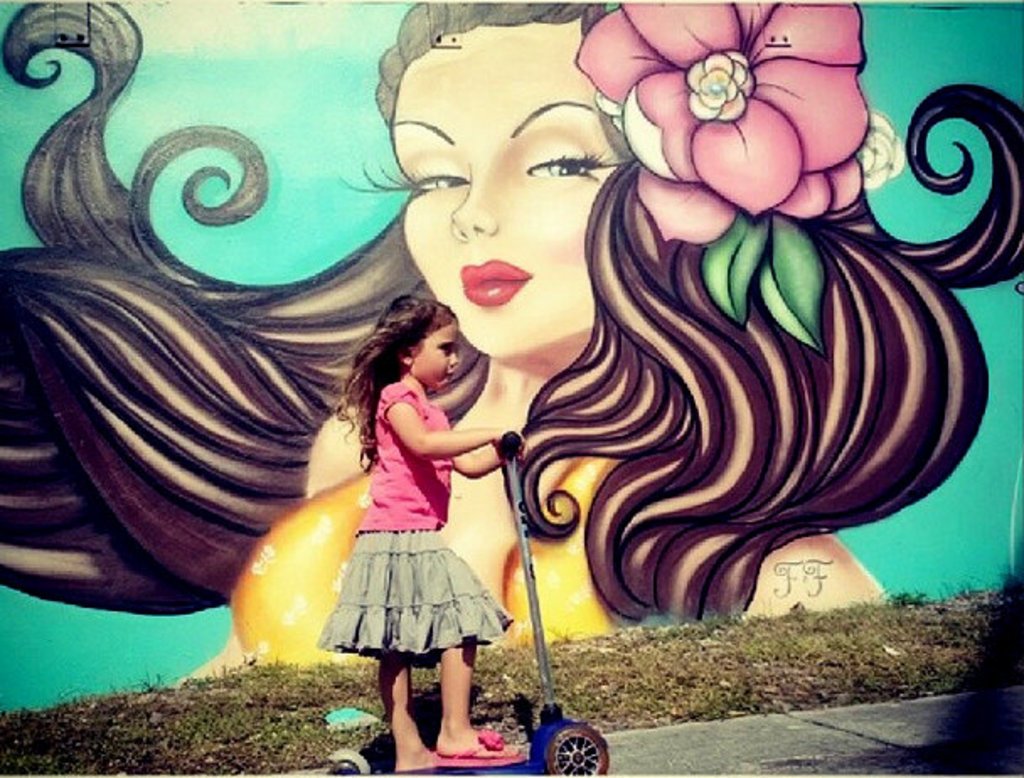 Deity Art is representing not just our city, but the importance of the female artist. Deity is developing an amazing style as she continues to work, travel, and paint her story.
Gamma Acosta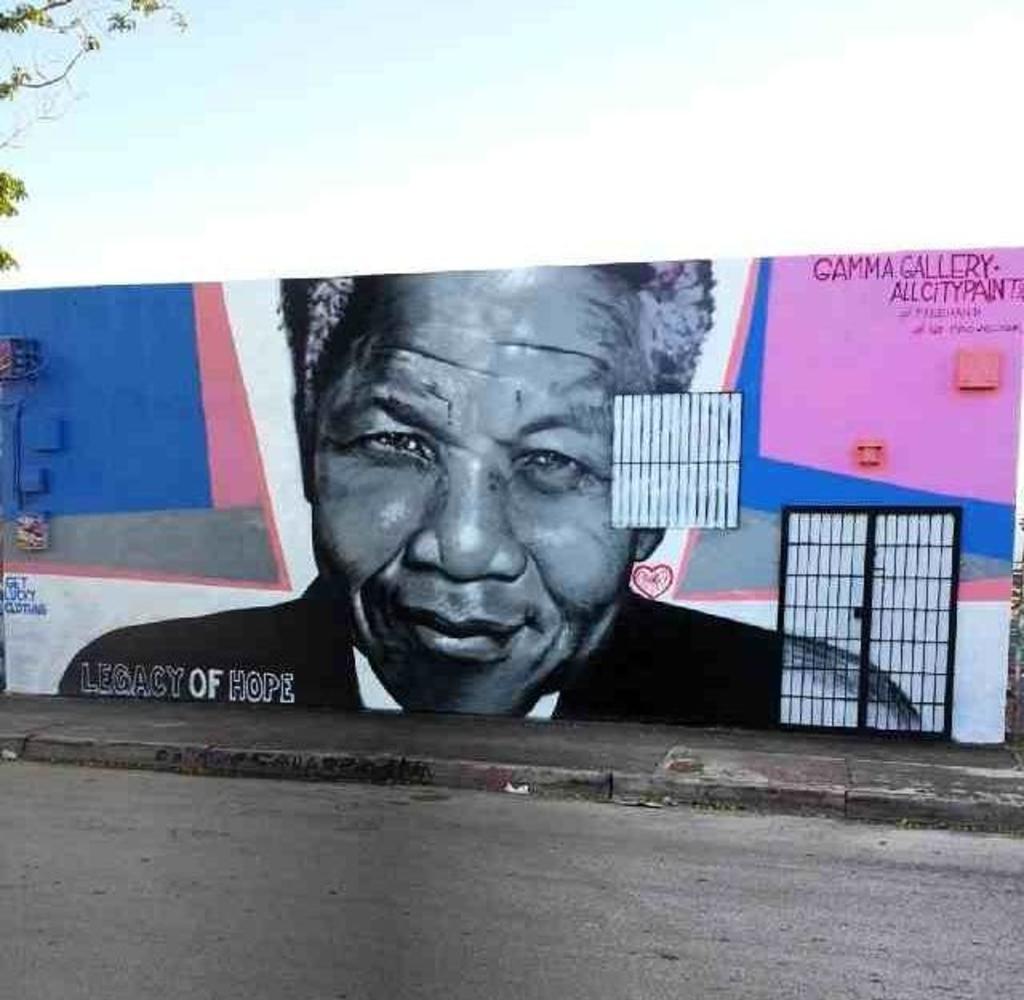 Gamma is the best portrait street-artist in Denver, and that is what he proved at Art Basel this year. This particular Wynwood Wall/Art Basel portrait was an homage to Nelson Mandela. Mandela is perfectly captured and the emotion and raw love in his eyes will knock you on the ground. The mural is enormous, photos barely do justice to it's sheer magnitude. Using only free hand, Gamma made this piece one of the best in the Art Basel festival.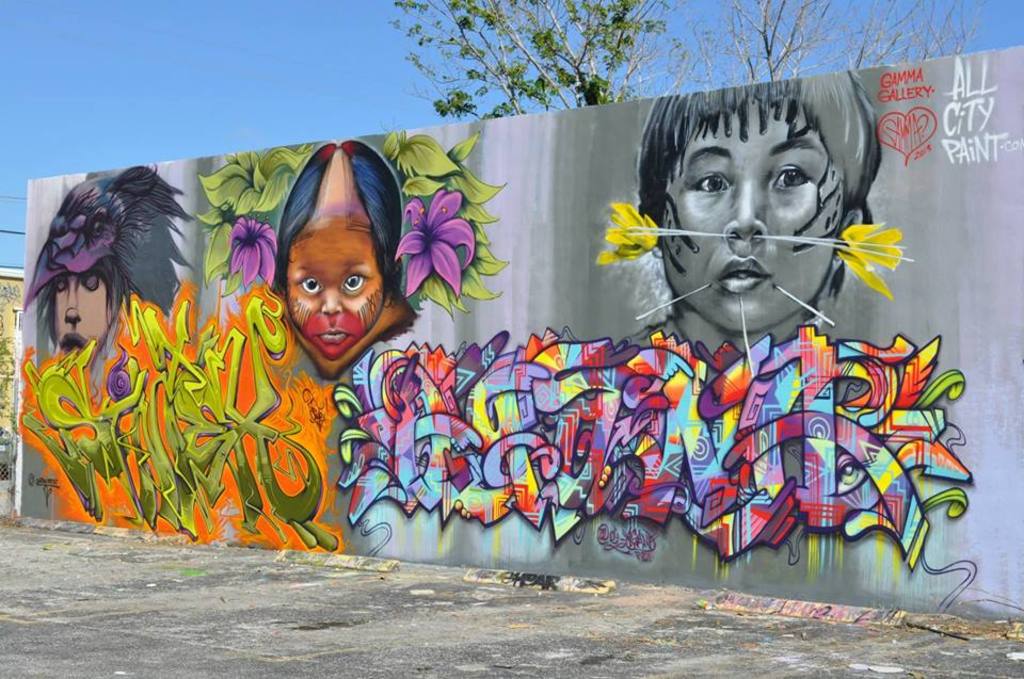 Another collaborative wall featuring Gamma Acosta also boasts colorful portrait work by Sintex and Agana. This photo is courtesy of Jaime Gonzalez. Go to Gamma's Facebook to see more work from the amazing artist.
Hollis + Lana
This fresh Hollis + Lana Wynwood wall is as captivating as it is enormous. I have featured their work before in Denver, notably at the Urban Winery Infinite Monkey Theorum. Their Art Basel mural is getting extra attention for the unusual shapes and unexpected excellence the duo has perfected. Hollis and Lana have used their surrealist elements to take over their largest wall to date in Wynwood. Hollis and Lana's work is colorful, chaotic, and always badass.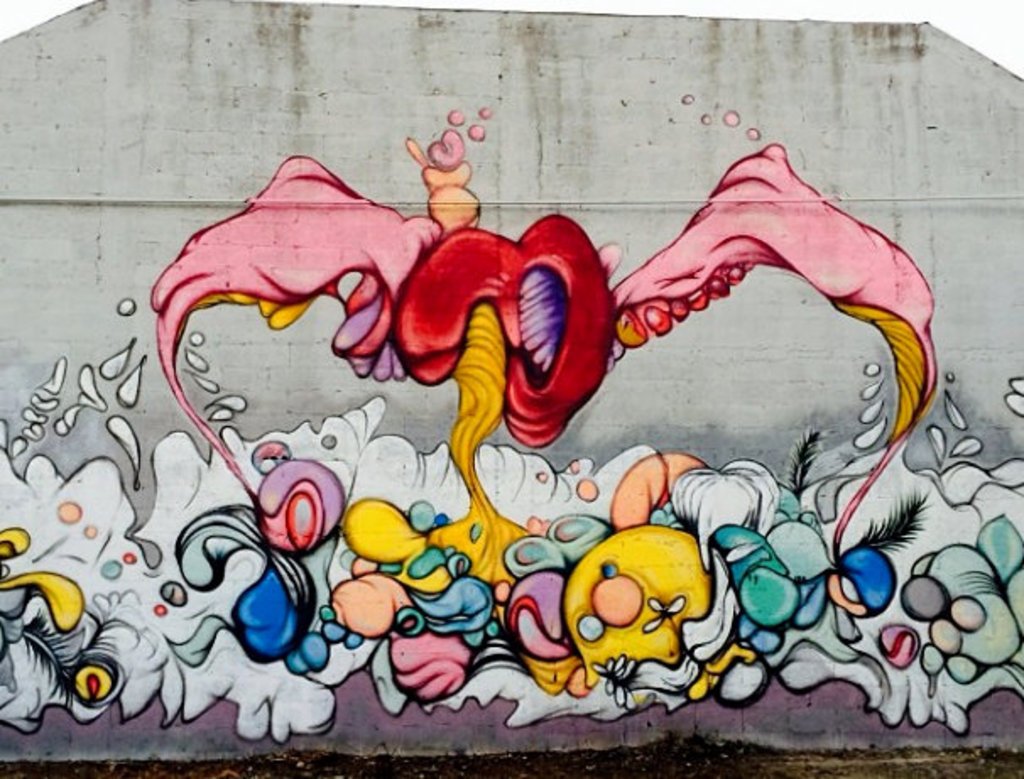 Jolt
Jolt aka Guerilla Garden also made his way to Miami for the event. As one of the busiest Denver artists, I am always looking forward to what crazy, imaginative, and unexpected work Jolt will be doing. His Art Basel 2013 murals "You Don't Know Naan" are no exception.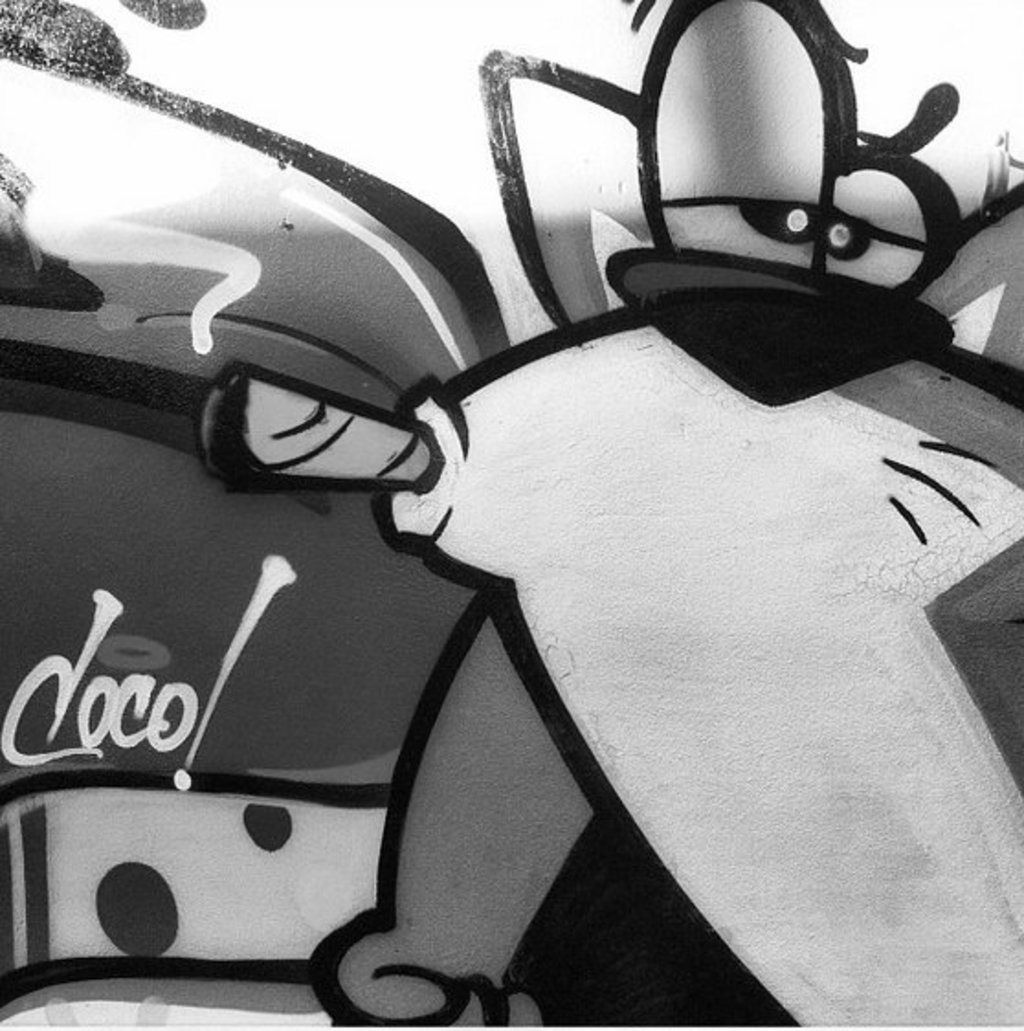 Jolt, with inspiration and artistic help from his stunning girlfriend Coco, created an awesome smirking Gorilla, one of his classic character pieces and the Guerilla Garden logo of sorts, as well as several more bright, sharp signatures in Wynwood. Follow Jolt on Instagram to see more of his and Coco's adventures in Denver. Here is another one of his classic Gorillas cleverly hiding behind a fresh Fin Dac and Christina Angelina Art Basel mural this year.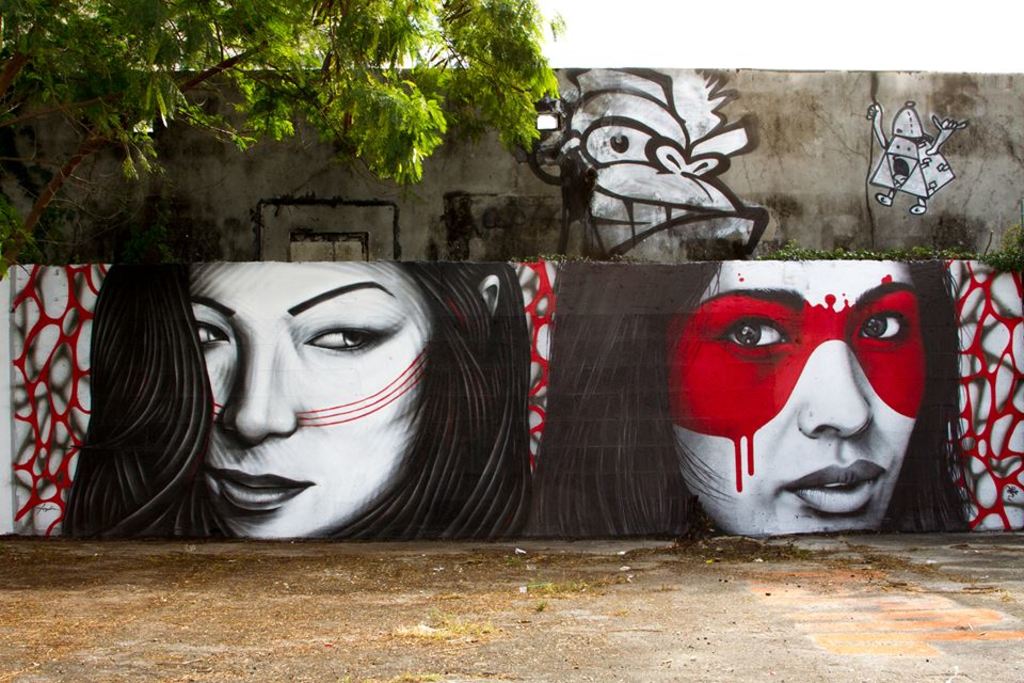 Amanda Marie
I absolutely love this mural by Amanda Marie. It's repitition and movement stood out among all artists. Like Deity Art and the badass female artists at the Far and Few Wall, Marie represented the under-populated female point of view for street-artists. The mural itself reminds me of Alice falling down the rabbit hole; innocent, eery, and beautiful. Amanda Marie is a force to be reckoned with. Look for more work from the up and coming artist in Denver and all over the state.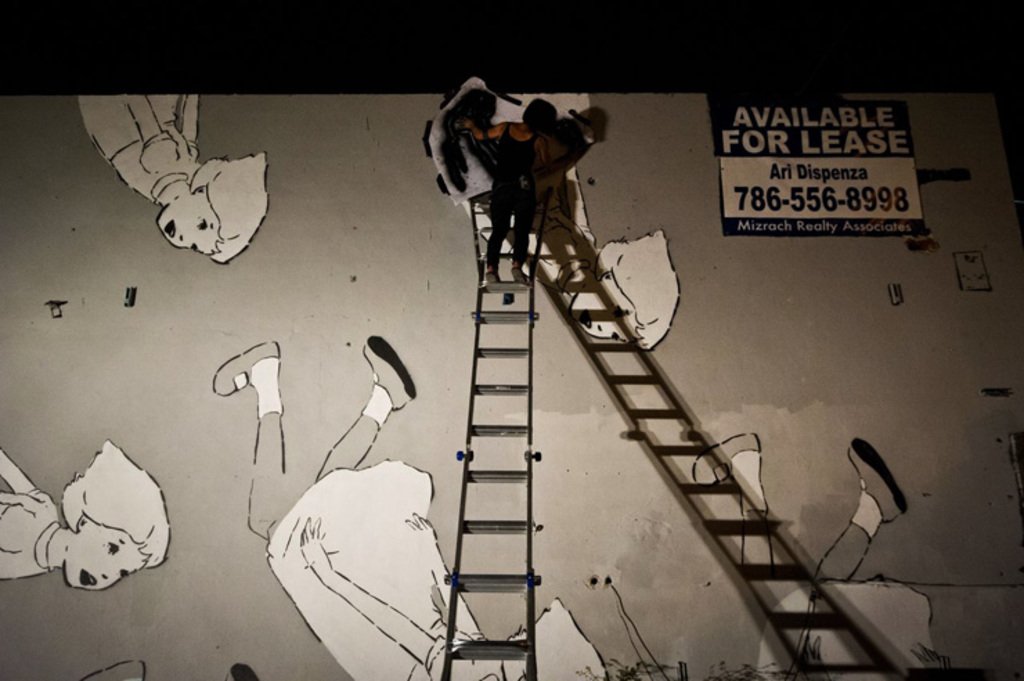 Follow 303 Magazine on Instagram for more beautiful, local street-art in Denver.