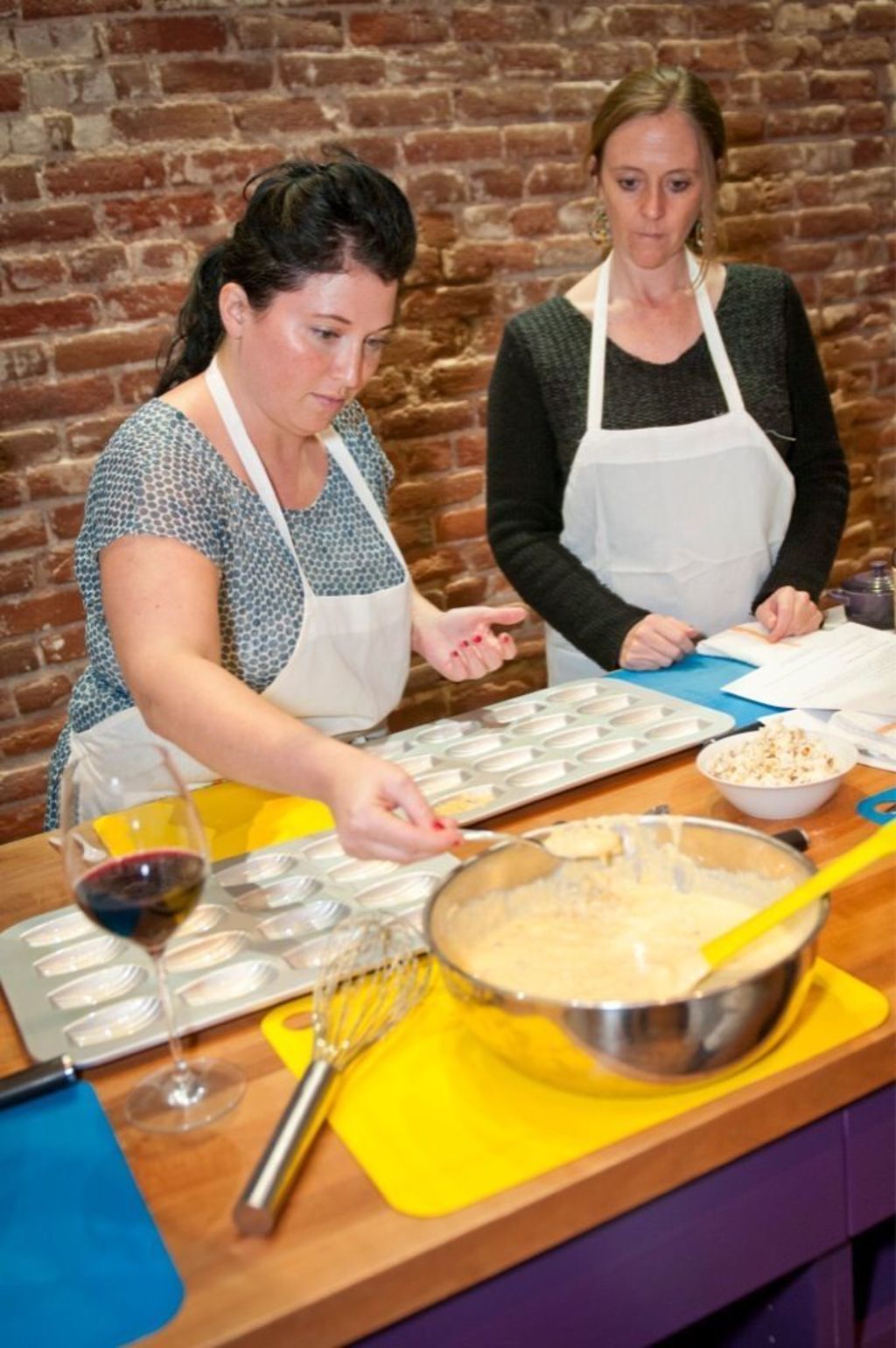 What: Cooking classes at Stir Cooking School
Where: 3215 Zuni Street in LoHi
Pros: Not only will you walk away with a few new recipes, but you'll also have a great time interacting with the other class participants. The full bar is also a plus.
Cons: If you are looking for an intimate setting, this is definitely not the environment. The class is for learning, so side conversations are limited. Use this time to see how well your date can listen to Katy's directions.
When has being a good cook not been a good thing? If you are in a relationship, it's only beneficial to have some cooking knowledge under your belt. If your abilities need a brush up or if you want to spend an evening absorbing something new, Stir Cooking School is the perfect place to learn about new recipes and each other's skills in the kitchen.
Owner Katy Hume not only has the credentials to be a great teacher (she attended the Culinary Institute of America, hailed as the Julliard of culinary arts), but she also has created a warm space. The kitchen area is to die for, filled with culinary tools and a vintage lunch box collection, and the full bar area makes for a great welcome. There is always a wine special along with many other cocktail selections to choose from before you get started. Plus you get the chance to refill throughout the class… and try some of Katy's homemade popcorn, mixed with bacon pieces and covered in bacon fat. It was absolutely delicious and made for a great start to the evening.
We attended the 'Holiday How To: Appetizers and Hors d'oeuvres' class, but Stir offers plenty of classes to choose from on a weekly basis. For this particular class, we were promised a new and impressive menu for our next holiday party, and Katy did not disappoint. Students were broken up into two groups and given the itinerary for the evening. Katy and her assistants gave us instructions for each step of the recipe, and we would go back to our group and do it ourselves. This structure would make for a great date environment, as each student got to participate in the recipes and work as a team, and we even made a few friends in the process.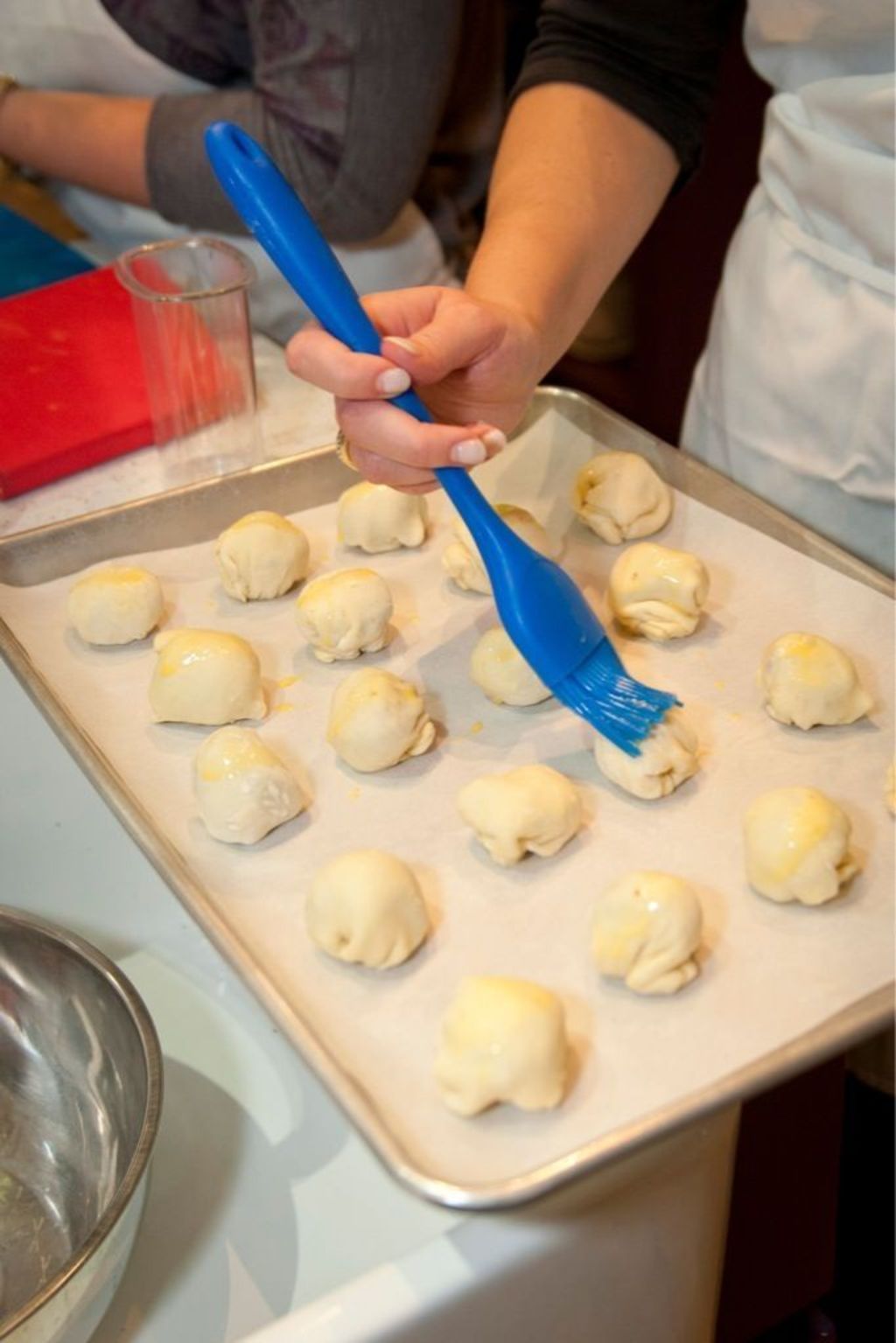 The menu for the night fit the theme perfectly. Over the next two hours, we went through five recipes that made for great appetizers and were easy enough that you don't have to be the next Iron Chef to create them. The Bacon Corn Madeline, Waldorf Chicken Salad and Mini Beef Wellingtons were great inspirations to show off a cute presentation without having to slave in the kitchen for hours before your party. Each recipe called for limited ingredients and you wouldn't have to search all over the city to find them. All of our hard work paid off at the end of class, when we got to go upstairs to Stir's adorable dining loft and taste everything that we made while hanging out with our group and making conversation.
The whole class was a wonderful experience. Stir Cooking School is a great place for a date, girls night out, or any occasion to celebrate. Not only will you get to take home a book full of the night's recipes to try at home, but you'll get a unique cooking experience with so much attention that you'll feel like a celebrity chef.  Katy Hume is a great teacher and after a couple hours learning from her in a laid back style, you'll feel like you've made a new friend. And who knows? Maybe you'll learn about your partner's amazing (or not so amazing) cooking skills as well.
Photos by Caitlin Savage, 303 Magazine Photography Editor.