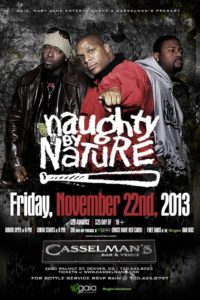 Old School Hip-Hop fans will get a treat tonight as long standing group Naughty by Nature is set to perform at Casselman's Bar and Venue.  Naughty by Nature rose to fame in 1991 with the classic "O.P.P." (which if you didn't know, it stands for Other People's Property) which was named in The Source as a Top 100 Rap Song of All-Time.  Since then, Vince Rock and Trench have went on to make classics like "Hip Hop Hooray" and "Make me Flow" which was from their Grammy Award winning album Poverty's Paradise.
The 18 and over show starts at 8pm at Casselman's Bar and Venue on the intersection of 26th and Walnut.  The ticket price is between $25 day of the show or they are running a special for $10 with any purchase from a Gaia Plant Based Medicine location.
So anyone looking for a night with some of the legends of hip-hop and rap should head to northern LODO tomorrow night.