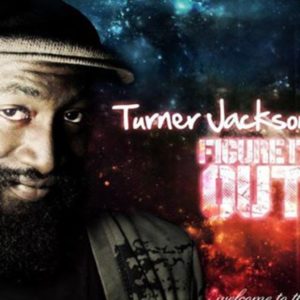 Turner Jackson has evolved from a scrappy MC with a loose and flamboyant rap style to a full-fledged artist with an ear for the eclectic. Having released numerous mixtapes and projects that build upon his creativity (check for last year's "ABC"), Jackson is back with an entirely new direction to the music. "Black Electric Love," is scheduled for release on November 13 and is the work of producer/MC chemistry, not to mention a lot of abstract visions. We talked to Turner Jackson about being a visionary and creating screenplays with his rhymes, rather than your typical rap album, and the premier of his Welcome to the D.O.P.E Game filmed music video for "Figure it Out."
303 Magazine: The production on "Figure it Out" is way diverse for the sound of rap you've put out in the past. Talk about the new direction you're going in with music.
Turner Jackson: I think I've figured out that I would rather make music that is appealing to everyone rather than stuff that's going to alienate me from anyone. There are just tones and waves that sound hostile. A lot of hip hop holds those while alienating everyone that isn't into it. I want to attract them too! I want to make music for all of them as well. I can make any kind of song that I can imagine! I'm going to make the songs that I can't even imagine yet. I'm gonna play across the world for royalty and on grand stages. I'm open to learning and doing anything. That's where my music is going.
"Black Electric Love," sounds pretty eclectic. In what ways are you playing around with the creativity and newness of the music?
Eclectic is a good way to describe it. I've been doing a lot more directing when it comes to the production. Being a little more demanding as well as letting the people that I choose to work with do what they do. A lot more give and take in the production as opposed to before where my music production was very one sided. Producers used to send me beats and I rapped to them. Now I'm the director and I write the screen play. They are the camera man and editor.
Who are the producers you've worked with on the project and how did you determine who would fit best with your sound?
It wasn't about finding a producer that fits my sound. It started out as a party EDM record. That was the original idea. But as I started making that version of the record I wasn't satisfied. It wasn't who I wanted to present as myself. To me EDM is turn up and I turn up! But I'm more than that. I needed producers that I could build relationships with. MINT! (one of the producers) have fought so much, gone through a bunch of beats he made for me, and have gotten so pissed at each other. But he's the homie. We built a relationship and made a song. Love requires work. I picked people that I could build lifelong relationships with! Al Kelly, Infamous Jones, 800 The Jewell, LateNight, Elliot Baker, and Carl Carrell are my homies. Like for real. I do not make music with people that I don't know. That's love.
Turner Jackson as the artist has evolved well past Turner Jackson as simply the rapper. Is hip-hop still the best medium to express your artistry? How so?
Hip-hop is what I have done by default because I didn't know how to do anything else. I can sing, I can dance, I can write, I can teach. The only thing that I'm not really good with is drawing and graphics. I really like to write poems. Poems. I really would like to write a novel that's one long poem. A modern day epic you know. Like Homer. Cause what's iller than the Iliad right?
What was the creative process like for building an album with this much conceptualization?
I write all of my music based upon real life. My real life, your real life, other parts of real life that some don't believe in. There's no creative process to living. I show up and do what I've done since I was eight years old. I write the words on my heart. That's pure. Influence isn't impurity it growth. So I guess my creative process is growth. But I don't realize it's happening until I'm already finished. My growth comes from love. If I'm in a good place or a bad place I can look inside of me and know that I'm love…or call my momma.
Watch the video for "Figure it Out," below.