It's nearly impossible to cover all of the amazing street-art Denver has to offer. Some of my absolute favorite murals well worth praise have yet to be featured in Concrete Canvas. Here are my local favorite street-art and artists to end this amazing season!
Kevin Hennessy, Mario Zoots, and Ryan Ingersol Mural
For graffuturism in Denver, this collaborative mural takes the cake. The piece is exciting, graphic, and demands attention. I am enamored as I pass by its East-facing glory, on the Colfax and St. Paul business wall of Groundswell Gallery.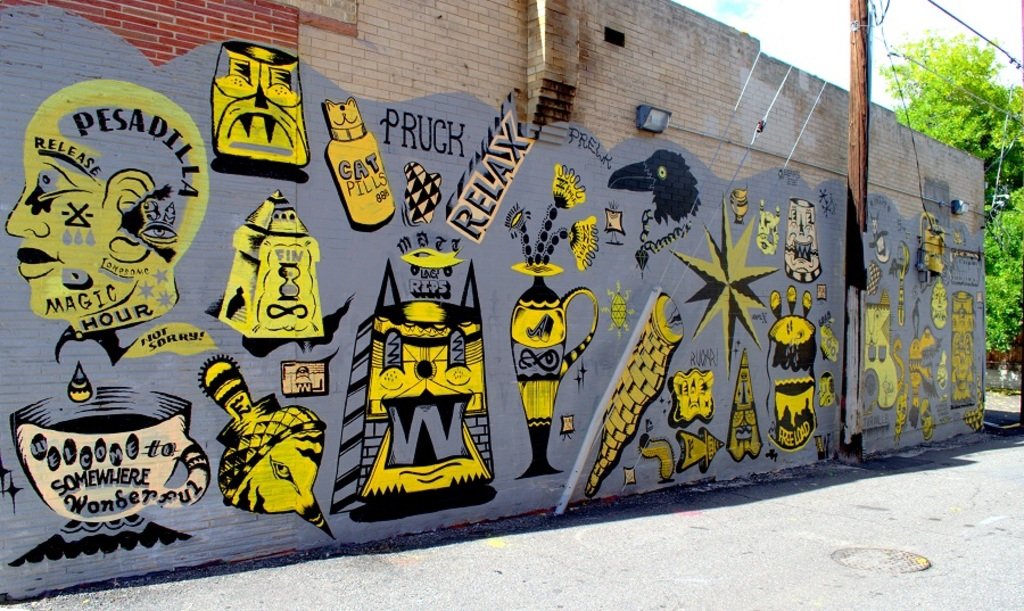 Artists Kevin Hennessy, Ryan Ingersol, and artist/DJ Mario Zoots have brought the wall to life. Small pieces spread evenly throughout the fifty-by-fifteen foot wall and make for a layered effect that is subtle and spectacular. It is truly an experience.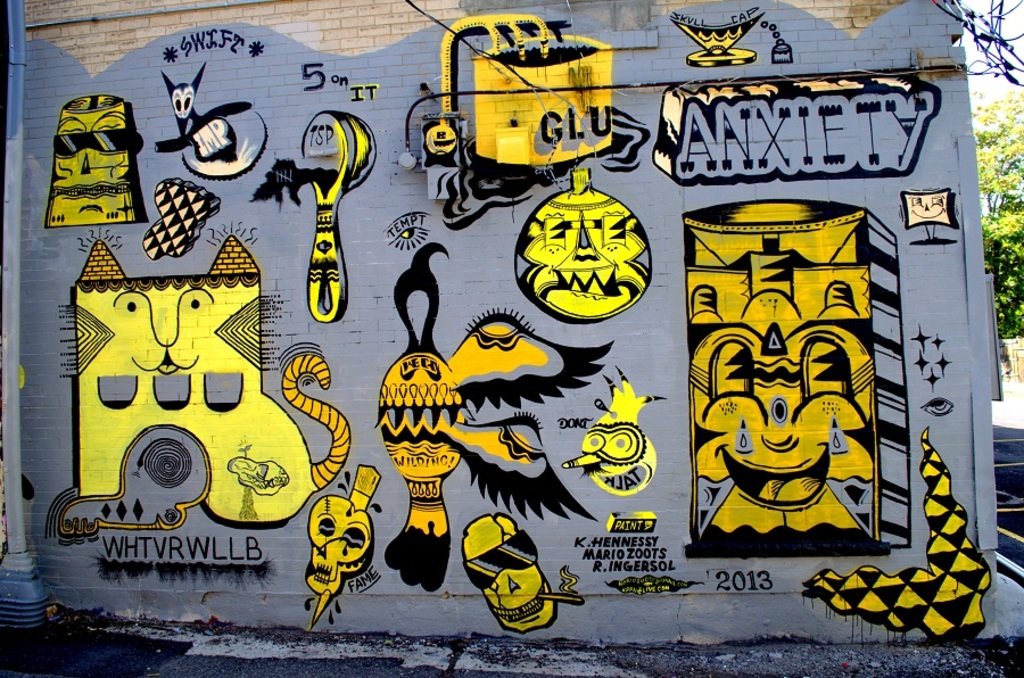 It is wild, exciting, with a yellow and black on grey color palette that literally pops off the wall. No wonder it is one of the most talked about murals in Denver. Completed at in late June of this year, it is now a local favorite and photo hot spot. Kids, adults, and concrete enthusiasts like myself can appreciate the brilliant and chaotic word play.
Max Kauffman and Nice One Mural
The adjacent wall facing the Groundswell Mural is equally stunning, creating a 360 degree visceral experience for those who pass by. Artists Max Kauffman and Nice One are behind this adjacent mural. Kauffman explained his stream-of-consciousness experience with the collaborative piece.
It was just a fun day painting with a new pal, and just flowing. I had little to no idea what I was going to do, and just went for it. I usually have an idea, or a hint of an idea, but this was almost all free form.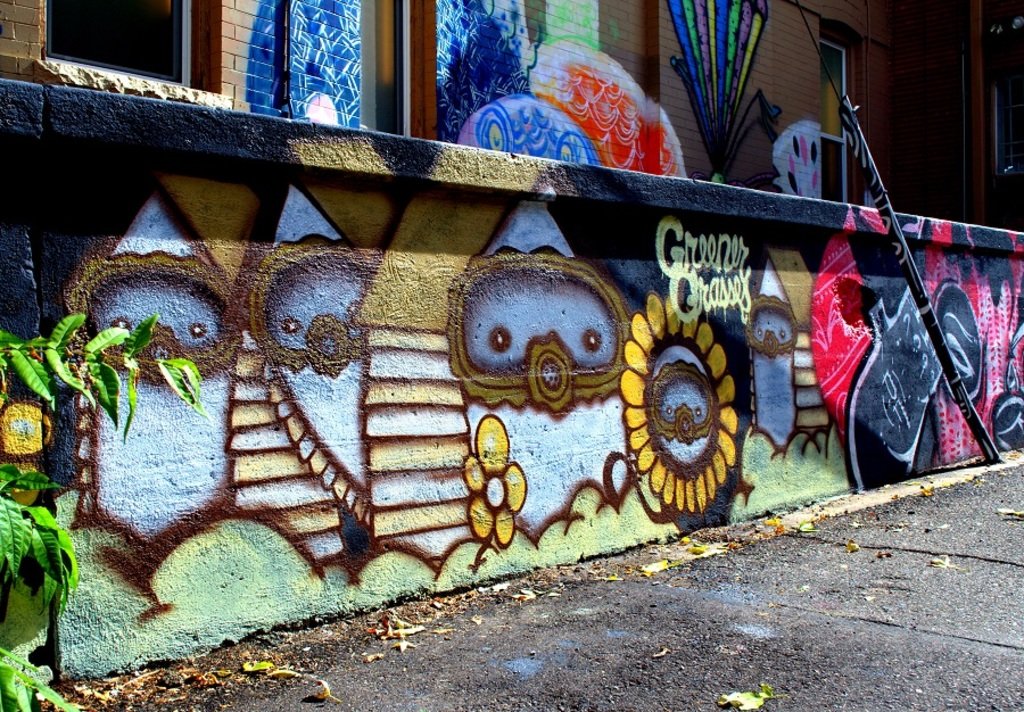 Both Kauffman and Nice One are veterans in creative design and experts in the Denver street-art scene. This is one of two outdoor murals for Kauffman, the other being found on the alleyway of 26th in between Larimer and Walnut. He's primarily a studio artist, featuring work in BlackBook Gallery and Gildar Gallery in the past, but admits he has grown to love outdoor murals more and more. I am infatuated with the alien-like surrealism of Kauffman's work, and how it blends together seamlessly with Nice 1's character based designs.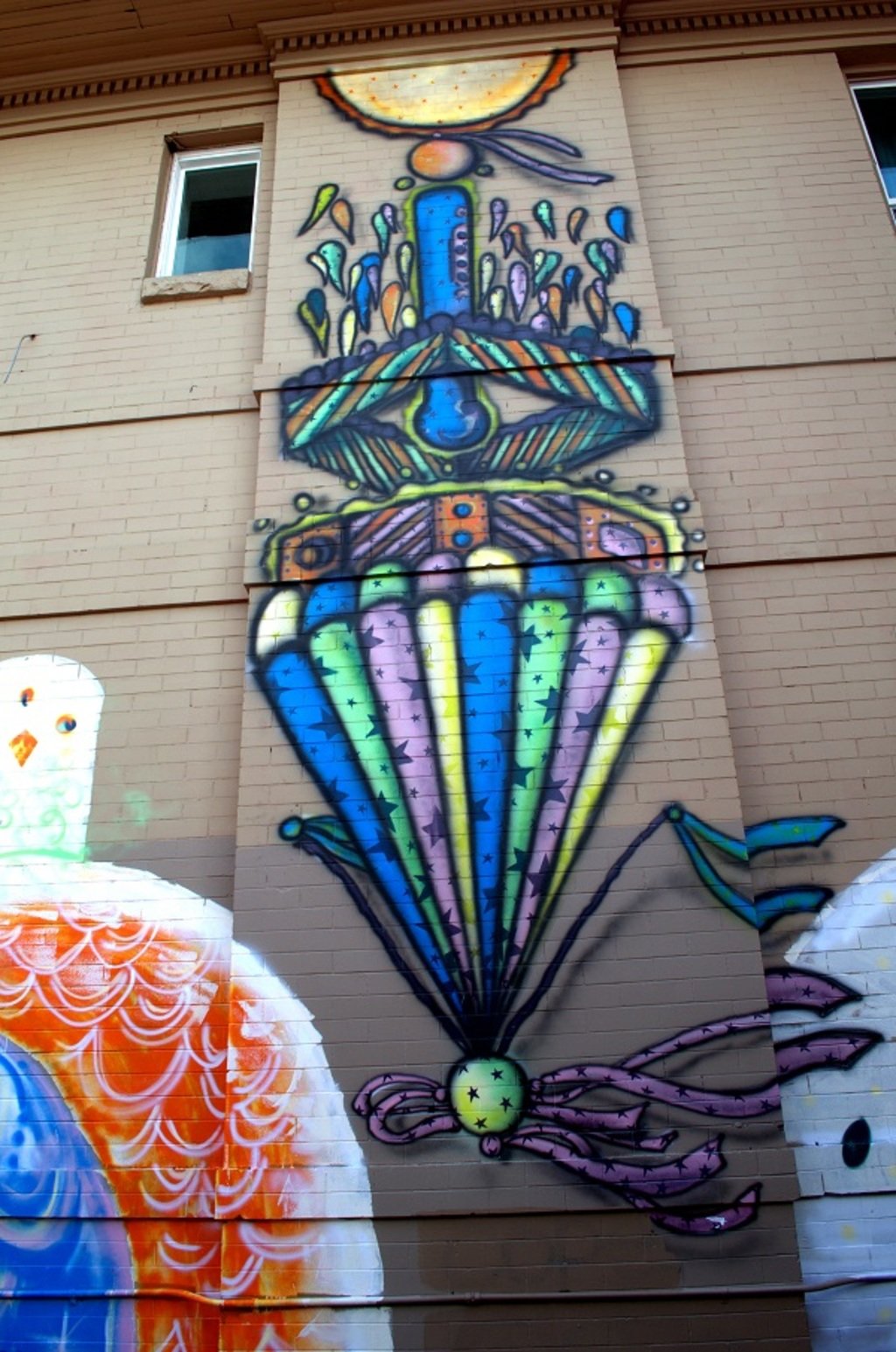 Nice 1 uses his signature characters in this piece, and Kauffman layers colors and vibrant scenes that surround. This alleyway is truly a sight to behold. Kauffman has featured murals all over town, look for his work in upcoming Concrete Canvas articles or follow them on Facebook.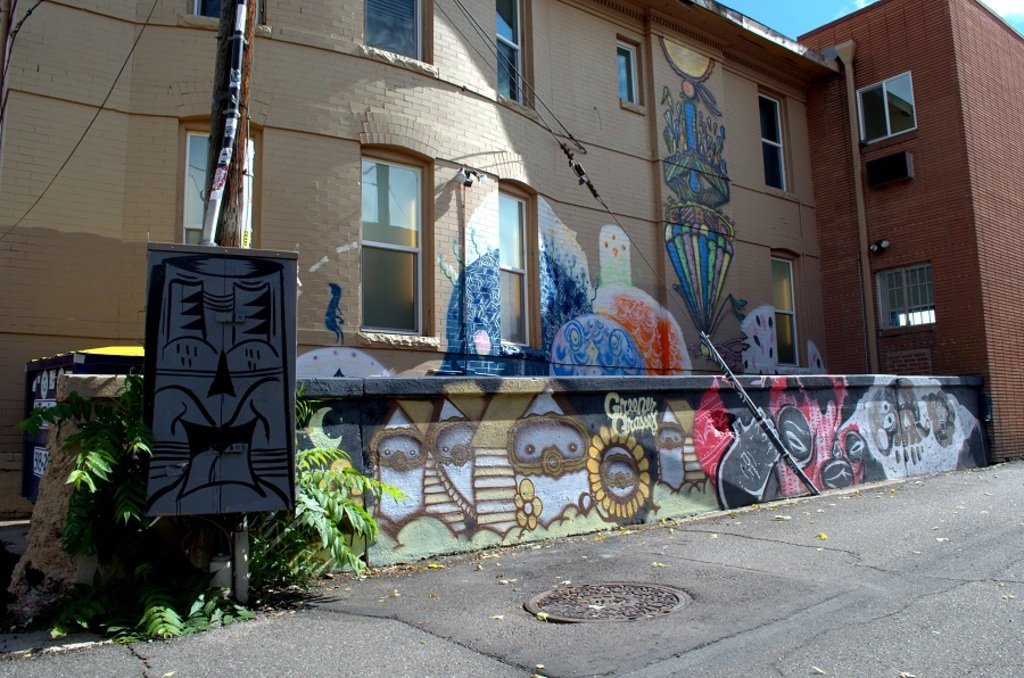 City O' City pastes by Bunny M and Nice 1
Nice 1 has another awesome piece at the City O' City store front. This business is super encouraging to local artists, dawning an impressive mural on the patio, as well as countless pastes and tags along the store front facing 12th avenue. They blend in the Cap Hill spot beautifuly as Buffalo Exchange up the street also has a decked-out photograph based homage. These are the two standouts at City O' City because of the fame of the artists and their recognizable styles.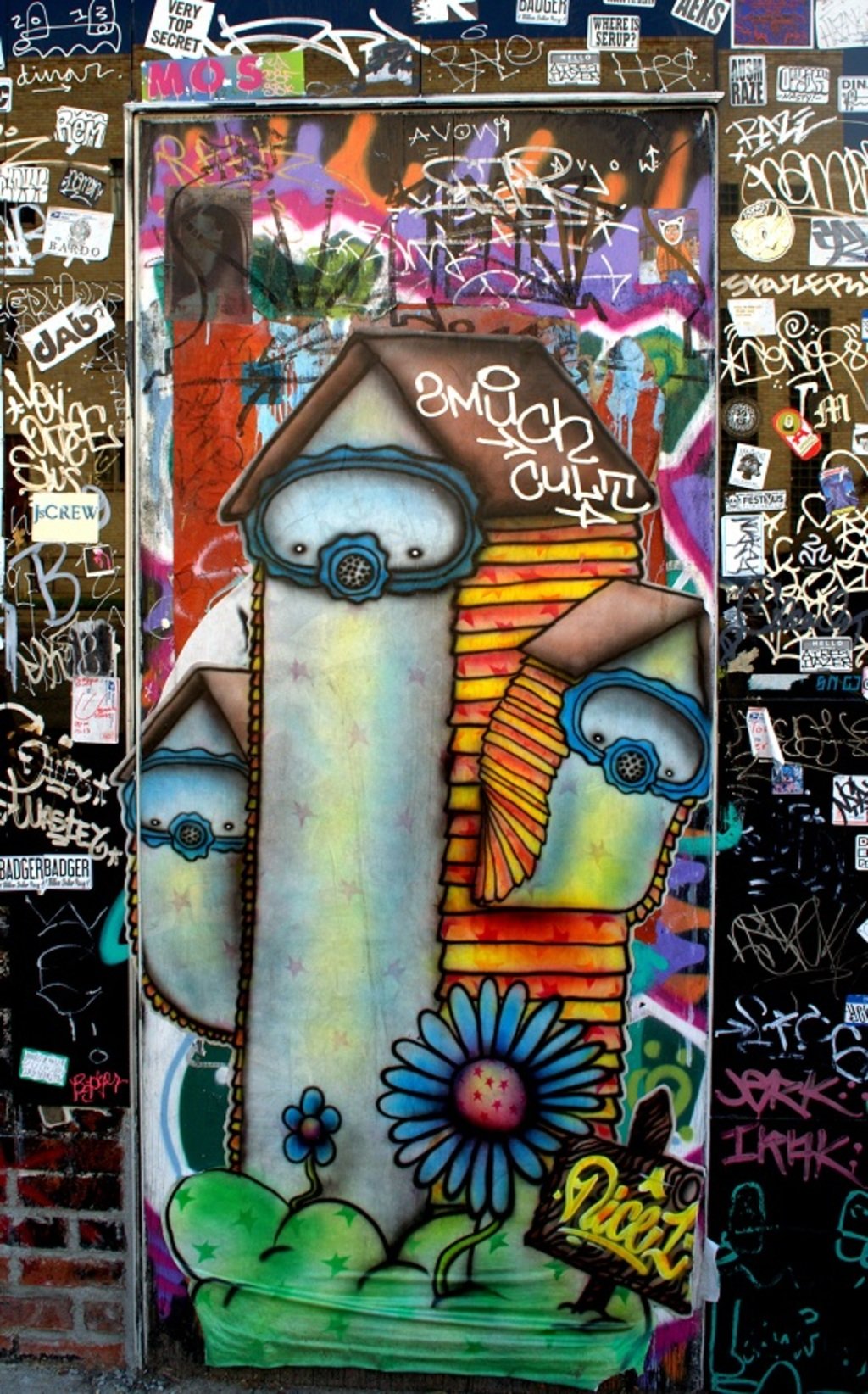 You can see the characterization of Nice 1 in these pieces. He rules the Disney-on-Acid style and does it well. Bunny M is another artist I love to feature on Concrete Canvas. She is quickly becoming one of the most famous street-artists hailing from Denver, thanks to her huge collaborative mural with Square on Champa and 22nd. Praise for her work doesn't end in Denver, but travels, to Brooklyn, to Kansas, and all across the country. W are lucky to call Bunny M a Denver native.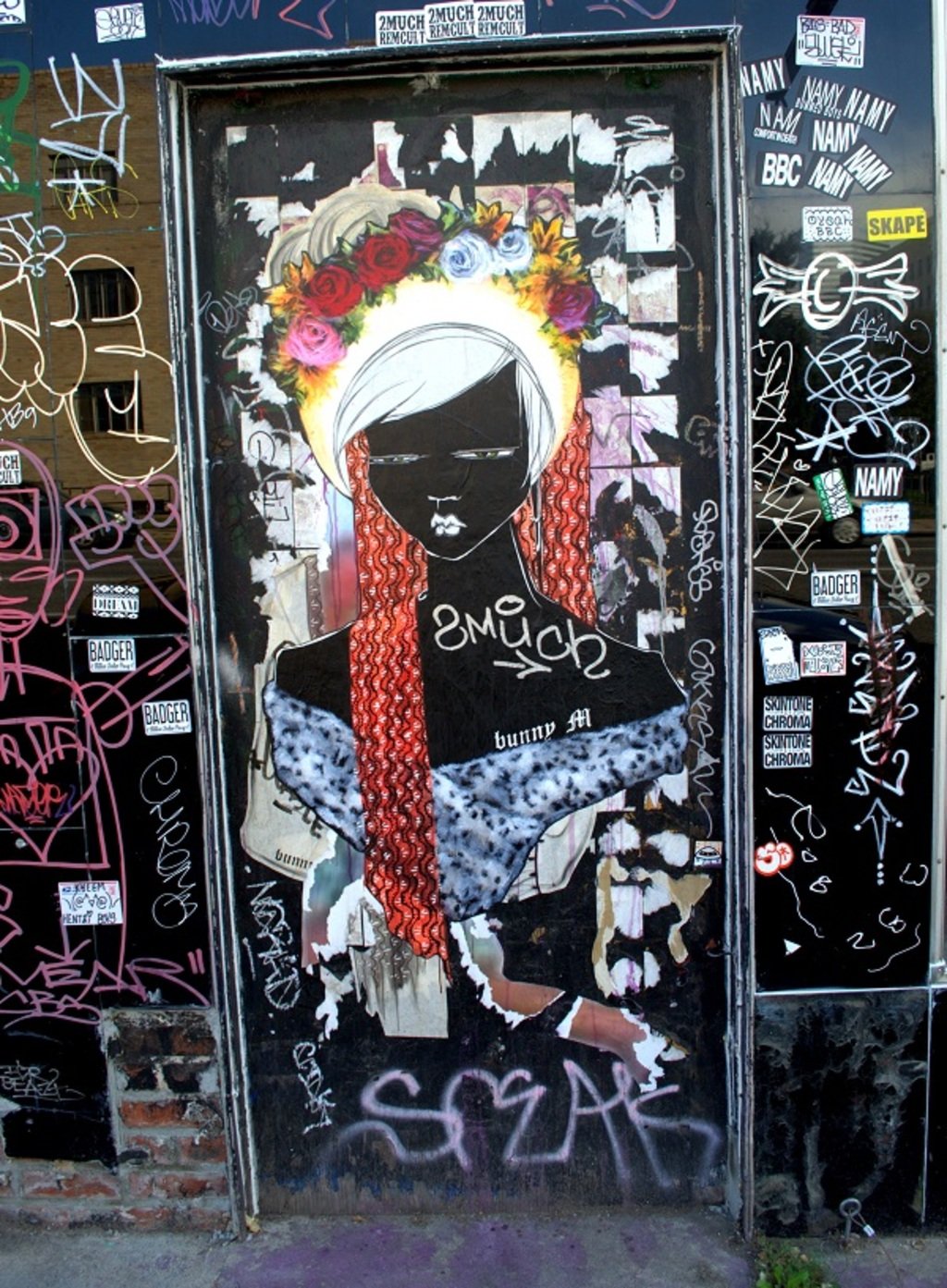 Tune into Concrete Canvas to check out all the beautiful street-art Denver has to offer! Follow 303 Magazine on Instagram and search the hashtag #303Graffiti for more local masterpieces!