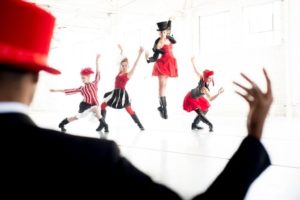 During Wonderbound's teaser for this weekend's world premier of "A Gothic Folktale" – audience members were convinced that yes, magic really is happening behind the walls of Junction Box, 1075 West Park Avenue. The company is teaming up with illusionist Professor Phelyx and musician Jesse Manley Oct 18-27 for a ballet with characters based on tarot cards – death, a gypsy, justice, and "the star" among them. The way these card characters interact with one another is set to new music by Manley and his band, and of course, Artistic Director Garrett Ammon's thoughtful choreography.
Ammon was recently awarded the Denver Mayor's Award for Excellence in Arts and Culture – a yearly prize awarded on the premise of "..recognized individuals and organizations that make significant and lasting contributions to the artistic, cultural and creative landscape in the City and County of Denver." Wonderbound has certainly hit a stride and a sweet spot with it's open-rehearsal policy and open-forum Q&A they host before each performance; just two of the factors that have led to the creation of a sense of community around their dancers, fans, and collaborators.
Congrats on your Denver Mayor's Award for Excellence in Arts and Culture. The big buzzword around your art form the last few years has been "collaboration." Can you expand on your confluence of ideas in the Denver arts scene, and how you've helped to fill that need?
Thank you. I'm deeply humbled to be receiving the Mayor's Award and ultimately I think it belongs to the countless people who have helped make Wonderbound a reality; these people inspire me and push me every day.
Collaboration is a difficult word because, like any buzzword, it suffers from overuse. But when it comes down to it, collaboration is a defining element of Wonderbound. I don't feel like I filled a need in Denver as much as I "plugged in" to the amazing things that are going on; the whole experience is a continual rush of possibility and inspiration.
I am a terribly practical person, but I try always to give the artist in me both the first and final word as I consider any potential collaborative endeavor. In the end, if they are great human beings and they inspire me, I just can't help myself.
Gothic Folktale features an illusionist. It's an interesting choice because classical ballet isn't too far off – pointe shoes, a fantastic storyline – but Wonderbound is contemporary and takes that stuffy edge off. What magic elements do you see that parallel your current choreographic ideas with what Professor Phelyx offers?
Within any art form there is a spectrum that ranges from fantastic spectacle to intimate experience. The thing that drew me in about Phelyx's work was that it resides at a similar point on that spectrum as my work. He is human, approachable and wants to engage people in a conversation. I like the idea that he rekindles wonder in people by doing illusions right in front of them, not by using huge stage effects.
_____
Indeed, Phelyx performed a series of tricks during the teaser episode – bending a spoon, correctly guessing items in audience member's pockets and purses. Gothic Folktale will feature these elements (be prepared to participate!) in addition to Jesse Manley's amiable score written specifically with this ballet in mind. The icing on the cake is the costumes, meticulously designed by in-house costume seamstress Rachael Kras. Each character is defined by their tarot card, a corresponding costume, and the creation of that personification through the combination of their personal imagination and Ammon's. Talk about collaboration.
Tickets for Gothic Folktale start at $19, with performance dates, times and locations as follows. Single tickets can be purchased by contacting the respective box offices in both Denver and Parker.
Friday, October 18; 7:30pm
Saturday, October 19; 7:30pm
Sunday, October 20; 2:00pm
Performing Arts Complex
at Pinnacle Charter School
1001 W. 84th Avenue
Denver, CO 80260 (303.292.4700 for tickets)
Saturday, October 26; 7:30 pm                                                                                                                      Sunday, October 27; 2:00pm
PACE Center
Parker Arts, Culture & Events
20000 Pikes Peak Ave.
Parker, CO 80138 (303.805.6800 for tickets)