What: A haunting new fall variety 12-pak from Magic Hat Brewing Company
Where: Check out Magic Hat's website to find out which stores are carrying these brews
When: Available now through mid to late October
It's Friday the 13th and suddenly I've realized Halloween is coming. Ok, maybe it's well over a month away, but if you can't wait to mingle with other worldly spirits, the newly released Night of the Living Dead 12-pak from Vermont's Magic Hat Brewing Company can help spook up some fall fun.
Featuring the #9, a Magic Hat classic with apricot notes and a dry finish, their fall I.P.A selection, hI.P.A. (pronounced High-P-A, wink wink) and two new concoctions that I recently had a chance to sample, this collection of beers is great for those unfamiliar with this out of state brewery or for anyone who enjoys a playful and tasty chance to try out some interesting fall flavors.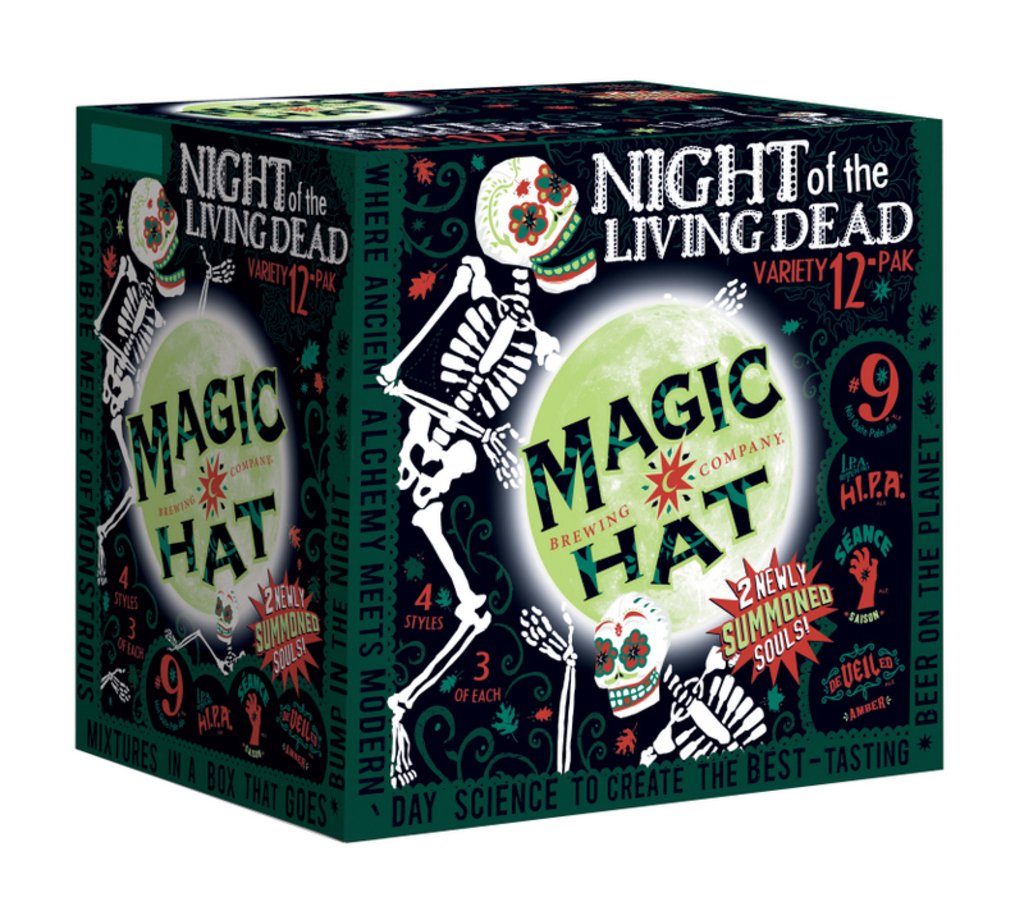 It was still averaging 90 degrees when I got my hands these fall brews, so I blasted the AC to get in the mood as I cracked open a Séance, Magic Hat's newest seasonal.  Described as a Saison, I thought I knew what to expect as I poured. I'd never encountered a dark Saison, but Séance is exactly that. Deep brown, like a shadow lurking on Halloween night, it looks more like an ale. The scent of cloves and a malty sweetness was also unexpected, but when I took a sip, the crisp feel I've come to like from these farmhouse brews was still there. This beer is made with a blend of seven malts, giving it a complex flavor, but the malt is mild, allowing the more delicate spice and fruitiness of the beer come through.
While Séance is also available in 6 and 12-packs, fellow newcomer deVEILed is exclusively available in the Night of the Living Dead variety pak and on draft in select locations. An amber ale, this brew is also quite dark in color with the expected red tinge and has a hoppy, floral aroma. Though the malt flavor is more prominent in deVEILed than it is in Séance, it is balanced by the Magnum and Cascade hops which give this ale a pleasantly dry finish.
Filled with flavors that had me craving some warm comfort food like a nice pot roast, maybe it was the arrival of Magic Hat's fall selections that has finally cooled down Denver. Whether you enjoy communing with ghosts under the stars at a campfire or just checking out the things that go bump in the night from the safety of your patio, these beers from the Green Mountains are a great cohort for your Rocky Mountain autumn adventures (and would look great at your Halloween party too, if you can hang on to them long enough).
Photography courtesy of Magic Hat Brewing Company