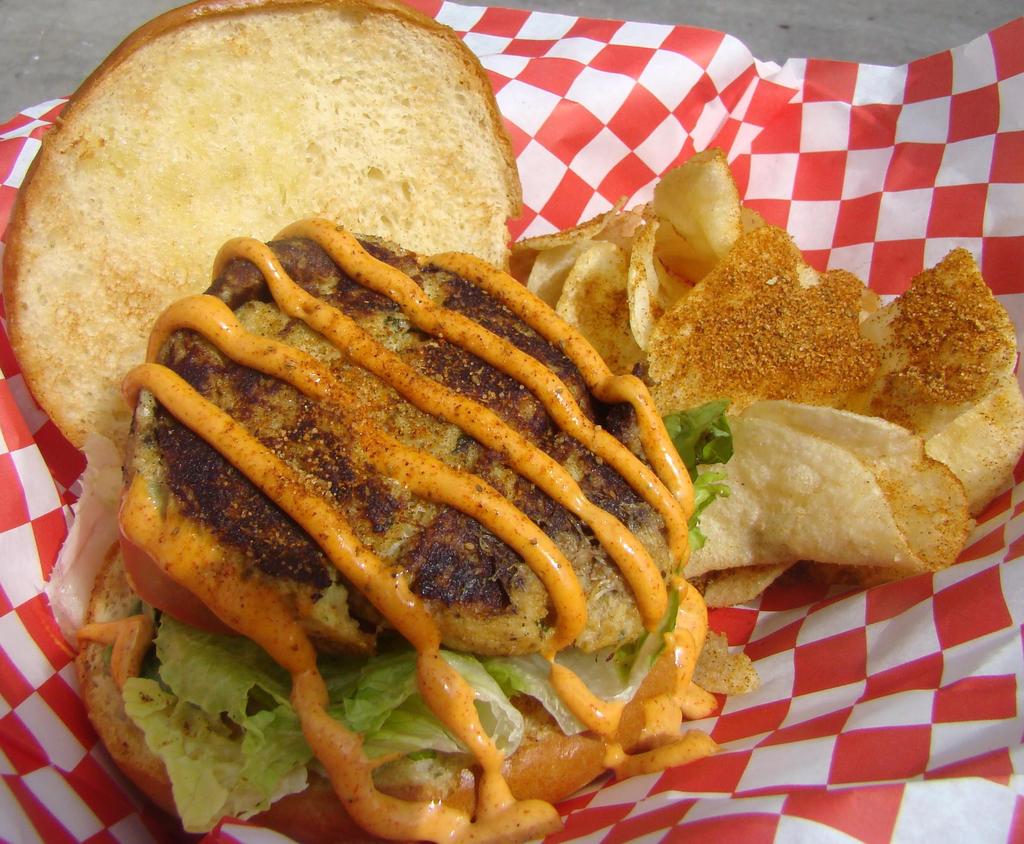 What: Authentic Maryland cuisine at Capt'n Crabby's food truck
Where: Find them at Civic Center Eats on Tuesday's
Recommendation: Crab cake Sandwich with old bay chips
Capt'n Crabby is giving Colorado a true taste of the East Coast. Serving up thick and juicy crab cakes, this food truck is defying all odds and proving you can get great seafood in the CO. But this is no easy feat, given the fact that we're a landlocked and lackluster when it comes to great seafood. But Capt'n Crabby has found a way to provide us an authentic Maryland experience and it's all thanks to the crew. This seafood may come from a truck but it is of the highest quality and it shows in the flavor.
It starts with the Dimitri Satiriou, his name alone sends out east coast vibes. Dimitri is the owner and front man of Capt'n Crabby. He comes fully equipped with east coast hospitality and a Maryland accent. Everything about Dimitri screams east coast and that what makes him so great. He prides himself on loyalty and treats the ones he loves like family, if he wasn't so light hearted and funny you'd think you just stepped out of The Godfather. Loyalty and family above all for this food truck. Capt'n Crabby is east coast at heart and that makes them genuine. If you have never been to the east coast a small piece of it has made its way to Denver.
But Dimitri can't take all the credit for Capt'n Crabby's authenticity because some is owed to his right hand man, or in this case woman. MJ is the organizational guru behind Capt'n Crabby. While Dimitri is making you laugh MJ makes sure everything gets finished. MJ is the opposite of Dimitri and that makes them the perfect pair, an ebb and flow symbiotic relationship. But the one thing they do have in common is MJ is a native to Maryland as well. She's got the accent and the attitude to go with it and immediately treats you like your old friends. And who doesn't love kicking back with some friends and eating some great food? Both Dimitri and MJ are fantastic but the gem of Capt'n Crabby's is the amazing food, as it should be.
Capt'n Crabby does seafood justice. The crab is flown in from the east coast to ensure  freshness and the crab is definitely worth the flight. By taking the time to get a quality product it really makes a difference in the flavor. You taste sweet crab without any fishiness and there should never be fishiness with seafood.  Plus when the food is in the name of the business, it better be good. Fortunately the crab is fantastic. This crab cake is done to perfection. For starters it's huge, but the real reason has such great flavor is it isn't all filler. Usually restaurants add a healthy portion of bread crumbs and other binding agents to make the crab cakes more cost effective; less crab equals cheaper product. Capt'n Crabby takes out all the filler and gives you a whole lot of crab. When you bite in you taste you actually get that sweet and succulent crab flavor. They give the authentic fixings as well with lettuce and tomato but the thing that takes this sandwich to the top is the sauce. They drizzle an old bay aioli on the crab cake that has huge flavor. Old bay spice and crab are old pals and go great together so added old bay to an aioli is a genius idea. This dish also gets the added bonus of some old bay chips.
The other dish that Capt'n Crabby is known for is My Dog Has Crabs.  Don't let the name frighten you off though because it really is tasty and pretty gluttonous but that why it's so good. It's an extra-long hot dog with crab salad poured all over the top of it. It's the perfect dish for a midnight snackers and pregnant woman alike. They also serve up shrimp dishes if crab isn't your thing as well as some east coast hoagies that are seafood free. But the seafood is definitely king at Capt'n Crabby.
If you have never been to the Maryland or the east coast you should stop by Capt'n Crabby. It's as authentic as you can get. Dimitri and MJ are poised and ready with their Maryland accents and their high class cooking skills to show you what the east coast is all about. And you can't find seafood like this just any where in Colorado.