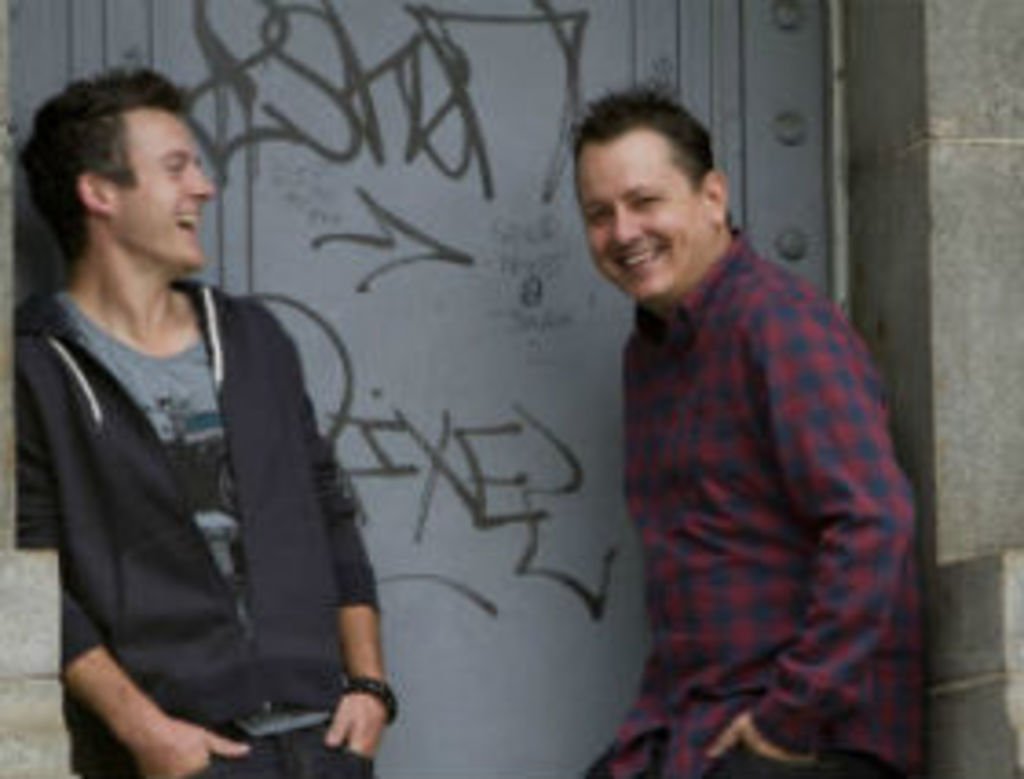 The progressive EDM duo, Project 46, has charged full-speed through the industry gates since their start a little over a year ago. With high-profile collaborations with DJ favorites like Kaskade as well as tours with these same producers, it's a wonder these two Canadians have any time to sleep. The group  also moonlight as pancake dealers with their "Pancake Friday" giveaways, which is actually moniker for giving fans their music (pancakes) for free.
With the recent  release of an atmospheric new track entitled, "Motionless" featuring singer Seri, Ryan Henderson and Thomas Shaw are gearing up for slapping their build-ups and break-downs onto packed rooms of body-painted dance fiends, undoubtedly refusing to remain motionless to P46's mix of catchy earworms.
Project 46 is heading to Denver for their first show in our Mile High haven for the EDM festival Skylab at the Denver Coliseum this Saturday September 21st. P46 joins Kaskade, Dillon Francis, Mt. Eden, Morgan Page and more for the festival that's sure to have audience members getting down into the wee hours of the morn.
Ryan Henderson found some time in the group's busy schedule to answer some questions about their start, a quick rise to fame and where they're heading next. Grab your Skylab tickets and dance your face off with the Canadian DJ dudes of Project 46!
303 Magazine: How did the two of you meet/ get your start?
Ryan Henderson: We actually met through a mutual acquaintance. He was listening to the music both of us were making at the time and said you guys need to work together. It took us a while to connect but once we did, we started working on a "Save the World" (Swedish House Mafia track) bootleg that we thought was awesome and the rest is history.
303: What's the significance of the name Project 46?
Henderson: It's actually nothing very significant. It's a pretty boring story that we don't really talk about. Some fans have actually made guesses that would be a better story. A common guess is that it's named after the Nintendo 64 Emulator and another fan once said it's because there are 46 chromosomes in the human body. All better stories than its actual meaning so we just keep it our secret!
303: Fair enough. It seems like everywhere you look in the progressive EDM scene, we're glimpsing another chart-topper from you guys, what has the past year been like, especially your collaborations with EDM giants like Kaskade?
Henderson: Knowing that people are enjoying our music and then having them go the extra step by actually supporting it is very humbling. Things have moved pretty fast this year but we do our best to work super hard and not forget about the fans that brought us here. The Kaskade collaboration "Last Chance" started almost a year ago and it took a while to sink in that it actually happened. I think it took right up until Ultra released the preview! Kaskade decided to work with us when we were tiny, before we made it on the DJ Mag list and before any serious success, which shows what kinda of guy he really is. We will always be grateful for Kaskade giving us the opportunity to work with him.
303: In your opinion, what sets you two and your sounds apart from other EDM producers today?
Henderson: I don't know that we really try to separate ourselves from anyone. We just focus on releasing good music and don't worry about it being so different then everyone else's. The style of popular big room house has changed but we always try to stay true to our original melodic and vocal progressive sound. One thing I think we do different then most producers is communicate with our fans at every possible opportunity on social media.
303: You recently released an original house track entitled "Motionless," feat Seri which is a little more chilled out than your normal stuff, yet still has the club banger feel your audience expects; where'd the direction for this track come from and where'd the title come from?
Henderson: "Motionless" has more of a big room trance vibe. We really got inspired from our collaboration with Soundwell on "Waiting." I think it hits extremely hard in the club and has more of a euphoric feeling. We really liked it and the title was inspired by the vocals that Seri did for us and the lyrics she wrote.
303: You've only been on the electronic scene since around 2012 and you're already being featured in DJ Magazine's top 100 and flying past Tiesto on Beatport #1 spots, where are you hoping to head next?
Henderson: We played our first show in August 2011 and it's been an amazing ride. We have one more track that we are working on for a November release and then it's into a another big collaboration. Can't say who it is with yet but it's big! Then we are going to focus on an EP and full length album for 2014.
303: What are you working on now?
Henderson: We started a couple of big remixes that we;re waiting for approvals on and are wrapping up our next single. We are already working on the EP as well. We've been writing lyrics in our hotel rooms and really have been focused on making sure that as our touring gets busier, our releases do not slow down.
303: You're playing Skylab at Denver Coliseum with Kaskade, Dillon Francis and more, what are you most excited for?
Henderson: Anytime we play with Kaskade I get excited. We have not played a huge amount of stadium and festivals yet so Skylab and TomorrowWorld are two we are really looking forward to!
303: Have you ever played in Denver?
Henderson: Nope, we've never even been to Denver.
303: Well welcome to the Mile High City! Who would you like to collaborate with most in the coming year?
Henderson: We are going to focus more on solo projects for the new year and maybe collaborations with some alternative bands. We wouldn't kick Axwell, Alesso or Calvin Harris out of the studio though. 🙂
303: If you could play any venue, festival or place, where would it be?
Henderson: Tomorrowland main stage is a huge dream for us. We don't really have a lot of European fans and I'd love to showcase our music at the biggest show out that way.
303: I heard you had some Canadian fans come support you at Ultra in Miami, what was that experience like?
Henderson: Yes, there were Canadian flags in the crowd! Our set time was changed last minute to like 3 hours sooner, so people had to rush the gates to see us. I could not believe how many people actually showed up and supported us. I know I probably wouldn't have been able to wake up in time. Actually I almost didn't!