Hitting the Big Screen  Aug 16 – Aug 22
The Spectacular Now

Directed by: James Ponsoldt

Rating: 3 1/2 out of 5

Release date: Aug 16, 2013
The Spectacular Now is a wonderful, unsentimental look at a coming-of-age story where the high school cool-guy Sutter Keely (Miles Teller) falls for the cute wallflower Aimee Finecky (Shailene Woodley). Sutter doesn't want to leave the cozy confines of high school but he's reeling from getting dumped by his girlfriend. And he's a functional alcoholic. He helps to bring Aimee out of her shell as she focuses on getting to college and starting the next phase of her life. The movie has a great cast that helped to flesh out this above-average, coming-of-age story. Think the John Hughes 80's teen movies without the pandering to be all encompassing tales of the zeigesit, think more Fast Times and a more unsentimental, realistic take on the daily triumphs and struggles. Teller is charming in his young Vince Vaughn, motor-mouth vibe while Woodley is a star in the making, picking up where she left off from her winning role in The Descendants. The two of them will pair up again in next summer's YA-targeted Divergent. The Spectacular Now is a real heartfelt crowd-pleaser that doesn't sugar-coat life or fill it with stereotypes & cliches. It's the perfect end-of summer movie to wash that taste of action blockbusters off your mind. If I haven't convinced you yet, please read my longer take on it here.
Lee Daniels' The Butler

Directed by: Lee Daniels

Rating: 3 1/2 out of 5

Release date: Aug 16, 2013
I was completely taken by surprise by how much I enjoyed Lee Daniels' The Butler. After skipping Precious and not really liking sticky, swampy Paperboy very much at all, I was apprehensive about The Butler. Forest Whitaker stars as Cecil Gaines, a young African-American from the rural South who moves to D.C. and ends up becoming a butler in the White House. The movie is based on a the true story of Eugene Allen, an African-American who served 8 presidents. The Butler takes his life as the starting point for a reexamination of the civil rights struggles of the 50's and 60's. The film uses Cecil's son Louis (David Oyelowo) as a Forest Gump-like traveler / narrator / participant from the lunch counter sit-ins in Tennessee to MLK to the Black Panthers and up to the 80's squaring off against Reagan's America. The movie juggles Louis's story along with Cecil's long, slow acceptance of the world outside the walls of the White House, a world that is undergoing monumental change. In this regard, Daniels does his best to channel his inner Steven Speilberg, which he does in a good way. Oprah Winfrey plays Cecil's strong wife Gloria in a cast that also includes Cuba Gooding Jr., Mariah Carey, Lenny Kravitz, Vanessa Redgrave and handful of famous actors playing the presidents – Robin Williams is great as Ike, Liev Schreiber as LBJ? Not so much. Strong recommendation to check it out.
The Canyons

Directed by: Paul Schrader

Rating: 3 out of 5

Release date: Aug 16, 2013
The most controversial film of the year hits the big screen in Denver! OK, maybe that hype is a bit much. The Canyons is an intriguing erotic thriller that is heavy on it's amoral, paranoid atmosphere while being a bit light on plot & character. It was directed by Paul Schrader of Taxi Driver, American Gigolo-fame. Here's how screenwriter/author Bret Easton Ellis describes the movie: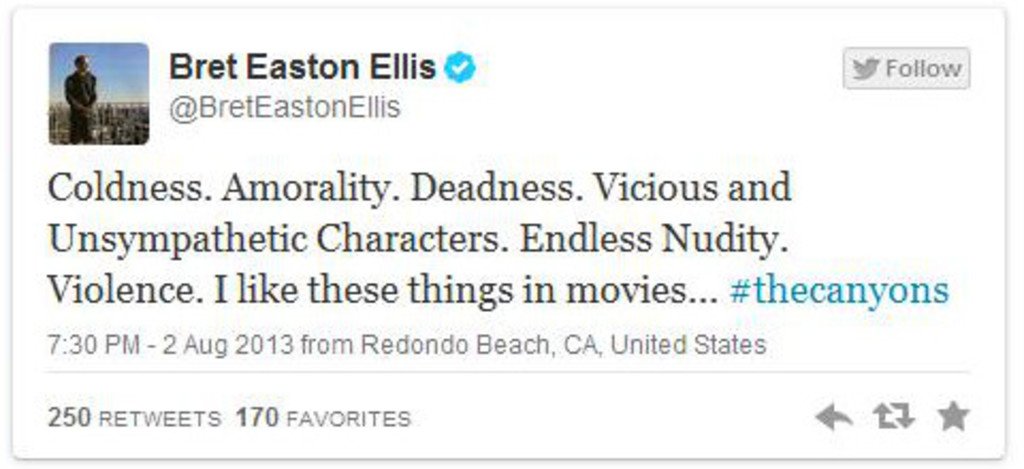 If you are familiar with his work and enjoy it, then The Canyons is for you. If not, then check it out to see LiLo act! The real star of the film though is adult movie star James Deen as the sneering Christian, a trust-fund movie "producer." LiLo plays his girlfriend Tara who thinks Christian is cheating on her while she's cheating on him with a young actor in Christian's movie. There's also a masseuse who is sleeping with everyone, basically everyone's sleeping with everyone and this being an Ellis story murder and paranoia starts to take over. These callous, amoral creatures are the face of Young America. Be afraid, be very afraid.
Short Takes
 The highly celebrated documentary The Act of Killing opens. It takes a unique spin on the atrocities committed in Indonesia by interviewing and filming those criminals re-enacting their crimes today. The sickening part is that these monsters are now part of the establishment, shows crime pays I guess.
Drug War is the new crime movie from Hong Kong legend Johnnie To (Election). It is a twisty tale of a drug dealer who gets caught then proceeds to trick and manipulate both sides into a wild drug war. The film's brisk pace leads to one heck of shoot-out at the end. American crime movies could learn a thing or two from seeing this movie.
Jem Cohen's masterful Museum Hours focuses on a poignant story of a museum guard who befriends a tourist. The two of them gradually open up to each other while the movie slowly becomes a meditation on art and it's power while two people try to make a connection.
Kick-Ass 2 and JOBs also open. Not very excited to see Kelso play that iGuy or to see little children killing people.