Denver citizens come in all shapes and sizes. It's hard to pigeon-hole the culture of our city because it is home to such an eclectic mix of people. Perhaps that is the culture of Denver: A balance between recreation and work, nature and architecture, punk and class, fitness and partying. For every stereotype, there is one to contradict it. Humans of Denver is documenting this balance in hopes to define our culture.
Seen at Wash Park.
My first human didn't have to give me an interview to teach me something meaningful. I wanted to talk to him but felt cruel interrupting his literary leisure time. The suitcase told me he may not be a true Human of Denver but a traveler. I wanted to know where he was going to, or coming from. But sometimes, you can't intrude on the sheer peace and meditation that comes when reading a good book under a tree in Washington Park.
Seen on Broadway.
My next human of Denver is a beautiful and energetic half Samoan and half Mexican whose air and general energy is vibrant and present. She is a music fan, dog owner, tattoo enthusiast, waitress, avid bike rider, and recent transplant to Colorado. I began with asking the essential: How did you get to Denver?
"I rode my bike and hitch-hiked here from Milwaukee. I was on my way to Salt Lake City, but then someone told me I couldn't ride a fixed-gear through the mountains."
Whether people get here by accident or on purpose, they stay. It's a trend with Colorado. I continued to pry. What was the worst moment of your life?
"When I burnt my tongue earlier today."
The conversation shifts to her dog Kodan. She is an attentive mother to her 1-year-old pup with whom rides around South Broadway with him nestled safely in her backpack. So it was not at all surprising to hear her answer when I asked: What has been the best moment of your life so far?
"The day I gave birth to Kodan."

Seen on Colfax.
After begging my second amazing human for her interview, I thought I'd try my hand at bribery. The next person I saw as I wandered Denver is a disabled Gulf War Veteran and oranged-out Bronco Fan seen on the corner of Colfax and Colorado. A small price to pay for a story, I offered him a dollar in exchange for a picture.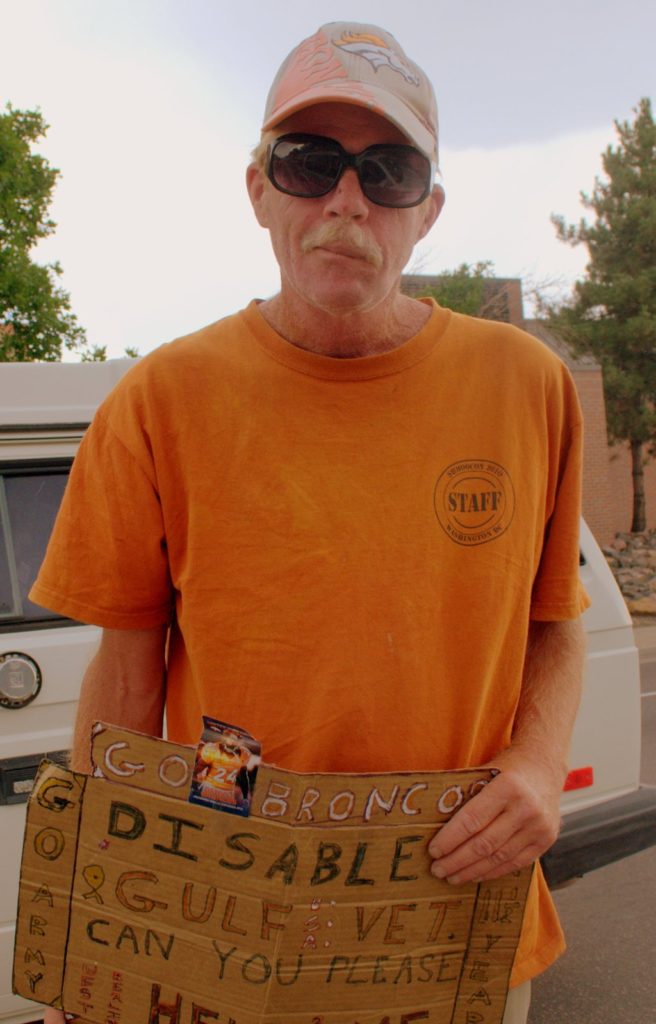 The first thing I noticed was his shirt that read "staff". Whether it be nerves or my general fear to sound insensitive to ask him where he worked, I opted for a simple, "Thank you for your time!"
"Thank you for your dollar."
Be sure to search the hashtag #HumansofDenver on Instagram. Check 303 Magazine for more Humans of Denver in my never ending quest for the individuals who define our city's culture.