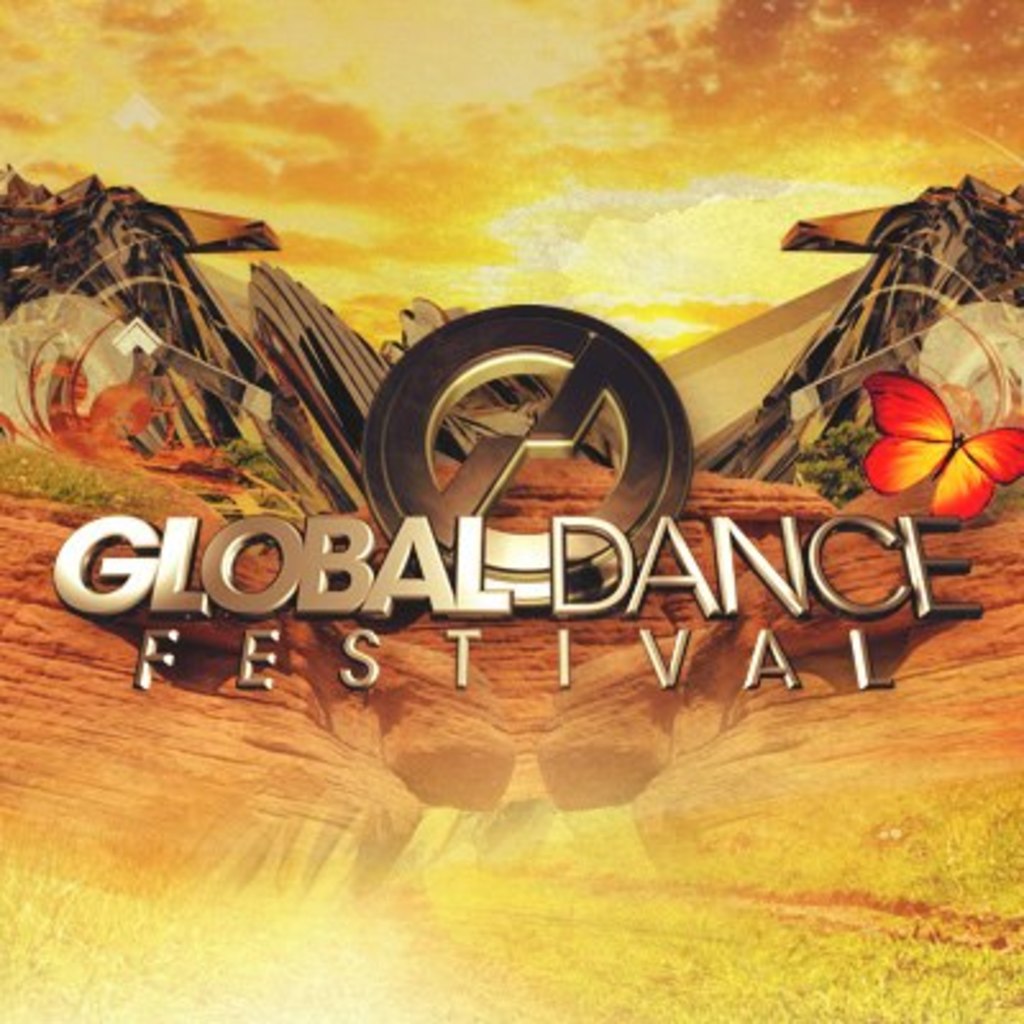 This weekend, Global Dance Festival, the largest electronic music festival in the Rocky Mountains, makes its way back to Red Rocks for the 11th year for three days of pulsating beats and breathtaking visuals. GDF always boasts a lineup of some of the world's most talented producers and this year is no exception with hard-hitting artists like Savoy, Kill Paris, Beats Antique and Baauer billed.
303 Magazine spoke with Global Dance Director, Ha Hau, about GDF's 11 year history, keeping up with current music trends, and what fans can expect at this year's event.
303: This year marks GDF's 11th year. Did you ever think GDF would be this big of a cultural event? What were your initial goals for GDF when you first started the festival and how have you surpassed those goals?
Ha Hau: When Kostas and I created Global Dance Festival, we really just wanted to bring some of the world's best EDM artists to our home town. We both had a passion for this music, so the goal was to share it with as many fans as possible. That goal led to many sold-out Global Dance Festival shows. It definitely evolved into a big cultural event as dance music has such an international appeal. Now, Global Dance Festival is a three-day show featuring some of the greatest artists from around the globe.
303: The lineup is the most diverse it had ever been, with artists representing a variety of EDM subgenres. What were some concerns and ideas you had for crafting this amazing lineup?
Ha Hau: GDF has always showcased the very best EDM artists, but also the up-and-coming young talent. It's my job to know who these new artists are and what styles of EDM is on the rise. GDF showcased dubstep a few years ago as it was just becoming popular. I was early on booking growing acts like Rusko and Skrillex. This year, trap music exploded so I booked some of the biggest names in that sound, like Baauer, who produced "Harlem Shake." You can expect GDF to showcase any new up-and-coming sounds. This year, we really wanted to showcase experimental, burner, livetronic music, which resulted in Friday night being stacked with some of the biggest artists who are currently pushing that sound.
303: What can GDF fans expect from the addition of those livetronic bands and musicians?
Ha Hau: We have never featured this kind of sound before, so we decided this year was perfect to incorporate it. You can thank our buddies at AEG Live for the artist selection.
303: Denver-based powerhouse Sub.Mission has its own stage at GDF this year. What has it been like working with Nicole and the Sub.Mission crew on GDF?
Ha Hau: They are amazing. They have been pushing dubstep music since it was underground. We have a lot of respect for Nicole and what she has done for Denver's dubstep scene.
303: How will this year's GDF stand out among previous years?
Ha Hau: This year features three different nights of music that cater to all EDM tastes. I would say this is a year of diversity. We are expecting this to be the biggest GDF ever.
303: What kind of preparation goes into planning GDF?
Ha Hau: GDF preparations start about nine months out. Booking is the first step, then marketing, logistics and production follow. It takes an entire team to produce GDF.
303: The GDF film, documenting GDF 2012, was released several months ago. What has the response been like?
Ha Hau: The response has been amazing. I think Colorado really loves the GDF story. It's gives great insight to the people who made GDF what it is today.
303: What kind of lighting and stage design is brought in for GDF? What kind of maintenance and set up does it require?
Ha Hau: The natural setting at Red Rocks is just beautiful. We showcase the newest in LED lighting, laser technology and more. It's definitely a visually stimulating setup.
303: How would you describe GDF to someone who has never attended?
Ha Hau: Imagine the craziest party you've ever been to. Now imagine doing that in the mountains, underneath the clear skies, with 10,000 of your closest friends and the world's greatest musicians.
303: You have brought some of the most world renowned and talented names in EDM to Denver. Who are your "do-not-miss" artists at GDF this year?
Ha Hau: I'm most excited to catch Beats Antique, Sander Van Doorn, Carnage, Seven Lions and Grizmatik. All are not to be missed!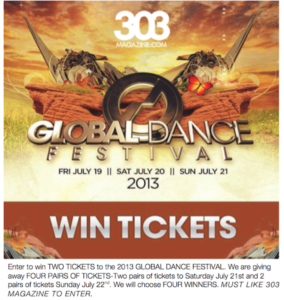 WIN TICKETS TO GLOBAL DANCE FESTIVAL! 
303 Magazine is giving away tickets to this year's Global Dance Festival. We will choose FOUR WINNERS, each receiving a pair of tickets to either Saturday July 21st or Sunday July 22nd.
To enter to WIN:
1. LIKE 303 Magazine's Facebook
2. SHARE/LIKE Global post
3. GO here to provide your email and enter to WIN: http://woobox.com/538phd