A giant human-launching teeter-totter, a water segment, and performers dangling high in the sky don't even begin to explain Cirque du Soleil's current performance of "Amaluna," which appeared on July 19 at the Pepsi Center grounds.
Upon entrance of the giant yellow and blue tent, circus lovers from all over Colorado were transported to an island of magical wonder. With whispy floor to ceiling trees, the sounds of exotic birds, and of course the island's inhabitants – who had wildly braided hair, sparkly makeup, and who were just an inch away from being creepy – the real world was long forgotten.
The performance starts out with a bang – and a rock band – that sets the mood for a tale of exploration of the island, followed by a forbidden love story. It follows Miranda, a curious young woman, who is joined by her half-lizard, half-human friend, Cali. Their attentiveness to the island's performers gets distracted by a shipwreck that brings a boatload of handsome men – including Prince Romeo – to shore. A battle of love versus loyalty begins as the two lovers fight for each other.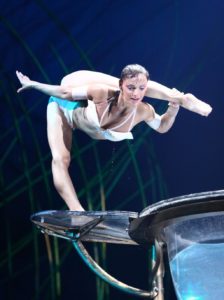 With the cast being 75% female, the performance of "Amaluna" is sexy, romantic and enchanting. But don't let that fool you; the show has an all-female band led by a rock goddess who could out-sing any leading rocker out there.
"Amaluna" is a spectacular performance that engages its audience from before start to a final scene that is award winning.
Cirque du Soleil's "Amaluna" brings fire, water and a bewitching moon that is currently intriguing Denver audiences through August 25.
For more information, visit www.cirquedusoleil.com
Check out more photos below, and check out the gallery HERE.