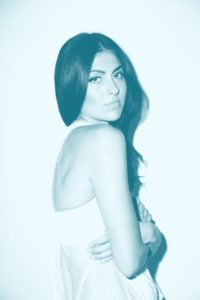 Fresh off playing Electric Daisy Carnival Chicago, remix queen/production pro/fashion muse/social media maven, Anna Lunoe will make her way to Denver this Friday to play alongside fellow Aussies, Bag Raiders, at Norad Dance Bar.
This week, the pint-sized producer announced her upcoming North American fall tour with alterna-R&B sensation, The Weeknd – an extensive 28-city jaunt across most major U.S. and Canadian cities. She also released "All Night," her collaboration with AC Slater. The track – a remix/cover of "Power Trip" by J. Cole – features Lunoe's original vocals and has already become a Soundcloud hit. "All Night," coupled with her fall tour and forthcoming EP, has pushed Lunoe to the forefront of electro-house producers to watch.
303 Magazine caught up with Lunoe to chat about her relationship with Bag Raiders, learning to produce her own music, and her highly anticipated EP everyone is talking about.
303 Magazine: You're on break right now before playing a few dates with Bag Raiders. How are you spending your time off before touring?
Lunoe: Right now I'm sitting in my studio with a candle lit and I'm going over my to-do list. I'm trying to get everything done so I can get on the road early next month and not worry about anything.
303 Magazine: What's on your to-do list?
Lunoe: Let's see . . . I have a piano lesson, I need to finish a bunch of projects, and I need to pay my parking fines! That's what happens when you live in LA – you get lots of parking fines.
303 Magazine: You're playing in Denver this Friday, but this isn't your first time performing in the Mile High City. What were your previous experiences like playing here?
Lunoe: I played in Denver on tour in late 2011 and then I played at Beauty Bar last year at The Hundred. This will be my third time playing in Denver and my second time playing for The Hundred. I haven't had much time to explore Denver, but last time I was in town I was able to stop by Euclid Hall. They have the most amazing sausages and bone marrow dishes. It was really delicious. Hopefully, this time around I'll have some time to wander around the city. I really want to make it to H&M [laughs].
303 Magazine: On Friday, you're playing with Bag Raiders. What is it like touring with such good friends?
Lunoe: I'm so excited! These are guys I've grown up with who have been so influential in my career. We've been playing beats together for years and I'm really excited to be playing with them for a couple of weeks. I just played with them in Puerto Rico and we had the best time. It was a beach party, so after the show we went night-swimming and jumped off the pier. Then we had a picnic on the dock. They are so fun. I love living in America, but every now and again it's nice to be with people from Australia who remind me of home.
303 Magazine: U.S. audiences seem to love the electro-pop sound that's been coming out of Australia over the past few years with acts like Miami Horror, Cut Copy, Cassian, and, of course, Bag Raiders. What do you think about Australia's influence on EDM?
Lunoe: I think Australia's influence on electronic music is such a positive thing. A lot of our venues are outdoors, and we have a warm, sunny climate. So, the music coming out of Australia is generally a very upbeat, positive sound. It's very much a pop-based, sun-drenched, tropical sound. But, Australia also has other fantastic electronic scenes. We have a great techno scene and electro scene, with artists like Tommy Trash and Nervo.
303 Magazine: There's a rumor you're releasing a new EP soon. When does it drop and what can we expect from the new material?
Lunoe: Not a rumor! It's totally true. I've been working on a lot of my own music and getting ready to release it. I'm really excited about it. Some of it is very pop-centric, but other tracks are also very listenable. It should be out in August, hopefully.
303 Magazine: What is the EP like conceptually and sonically?
Lunoe: For this EP, it was really important that my production was my own. I wanted to be able to do this myself. I worked with various production techniques, like a lot of vocal looping. It all sounds very suspenseful, like something bad is going to happen. It could be the soundtrack to an action movie. I think it's good to switch things up. If it's too sugar-sweet then it gets boring. I'll play some of it on Friday!
303 Magazine: You've been playing music for years. How did you get your start, and when did you begin producing?
Lunoe: I deejayed for a long time before I moved over to production. Production wasn't something that came naturally to me. I really wanted to learn how to do it all myself. It's something that takes a lot of hard work to be good at. I was growing as a DJ, so three years ago I started learning how to produce. Now, I feel like I've got the hang of it. Luckily, I've got a lot of friends, like Bag Raiders, who I can ask questions and who will give me constructive feedback. I'm also really passionate about being a girl in this industry. Girls always seem to DJ but rarely produce. I think that's an interesting conversation to open up – why don't more girls produce? I think the best advice for anyone who wants to produce their own music is to just throw yourself into it. Ask questions and just do it.
303 Magazine: You're known for being very fashion-forward. As a female EDM artist, how do you feel about performing in heels behind the decks? Krewella hates it, but Posso loves wearing heels when they perform. What's your opinion?
Lunoe: High-heels have hard soles, so if I jump up and down – which I do a lot of in my sets – it hurts so badly! But, lately I've been wearing high-heeled sneakers, so it doesn't hurt when I jump around. I like heels, but I'm definitely more of a sneakers girl.
303 Magazine: Lastly, one of your fans wants to know: Are you single? Also, how do you feel about dating redheads?
Lunoe: [Laughs] I'm not single, but redheads are amazing. They are a genetic goldmine. They should feel very good about themselves.