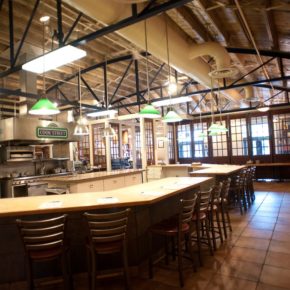 How come a steak tastes so delicious at a steakhouse?  And how do you really concoct the perfect martini?  Imagine owning the skills of preparing the perfect steak and shaking up a killer cocktail at home.  Get ready to sharpen your knives and your skills with an upcoming class at Cook Street.  And beginners don't fret, Cook Street provides everything that you need.  All you have to do is show up, learn, cook, and eat!
Cook Street School of Culinary Arts is offering a Steak and Spirits class to give you the know-how to being steak and spirit master on June 14th from 6pm-9:30pm.  In the class, Chef Eric and Chef Erin will show you various cuts of beef and show you how to cook them with accompanying marinades and sauces.  The knowledge of cuts of beef sounds simple, but trust me, it is half the battle in choosing how to prepare each cut to it's full potential.  You'll also learn about a locally produced spirit through an educational pairing and of course you will complete the class by trying out your creations.  You certainly will get thirsty after all of that hard work in the kitchen.
Colorado Vodka Company will join us in this class and you'll swirl, taste and learn about a variety of cocktails, including the classic Martini!
MENU:
Pan Seared "Martini" Hanger Steak
(Marinated in Vermouth, Vodka and Green Peppercorns, and served with Olives or Pearl Onions)
Grilled "Bloody Mary" Steak with Seasonal Greens
(Rubbed with Black Pepper and Salt, and served with Charred Tomatoes and Pickled Horseradish)
"Sea Breeze" Sorbet
Cost of the class is $99 and you'll walk away feeling like a professional.  You can register for the class and find a number of others that may pique your interest at http://www.cookstreet.com/steak-and-spirits.