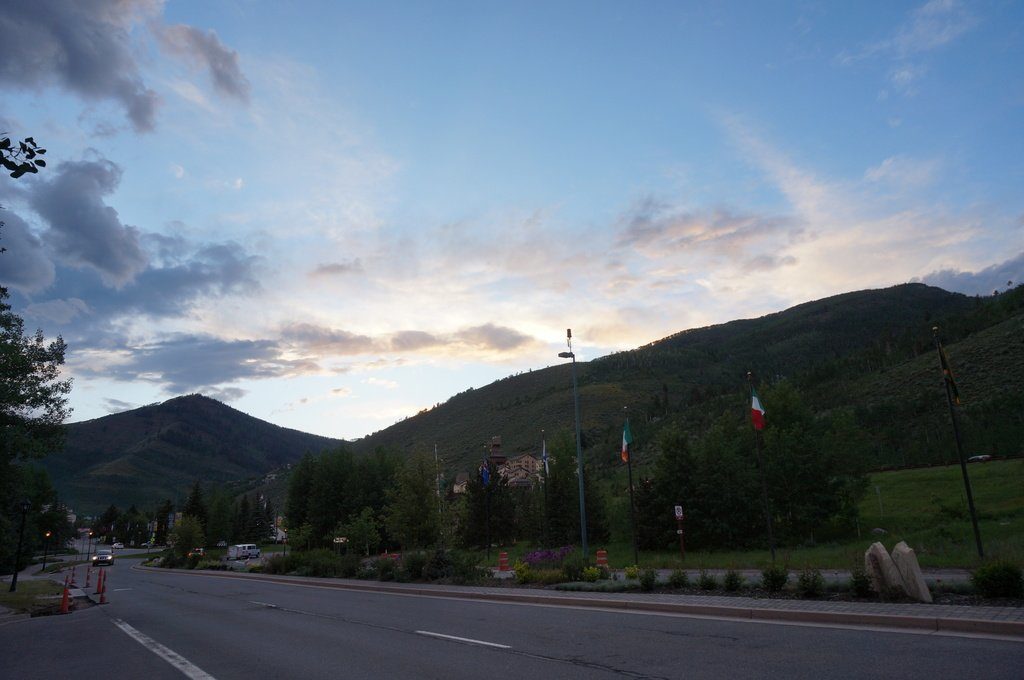 It truly was the best year yet! The weather was perfect the music was awe inspiring and the views were breathtaking. Mike Peters, who just went through chemo last week, kicked off the morning and lead the charge up the trails. Miles Zuniga of Fastball shook the leaves off the Aspens in a grove along the trail. Cy Curnin performed with a backdrop of snow covered mountain tops. An emotional Brien McVernon and Jeff Brinkman honored their family members whom they both lost to cancer along with so many participants who have suffered the same loss. Brett Dennen blew everyone away at the summit as tears flowed by hikers who were greeted at the trail end with commemorative necklaces. Hikers celebrated milestones like Jen Garner who was 3 years post stem cell transplant and had clean scans just days before the event. The entire weekend ended on a high note with the artists taking the stage with the kids of School of Rock and a surprise performance at the finale concert by Big Country. -Shannon Foley Henn, Executive Director: Love Hope Strength
2013 was yet again another successful year at Love Hope Strength's Vail Rocks with over 400 hikers and over $100,000 in funds raised. People from all over Colorado gathered for a beautiful hike, great music, and a cause worthy of it all.
Schomp MINI represented at the event along with their spray-painted MINI Cooper, which was created at the People's Fair earlier this month. They also had a MINI dedicated to "Get on the List," a mobile campaign that comes to concerts, events and Vail Rocks, looking for Peripheral Blood Stem Cell and Bone Marrow donations.
303 caught with Love Hope Strength's Executive Director, Shannon Foley Henn, to show you the numbers and hear about this year's impact.
303 Magazine: Congratulations on the 100K raised. What will the money go towards?
Shannon Foley Henn: Our mission of saving lives, one concert at a time. We will expand our GET ON THE LIST campaign and add more concerts and festivals to our summer line up of marrow drives. We are talking with lots of bands about upcoming summer tours in which we can register more narrow donors. We will also use funds for our global programs such as the Love, Hope and Strength cancer wards in Tanzania. Each year we fund the salaries of 2 doctors to care for the hundreds of children who pass through the cancer centers doors.
303: Is there a stand-out memory from this year's Vail Rocks?
SFH: We had a couple who met on last years Vail Rocks hike get engaged at the top of the mountain in front of our entire Love Hope Strength family of supporters. This foundation has changed lives in so many ways.
303: What can the public do now that Vail Rocks has ended for the summer?
SFH: A handful of Vail Rocks shirts are leftover and will be available in our store later this week. All of the proceeds benefit our mission. And of course they can GET ON THE LIST to become a marrow donor right on our website atwww.lovehopestrength.org.
303: When is the next event?
SFH: Our next fundraising event is a festival at sea called Rombello. Over 30 bands will set sail aboard a Norwegian Cruiseline on November 1 with Michael Franti, G Love, Donavon Frankenreiter and many more. A portion of the proceeds of the entire cruise benefits LHS and we will be getting people. ON THE LIST throughout the cruise. Go to our website to learn more. The cabins are already filling up so we encourage people to act fast.
303: Anything else you'd like to add?
SFH: We want to say thank you to the 400 participants who brought their heart and souls up the hill. We came together for a common reason far too many of us have been touched by, cancer. We bonded through laughter and tears and, of course, music. We supported each other up the trail, cried as we honored those we have lost and cheered as we celebrated those who have won the battle. Like so many who have fought this terrible disease, we conquered the mountain together, one step at a time. Their belief in our mission and fundraising support will literally save lives this year.That is a promise.