"This is our fifth or sixth time here at Red Rocks and we're pretty tired of this place. Totally over it," joked Barenaked Ladies' singer/guitarist, Ed Robertson, in front of a crowd of nearly 7,000 strong at the historic amphitheatre Wednesday night.
On a picturesque, moonlit night, the quirky, Canadian rockers delivered a rousing set of new tunes from their latest album, Grinning Streak, and delighted fans both young and old with nostalgic favorites like "Brian Wilson," "Pinch Me," and the always popular, sing-a-long "If I Had $1000000."
Opening for the band was British singer/comedian Boothby Graffoe, followed by Guster, an alt-rock band from Boston whose Connect Four backdrop demonstrated perfect alignment with BNL sensibilities, humor, and sound as they rattled off a rambunctious acoustic set featuring "Satellite," "This Could All Be Yours" and "Barrel of a Gun."
"Satellite" – Guster, from the album Ganging Up on the Sun (2006)
Said front man, Ryan Miller: "This is a special shout out to all you people running the stairs here while we were loading our equipment this morning. You people exercise attractively!"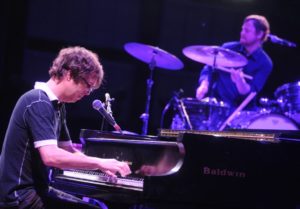 After Guster, Ben Folds Five took the stage. The Chapel Hill piano rock trio, perhaps best known for the mainstream hit, "Brick," ripped through a set that included "Army," "Song for the Dumped" and their most recent single, "Do It Anyway."
"Brick" – Ben Folds Five, from the album Whatever and Ever Amen (1997)
Blame it on the altitude, but the perfectionist minded Ben Folds got a little frazzled with a few mishaps and pitch problems – all of which led to a rowdy rendition of "This Piano Is Out of Tune."
Despite it all, exclaimed Folds, "We're rockin' this bitch in Colorado in a place called Red Rocks!" The crowd responded enthusiastically.
The main attraction, of course, was Barenaked Ladies. And they didn't disappoint. Making their second pit stop on the Last Summer on Earth 2013 Tour, BNL picked up right where last year's successful formula left off.
"The Mayans may have just been off a little, so we're hedging our bets," Robertson told Rolling Stone magazine.
But for the Toronto based quartet now celebrating their 25th anniversary and the sale of some 14 million albums, the dark cloud of the apocalypse has seemingly lifted. Following numerous personal setbacks, a horrific plane crash, and the departures of original keyboardist Andy Creeggan (1995) and most significantly, founding member Steven Page (2009), the band has continued to soldier on.
Opening with "Limits," BNL hinted at a different kind of direction for the band. With a crescendoing, electronic pulse, they demonstrated an exhilarating, mature and textured sound. And lyrically appropriate. The song focuses on finding that inner strength to deal with life's unexpected problems.
"Limits" – Barenaked Ladies, from the album Grinning Streak (2013)
"Hold on to your armrest, don't be alarmed / I'm gonna do my best / 'Cause it's a long haul and I'm in this / And once in a while I'd see the posted limits."
Released on June 4th, Grinning Streak is all about love and loss. But, with a significant amount of introspection. Perhaps no more evident than on the radio friendly, "Odds Are," where the lyrics almost seem to act as a means of self-help assuredness: "Struck by lightning / Stuck by a bee sting / Hit by the A-Train / Crashed in an airplane / The odds are that we will probably be alright."
True to form, the band blended comedy and pop culture with their music. There was Ed's sermon, aka Ted Talks at Red Rocks, a building busting review of Man of Steel, bassist Jim Creeggan playing with a bra on the neck of his guitar, and a pause to reflect on building a house of red bricks by simply stripping the backside of Red Rocks during "If I Had a $1000000."
Additional highlights included: Boothby Graffoe performing "Be My Yoko Ono," a cover of Depeche Mode's "People Are People" that segued into "One Week," the theme song to "Big Bang Theory" (full version), and a series of new songs that
felt like old – "Boomerang" (first single) and "Gonna Walk (sing-a-long)."
Much like the synthesized reverb on "Limits," Grinning Streak's "Daydreamin'" is a trippy, Postal Service-like tune vocalized by keyboardist, Kevin Hearn. A bubble gum ode to the power of dreams, the words are empowering:
"I'm gonna get it right one day / And you'll be out of excuses / For telling me that there is no way / That it's pointless, it's useless / That I'm dreamin.'"
"Daydreamin" – Barenaked Ladies, from the album Grinning Streak (2013)
It's that kind of optimism and spirit that lifted the audience at Red Rocks. And it's the perseverance, the willingness to experiment, the inner geekiness, and the sheer love for performing that translates to audiences and continues to make Barenaked Ladies exciting, relevant, and highly entertaining 25 years later.
Mark Sells is a nationally recognized film/entertainment journalist and Critic-at-Large for 100.3 FM The Sound (Los Angeles). In addition to his blog on 303, you can follow The Reel Deal on YouTube, Twitter, and Facebook for the latest entertainment news, reviews, and interviews.
*All photos courtesy of Evan Semón/Evan Semón Photography, 2013.
Odds Are – Barenaked Ladies, from the album Grinning Streak (2013)
Brian Wilson (Live) – Barenaked Ladies, from the album Gordon (1992)

One Week (Live) – Barenaked Ladies, from the album Stunt (1998)