She wanted them prepared. If George Karl's boys were going to bring the playoffs back to the Pepsi Center, her girls were going to give a damn good show. By now the wound from the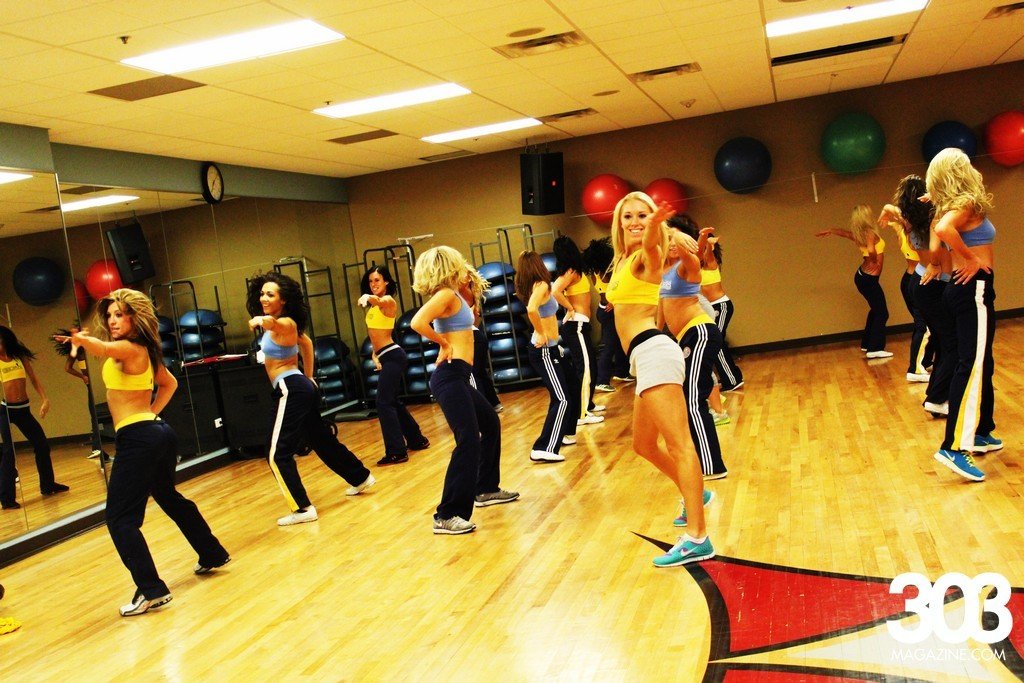 Nuggets early postseason exit has scabbed over, but when Denver Nuggets dance manager Amy Jo Wagner welcomed 303 Magazine to her team's (then unknown) final practice, she had her girls rehearsing as if their performance was imminent.
The wood floor in the studio room at Forza Fitness rumbled with steps completely in-sync. Blonde, brown and black locks of hair whooshed through the air in the same direction, hands slapped thighs simultaneously and all to the perfect synchronization of Amy Jo's counting. Well, perfect at least to a novice.
"I have a feeling we should do this on more time.  So turn your brain on girls,I want to get home and watch the game"  Amy Jo said as her team finished a routine that fell short of her approval.
I couldn't spot a single flaw–perhaps because I was slightly mesmerized by the array of powder blue and yellow– but Amy Jo demands a great deal from her girls and knows exactly what she wants.
From the top- She turns the music on to cue game speed- her team snaps into formation and begins the routine. Crouched down with calculated concentration, her hands folded in front of her and somehow watching every move of every dancer, Amy Jo reminds me of a coach I had who terrified me. He saw everything. Nothing slips past Amy Jo either. After a routine she was finally happy with, Amy stepped away from practice for a moment to sit down with 303.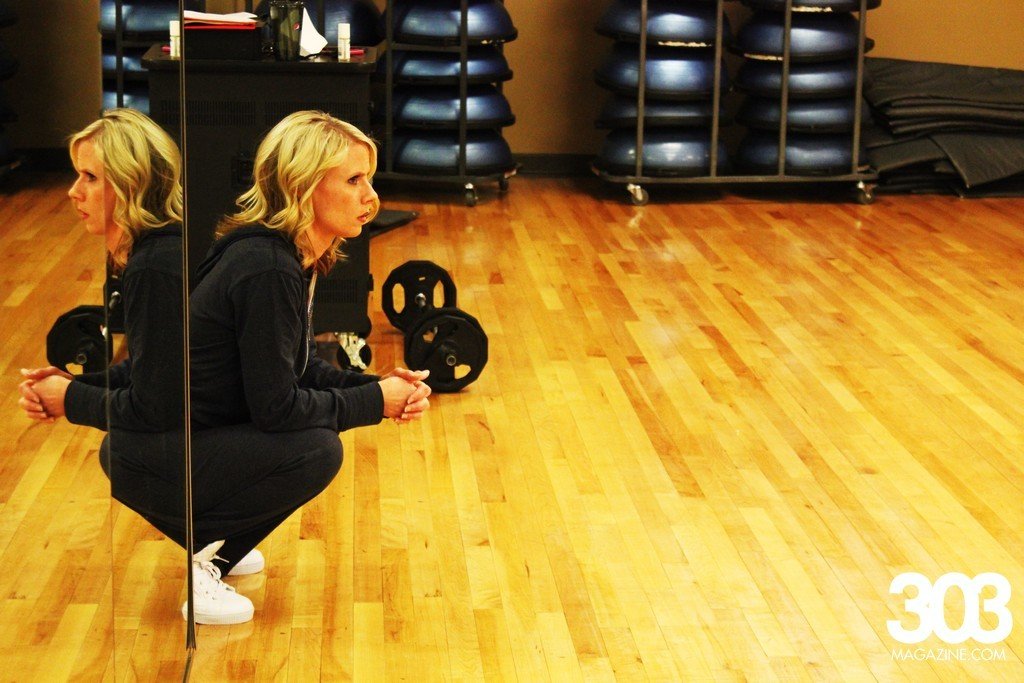 Dance wasn't always in the cards. Amy Jo didn't even start until she was 15 years old, and from her own recollection, had a bad attitude. At first she wouldn't let coaches tell her anything without some sass. But she kept on dancing and soon fell in love with the performance aspect and dance and discipline became second nature.
She is everything you might come to expect from a dance manager in the NBA- precise, punctual and yes, very pretty. Though one thing that might catch you by surprise is her love for math. Algebra, trigonometry and calculus; nauseating terms for a writer, comforting words for Amy Jo Wagner.
"I have two passions in life. Music and math," she said. " I've just always liked having one right answer."
Before moving to Denver to start this dream job with the Nuggets, Amy Jo was living out another fantasy as a high school math teacher in Arizona. I know, I know, I wish she was my math teacher too. She was in a comfy spot in life, albeit hectic. Dancing simultaneously for three different Arizona  teams, (Phoenix Suns, Phoenix Mercury and the Arizona Rattlers) teaching high school math and having just bought a new home, Amy Jo thought her fairy-tale would play out in the desert. A job opening with the Denver Nuggets would change all that.
In  2008, on her birthday, Amy Jo quit her job as a math teacher and swapped it for dance life in the NBA. After a heartfelt goodbye from her school, she still gets emotional reminiscing about her time as a teacher. She received nothing but support from her staff and students, yet at times can't help but feel that she 'let them down.' After turning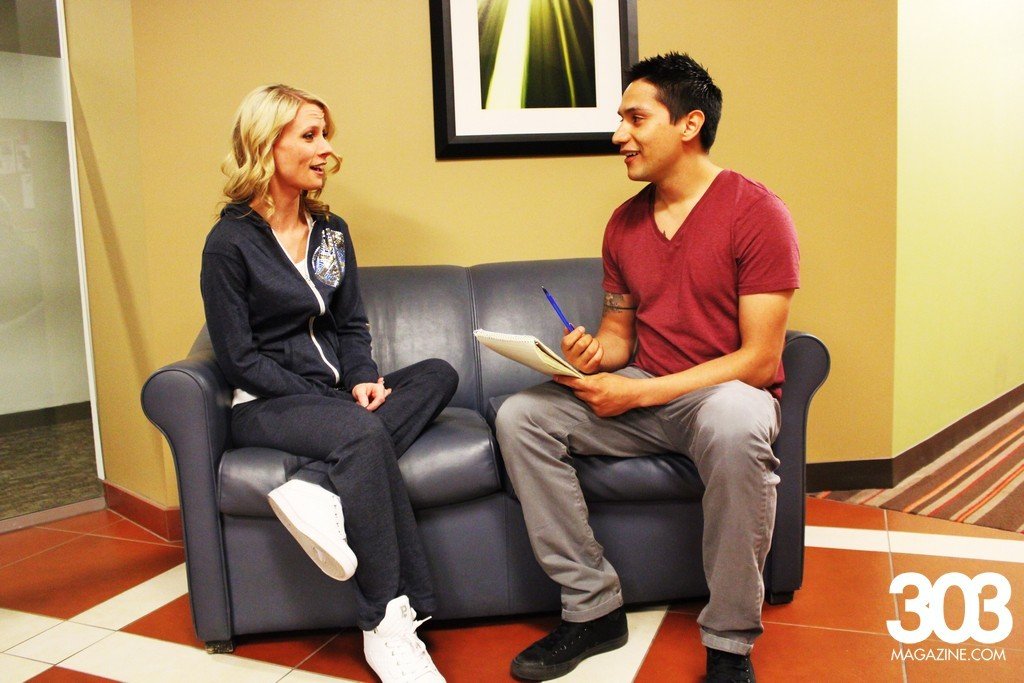 down the job initially, Amy Jo wasn't going to let the Nuggets down.
With Denver as her adoptive home, this Kerkhoven, Minn. native  has settled in quite nicely. Amy Jo has a 1 year old daughter with a loving boyfriend. Though coming from a small town, she admits there is some pressure from home to get married, which she says is not in the works any time soon. "All that matters is we have a happy household," she said with a smile.
Balancing out her busy schedule, Amy Jo spends her leisure practicing yoga and being with her daughter. And though free-time is not something in great abundance, she tries to make as much time as she can for each of her dancers and get to know them on a more personal level.
"I consider them a family, and building a personal relationship with them makes the season that much easier," she said.
She makes it a point to sit down over coffee and just talk with each of her girls, and from an onlookers perspective her team is a very cohesive unit–her coffee dates must be working. Amy Jo is far from that terrifying coach I knew, her standards are high, but she is only there to help her team reach them. She leaves her ego at the door and explains that her job is not a "look at me" position. She is not there to run a tyrannical campaign either, she just wants to be a part of the team and earn the girls' respect by being a good role model.
"It's as much their team as it is mine," she said.

Nuggets Fans Please Like and Share!