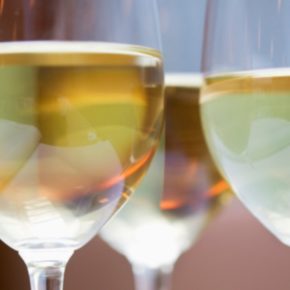 We all know that the weather is getting hot, which means it's time to transition into drinking a wine that is perfectly suitable for the warm and sunny Denver days.
Vinho Verde is a style of wine that is the perfect warm weather sipper!  If you are new to wine, it might not be on your radar yet, but I assure you, it will become a staple in your refrigerator throughout the hot months.  So read on, and stock up!
Vinho Verde is a style of wine out of the northern most  region of Portugal called Minho VR.  Port wine is not the only sought after wine style in this warm wine region.  Vinho Verde can be in a red, white, or rose style of wine, because of the many grape varietals used in making this style.  They are all picked before the grapes are ripe, hence the name "Green Wine."  Picking the grapes green give this wine a crisp, bold acid, and a very low alcohol content because of the lack of sugars that have developed on the vines.  This wine is meant to be drunk young, so buy a bottle and pop that cork right away.  Vinho Verde also has a slight effervescence that adds to the overall refreshing mouthfeel of this wine.  The low alcohol content adds to the drinkability, especially in the hot weather.  Vinho Verde is excellent with an array of different foods.  I love it with raw shellfish, spicy cuisine, and salads.
Most liquor stores and wine shops carry this style of wine.  Chill, pour, drink and repeat.  This wine is so affordable as well, between $6-$12.  See, you can afford to stock the refrigerator!