My favorite week out of the year is Colorado Wine Week and it takes place next week starting June 2nd-8th.  It is a week filled to the brim with my two favorite things; wine and food!
The third annual Colorado Urban Winefest comes back to Denver on June 8th, it will serve as the grand finale to Colorado Wine Week.  Colorado Urban Winefest will host dozens of Colorado wineries who will pour complimentary samples of their artisan wines as top chefs from Denver will impress your palate with food demos. Live entertainment, food vendors, and local artists will also fill the outdoor venue from 1 p.m.-6 p.m. at Festival Plaza at Infinity Park, in Glendale.
Tickets to the main event start at $40  and include the following: commemrative wine glass provided by Kuni Lexus,unlimited wine samples poured by Colorado's artisan winemakers,chef demos with food samples,interactive wine education, and the ability to buy bottles direct from the craft winemakers.
I attended this event last year and loved being able to interact with Colorado winemakers and tasting the many different styles of wine that they offered.  Another stand out for me was the giant aroma wheel and cups filled with common wine aromas such as red currant, pumpkin pie spice, and even "horse!"  It was educational and extremely interactive.
Don't forget about the events leading up to the Colorado Urban Winefest!  It is a whole week of activities and wine drinking.
June 2: Farm-to-Turntable Kickoff Party
June 4: Colorado Wine Cocktail Celebration II
June 6: Craft Colorado
June 7: Governor's Cup Awards Presentation and Reception
June 2-8: Sips & Snacks
For the entirety of Colorado Wine Week, participating restaurants will create delicious appetizer sized portions alongside a Colorado wine created by a CAVE member winery. These pairings will be served at happy hour-style pricing, $20 or less.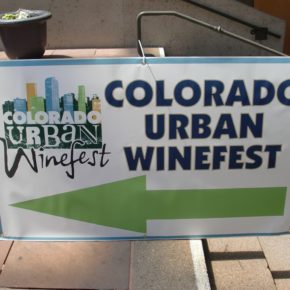 What a perfect way to try a new restaurant in Denver!
Here is a list of participating restaurants, and I wouldn't be surprised if more joined this week.  So you can map out your food destinations now.
1515 Restaurant
Black Pearl
Coral Room
Corner House
D Bar
Gaetano's
Jonesy's EatBar
The Lobby
Lou's Food Bar
Mizuna
Panzano
Root 25
Row 14
Slotted Spoon
Squeaky Bean
The Universal
I hope you get out and enjoy Colorado Wine Week.  It is such an important week to showcase Colorado's growing wine community and the talented chefs in Denver.  All event details and tickets for the events are available at http://coloradowineweek-es2.eventbrite.com/?rank=1#
Cheers to Colorado Wine Week!