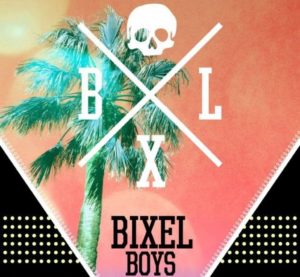 "Born on downtown rooftops and raised in Venice basements," LA-based Bixel Boys have gone from being pool party rebel rousers to bonafide remix masters in just a few months. After the success of their remix of "Love Like This," including numerous remixes by friends and fellow DJs/producers like Steffi Graf and Viceroy, Bixel Boys' appeal moved far outside LA. Little is known about the duo, except that Bixel Boys founder, Ian MacPherson, now plays alongside "Rob," and no longer his former partner, "Jake." Tonight, Souls in Action and The Hundred are bringing Bixel Boys to Norad Dance Bar for their first headlining performance in Denver.
The disco house tastemakers haven't been playing together for long, but their distinct sound is well-tuned, remixing R&B favorites into dancefloor anthems. 303 Magazine caught up with Bixel Boys to learn more about their history as a duo and creative process. We also coerced them into sending us selfies.
303: There is very little information about you guys, so I have to ask: Why did you choose to call yourselves Bixel Boys?
Ian: Bixel Street was a street that my old office used to be on. Actually, my boss said the name in passing when I used to just joke about DJing and it stuck. I thought it sounded cool and original, I liked the fact that it was very LA centric, which is something we try to convey in our music. It ended up just sticking.
303: This is a fairly new project for you both. You've been deejaying together for a while now, but when did you guys start making music together?
Ian: It's been a pretty new development.  "Love Like This" was our first project together ever. So I guess since February of this year.
303: What's your work process like? Does someone take the lead on choosing a song to remix, for instance?
Ian: Rob is the real engine behind our productions. I usually bombard him with loads of ideas and then mutually we'll choose one out of 10 or 20 we want to pursue.
303: What was your first show like?
Ian: Pretty interesting. I had been deejaying in LA for a year or so and right after we started working together, we had this opening set at a friend's party in late January.  We actually had never deejayed together before. We brought our own songs and went track for track and the vibe was there.  It is actually very much the same now – we don't really plan a set, we each bring songs we love and just kind of follow the crowd and the direction we're each setting for each other. It keeps thing spontaneous and unique at every gig.
Rob: I was pretty nervous. It was my first time deejaying in front of a large crowd. I tried to focus on selecting tracks that complimented whatever Ian had played before me in some way. I think before we knew it we were building this set that just seemed to mesh so perfectly. We try to capture that same essence for every show by being spontaneous.
303: You guys remixed "PYT" by Michael Jackson. Were you worried about wrecking an already perfect song? Did you breathe a sigh of relief when everyone loved it?
Ian: We just like to have versions of our songs that fit with our set. I remember discussing it with Rob and we both kind of gravitated to "PYT" as something we'd love to play in our sets – we just needed a version that worked technically for us. Obviously, the song is perfect, but for us to really keep it live we just wanted to add little pieces to keep it club-friendly.
Rob: Exactly. We wanted a version that was streamlined for us to play out. In this case, simplicity was the key. It's hard to make MJ sound bad.
303: You've also remixed Ciara and Faith Evans. And you've posted about Rhianna and Selena. Do you have a thing for R&B and pop divas?
Ian: I love R&B and it really brings me back to my childhood years, sitting shotgun with my mom driving and singing along with every song. It was something she always listened to, and I can't help but hear it as just dance music. I know the term means something totally different, but that's the music that moves me and makes me want to sing-along.
Rob: We both have a soft spot for that stuff. However, I had never thought to use it as an inspiration source in producing before I met Ian. Listening to those classics brings you back to a simpler and more soulful era of music that we try our best to attain in our tracks.
303: What is your next project?
Ian: The next big project for us is actually our remix of Seal's "Crazy," which is something that we've been dedicating a lot of time too – especially Rob. I know he's been really wrestling with that track in particular. I think it's a good time for that track to be revisited too. Seal has had such an interesting relationship with club music, I think that it's time for fresh ears to really delve into his vocals. I was really excited to put out "Love Like This" and "Ride," but I think this is a big leap forward for us.
Rob: The thing about remixing all of these great old songs is that you feel in a way that you have to do the original song justice. If you're a cover band, you want to try your best to not take a beautiful song and turn it into garbage. I take the remixing of it in the same vain. It's a pretty stressful experience, but ultimately a rewarding one if you're able to find that common ground. I was really excited about the idea for Crazy and we hope that we can deliver something special.
303: You've described your music as "soulful, dreamy, simple and dark." What inspires your sound and aesthetic?
Ian: I think our aesthetic just comes from a lot of the visuals that I always grew up with. My dad is a great photographer so I always grew up looking at great photography books. I love Herb Ritts. I think the black and white inspiration and simplicity in our brand comes from that kind of imagery. And now, with Tumblr at our fingertips, visual inspiration is always on hand.
Rob: From a musical standpoint I think being eclectic is something that we strive for. New things inspire us every day so it's really hard to pin-point just one or two sources. I'm not personally from LA so a lot of my inspiration comes from the discovery of new people and places. There are so many insanely talented people around here that it's tough not to pick up on that creative vibe.
303: You guys encourage fans to send you their own remixes and tracks. How often do you get submissions? Do you really listen to everything?
Ian: We do actually – I love getting tracks in the our inbox. I love hearing what's going on around us – it keeps us sharp. Not to mention the slew of amazing music that's being produced in bedrooms today. Rob always jokes that the Bixel "studio" is his kitchen, which is true. Creating music is such a social activity, it would really be a disservice to ourselves to not listen to things that others send us.
303: This isn't your first trip to Colorado – you played at SnowBall Music Festival last year. What was that experience like?
Ian: Yes! That was actually a lot of fun. We played a really early set time and maybe 10 people were there at the time, but it was still fun. Situations like that really let you try new things, play new songs, take risks etc. Overall, it was awesome experience.
303: You guys are so secretive and there aren't very many photos of you floating around. Will you send 303 Magazine readers your best selfie?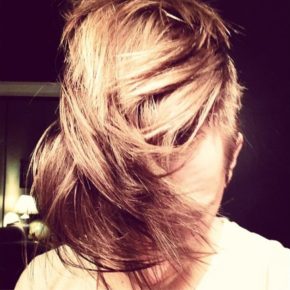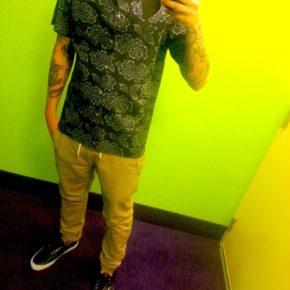 303: Clever! We're going to take a ton of close-up shots of you guys tonight. What do you have going on this summer?
Ian: Really going to be focusing on production and releases. We'll be playing some fun shows like the EDC Wide Awake Art Car w/ Gotta Dance Dirty. Maybe some secret basement parties in Venice CA, and an overdue NYC trip.
303: What is your overall goal for this project? What do you want Bixel Boys to be, and what do you not want Bixel Boys to be?
Ian: That's a good question. We talk about this a lot. Our favorite moments are when we're able to get the crowd dancing with each other and singing along – as opposed to wylin' out to the DJ. We're not looking to be the next big EDM group. I'd like Bixel Boys to be a group that makes you want to sing, makes you want to move, and a group that takes you back.
Rob: Agreed. In a perfect setting I would ask the audience to face away from us and just dance with each other.
303:What are you currently listening to?
Ian: Janet Jackson, Lauryn Hill, Seal, Sade, Ciara, Kaytranada, Cashmere Cat, Gloria Estefan Poolside, Dirtybird stuff, Disclosure, MJ Cole, American Royalty, Richnuss, Steffi Graf, Rick Ross, Slim Thug, Jeezy, Miguel, Whitney Houston, Partynextdoor, Drake, The Dream, U2
—
Bixel Boys plays at Norad Dance Bar tonight with option4, Uncle Buck and Alex D Wolf. Tickets are $10 at the door.