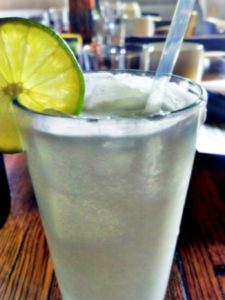 "Brunch is the gateway drug," explains Justin Cucci, Chef/Owner of Linger, Denver's diverse, street-food inspired restaurant. He's right, and on Sundays from 10-2:30pm you can become an addict too at Linger's recently launched brunch.
Any good brunch starts with the essential hangover cure: a cocktail. Linger's brunch cocktail selections each take a deliciously different spin on a classic and for $3 each you can try them all. Their Bloody Mary is kicked up with a dose of Franks Red Hot and their Linger Mimosa with ginger, Thai basil and citrus flavors could energize the most groggy of brunch-goers.
It's the unique and surprisingly smooth Coconut Fizz, though, that really stands out at Linger. Inspired by New Orleans' Ramos Gin Fizz, the Coconut Fizz, a mix of gin, coconut, lime and sparkling water, is light, refreshing and perfect for sipping on Linger's rooftop patio.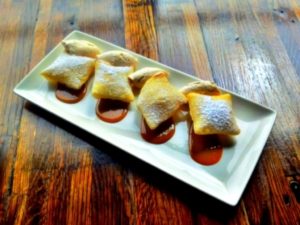 Linger's brunch menu is an eclectic collection of distinctive dishes with some curious names like the Anti Milkshake, a smoothie made from almond cashew cardamom milk, chai, carrot, hemp and cacao. Like much of Linger's brunch offerings, the Anti Milkshake is available gluten-free and vegan. Linger also organically sources 75%of its menu and many ingredients are sourced locally.
One the sweet side, Linger offers indulgences like the pillow-like Sopapillas and the subtly crispy Challah French Toast which features an airy kaya sabayon and crystallized ginger on top.
Linger's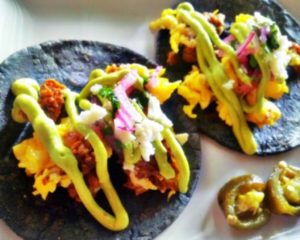 savory items offer a trip around the world with choices like the spicy Chorizo Tacos and the Breakfast Dosa, a vegan, gluten-free "crepe" made from fermented rice, coconut milk, and lentils then filled giant breakfast-burrito-style with scrambled eggs, paneer  cheese, avocado, masala potatoes, sambar curry and cilantro oil. Not just for those who must eat gluten-free, the Breakfast Dosa is a fusion of flavors that will please anyone looking for something unexpected at the brunch table.
The Hangover Ramen is another welcome addition to brunch. Served with a condiment caddy featuring fun add-ons like fresh ground sesame seeds, the Hangover Ramen's flavorful broth is filled with a satisfying mixture of ingredients like fresh noodles, pork belly, duck confit, and a soft boiled shoyu egg.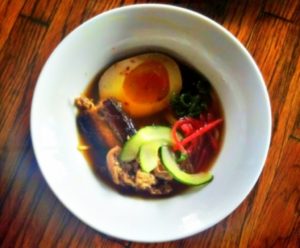 For a rare treat, try the succulent Tokyo White Castle Sliders. Inspired by a recent trip to Japan, these feature a juicy beef slider surrounded by tenderbelly bacon, caramelized onions, spicy mayo, and aged cheddar on a jet black, steamed then fried squid ink bun. These are a must-try, but don't wait too long to place your order, once the day's supply of weird but delicious squid ink buns are gone, they're gone.
One brunch at Linger is enough to get any diner hooked on their fresh, flavorful, funky cuisine. So go ahead…take a drink…then a bite…then another. You know you want to.
Linger is located at 2030 W. 30th Ave., Denver CO 80211