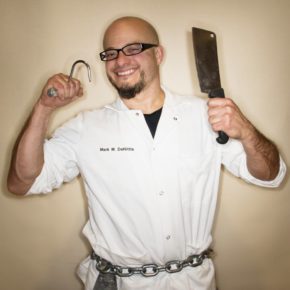 Pork.   Now that I have your attention, mark your calendars for a unique Italian pulled pork making class through Tentiko.  Let me skip to the good part, you go home with 6-7 pounds of pork. Wipe the drool off of your mouth and read on.
Chef Mark DeNittis will be teaching how to make this classic Italian dish known as porchetta on Sunday, April 14 at 3:30. He is a character out of every meat lover's dream. Mark was the founder of Denver's now-legendary salumeria II Mondo Vecchio and currently heads up the Cook Street School of Culinary Arts' Rocky Mountain Institute of Meat. DeNittis is a chef and a former meat-cutting instructor at Denver's own Johnson and Wales University. He is a skilled butcher and a nationally recognized master of all things local and eatable. He is the guru of of old-world meat making practices and loves to share his passion by teaching others. He has quite the meaty resume.
 DeNittis and associate instructor Jason Nauert will teach the history and essential steps to making porchetta. Porchetta is a meaty treat that is a moist and savory boneless pork roast born from Italian culinary tradition. Arranged carefully with layers of stuffing, meat, fat and skin. Porchetta is typically rolled, spitted and roasted over wood, a process that Chef DeNittis will demonstrate while your stomach growls, but don't worry he will feed you samples.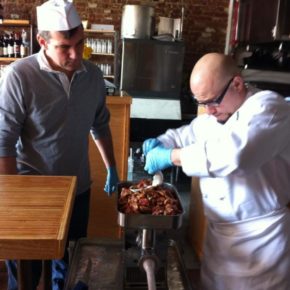 This experience will be located at Amerigo Delicatus, at 2449 Larimer St. in Denver.  Chef DeNittis will also demo and supply samples of a pork picnic shoulder roast while everyone learns to season and truss one of their own.  You'll walk with a 6–7-lb roast to enjoy at home.   That's a lot of pork!
What to bring:
Comfy shoes: You'll be on your feet during the majority of this 1.5–2-hour class.
Clothes you hate because you'll probably get raw meat on them, so wear ones you don't care about. Or bring an apron.  A cooler: If you're traveling more than 30 minutes home, bring a large cooler (one that can hold a 6–7-pound roast) with ice packs to keep it fresh. When you get it home, treat your roast the same as you would any raw meat. Refrigerate for up to 4 days before cooking or in the freezer for up to 6 months.
Book By: April 9th at Tentiko.com.  Cost is $109. If you can't make this one, check out Tentiko.com for an upcoming sausage making experience that will take place on May 5th.