It's with a heavy heart that I announce my very recent acquisition of the knowledge that sweet Charlie "The Hair" Dattolo is leaving "Girls". (Yes, to answer your question, I have been living under a rock for the past week. It was tax season, you guys.)
Anytime one experiences a loss of this caliber, there's bound to be questions. Such as:
(1) Now what am I going to have to look forward to after Lena Dunham's ten billionth full-frontal scene? Taking Charlie away is kind of like S&M after you take away the sadism and all that's left is the degrading, masochistic self-torture.
(2) Who the heck am I going to fantasize about (sexually) when I make love to my husband after he suggests – no, insists – that we binge watch like 6 episodes of "Girls" on an otherwise dull Tuesday night? Adam? Am I supposed to picture Adam? That's crazy talk.
(3) Who will I compare my husband to when I'm mad about something? Charlie would never forget to put a new roll of toilet paper on the toilet paper roll thingy, now would he? These sorts of comparisons don't work with Adam, mostly because he peed on Hannah in the shower that one time and is always screaming profane things at her during intercourse. Honestly, I don't think Adam cares much about domestic decency.
(4) And, who, may I ask, will my husband compare himself to when obsessing about his widening bald spot? I think it's fair to say we're all going to miss that thick, luscious head of hair.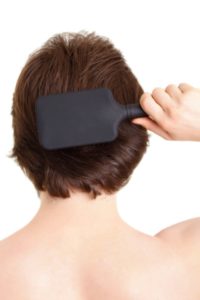 (5) Most importantly, how will Ben and I know what not to do in our relationship? It's always good for both partners to have a constant reminder that nobody loves a pushover. Without Marnie's doormat there to remind us of this, Ben and I will probably have to start kicking each other when we're down, engaging in extramarital affairs with creepy artists, and peeing on each other in the shower.
In retaliation, I've decided to cancel HBO immediately and start a free Charlie Hair Porn website, mostly for my husband's sake (charliehairporn dotcom, probably).