Dressed in jeans and a snuggly blue flannel, filmmaker Derek Cianfrance could not be any more unassuming. His voice is soft, quizzical, almost childlike, and his blue-grey gaze hints at an inner uncertainty. He seems surprised to find himself sitting at a booth at the Four Seasons—and maybe he is, considering he landed in Denver only two hours before.
"I was in the cinematic desert for 10 years," he says. "I love that people want to talk about my movies now. People weren't always interested. It means I can make more movies."
After dropping out of the University of Colorado's film program (where he admits he was disappointed to go since he wanted to attend New York University like famed film director Martin Scorsese), Cianfrance went on to direct, shoot and edit his first feature film "Brother Tied" when he was just 23. The film premiered at the Sundance film festival before traveling to 30 others and winning six international awards. He then dabbled in documentary filmmaking ("Rolling Thunder – Ride for Freedom," "Shots in the Dark") before returning to feature films with "Blue Valentine," starring Ryan Gosling and Michelle Williams.
"I don't remember a time when I didn't want to make movies," Cianfrance says. "When I was six my brother got a tape recorder. I took it from him, and I began capturing things with it. I would interview people. I would try to get my grandma to speak like a Chinese person. I would use it as a surveillance tape and try to get my brother to say mean things to me so he would get in trouble. I borrowed the librarian's camera in school, and I would shoot short films. It was just what I always wanted to do."
His latest project is "The Place Beyond the Pines," starring Gosling and Bradley Cooper. It's a harrowing story of the bond between fathers and sons and the legacies they leave behind.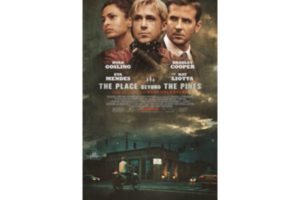 He says that Gosling, a good friend, makes those around him better. But there is substantive evidence to support the fact that it is Cianfrance himself who makes people better versions of themselves. His manner is so endearing and earnest that it almost reaches a childlike search for approval. It's this disarming quality that stirs the creative pot inside everyone he meets.
A Cianfrance film is rarely light and uplifting. Quite the contrary—they are usually somewhat dark, perhaps too real portrayals of the underbelly of everyday life.
"Ever since I was a little kid I never understood why everyone had smiling family pictures in their house. I would be at a friend's house and hear their parents beating each other up. I didn't have the language for it, but I felt [the pictures] were fake," he explains. "I would take pictures of people fighting. I have a great picture of my mom and brother fighting. My brother is in his underwear, and he's crying. I felt a need to represent things as I saw them."
In "The Place Beyond the Pines," (which is the Iroquois translation for the town Schenectady, where the film takes place and where his wife grew up), the characters certainly fight. The movie is the polar opposite of Hollywood sterility and instead takes the viewer on an uncomfortable journey into the inner struggle and psyche of flawed men. But it's not just these flaws and mistakes that make for a squirmy viewing. No, it's the fact the characters are personal. They are you, your father, your son. The twisted relationships are present in every home, and it's up to each audience member to contemplate the threads of unfortunate legacy.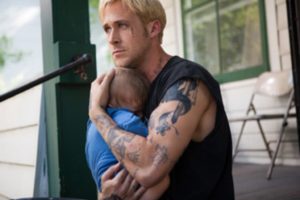 "I go see movies, and I see this prevalence of 'perfect.' I don't relate to that. I leave those movies, and I feel so lonely," Cianfrance says. "My movies are trying to live in the human world. I'm trying to aim for truth. I don't know if it's possible."
He's wiggling around in his booth, leaning on a pillow, squishing the pillow, putting it behind his head and then onto his lap.
"What's wrong with this chair?" he says. "See, you have such nice posture…" he trails off, still fussing with the pillow.
"Every family has its darkness and the things they don't want to put into that [smiling] picture," he continues, apparently back on track regardless of the pillow situation. "Think of the picture of America. We don't want to talk about the massacre of the Indians or the slave trade. It's one of the most brutal countries in the world, but now here we are at the Four Seasons. We are polite. We eat with forks and knives."
It's this earnest contemplation of life and interpersonal relationships that makes Cianfrance's films so raw. They are honest, and honesty is not always pleasant. In fact, it rarely is. And while he is on a constant hunt to encapsulate his truth, his reality, it's the reality of being a father to two sons (age five and nine) that has really transformed him as a person.
"I didn't get anything done until I had kids," he says. (Arguable, but we'll let that comment slide.) "There are three things I'm trying to be good at: a husband, father and filmmaker. I'm failing most of the time, but I'm trying."
Cianfrance wants to make films that he will be proud to show his children. It's why he's so particular when it comes to the types of projects he will work on.
"The films I'm making are for them. Not for five million dollars would I make a movie with rape or murder. If I ever made a movie about fetishizing violence, I'd never be able to show it to them."
It's a distinction that works well for this filmmaker. While his movies may be emotionally unsettling, there is nothing grotesque about them. They are accurate portrayals of consequence that make for brilliant and relevant films.
Cianfrance's energy engenders a feeling of maternal protectiveness and encouragement. Here is a man desperate to matter, make a difference and make his own legacy. And he's doing just that. Successfully.