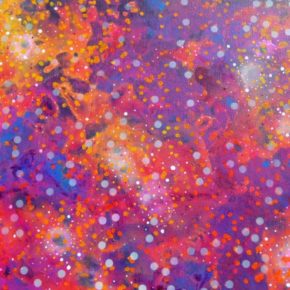 Well, it's First Friday again and today Things That Glow (everyone's favorite rave accessory store) is opening its doors to the public with an offering far more curious than flow toys and LEDs. Artist, Undubbed, has slowly been making a name for herself in Denver over the past few years, starting off as an independent fashion designer and now venturing off into the painting world. I first met the petite and pretty creative at Colorado's Regional Burning Man, Apogea, three years ago. We had camped next to one another and she stood out from the crowd in her striped dress that read "Wake the Fuck Up" across the torso, spelled out in blinking EL wire. I knew we would be fast friends.
Undubbed's paintings demonstrate her obsession with repetition. In a meditative state, she paints circle after circle in clusters that resemble foam or bubbles. Very colorful foam or bubbles. "Colors make me feel happy," she smiles at me through her shaggy bangs. "I like to absorb colors through my sense of sight and arrange them in an on-the-spot, random order. The painting is never planned out. I grab a paint brush and let my imagination take control."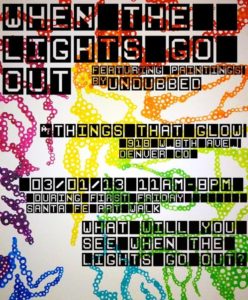 She also creates funky, furry clothes articles and glow in the dark tutus, which are available for purchase at Things That Glow. I personally own a neon green furry hat, courtesy of the artist. It's got super warm earflaps, has LEDs sewn into it (with an easy-to-access but not easy-to-see battery pack), and the best part: it's completely reversible… and the opposite side looks like a watermelon!
"This is my first time producing glow in the dark paintings… and definitely not my last! I discovered that this is my way of letting light into darkness. A metaphor that will continue to shine bright into my future."
So swing through the Santa Fe district today and pop into Things That Glow anytime between 11am and 8pm today to support local artists and check out Undubbed's debut of glow-in-the-dark paintings. What will you see "When the Lights Go Out"?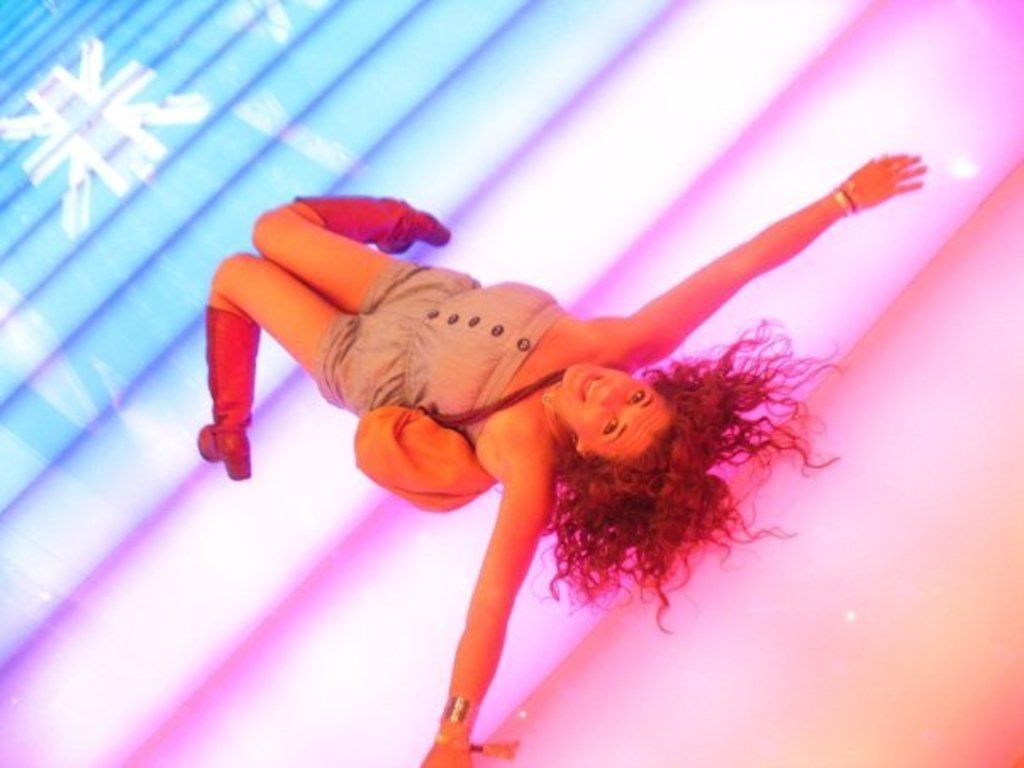 Allison Cohn loves gold spray paint and nonsense. She also has a very difficult time sitting still and keeping quiet. She can often be found dancing like a fool when she isn't hiding out in her mountain lair or gallivanting around the globe.